Oregon Coast Tsunami Debris Update: Boat Removed, Sign Translated
Published 02/06/2013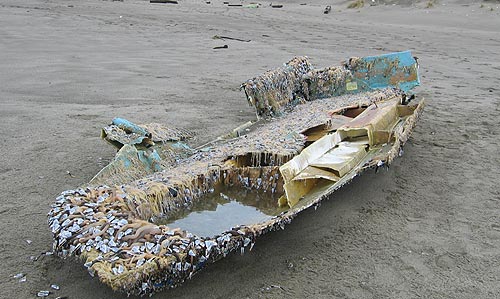 (Gleneden Beach, Oregon) – Oregon officials have removed the Japanese fishing vessel that washed ashore Tuesday morning from Gleneden Beach, a central Oregon coast village between Lincoln City and Depoe Bay. (All photos courtesy ODFW)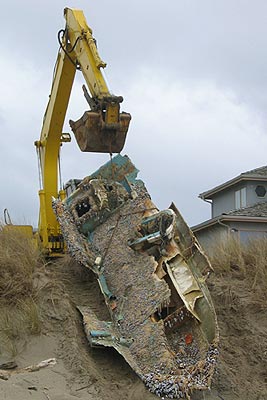 The 27-foot derelict vessel was taken off the beach Wednesday afternoon via crane, but not before it had been shuffled around by the tide overnight. When found on Tuesday morning it was sitting upside down. Wednesday, it had been righted by the tide.
The boat has been thoroughly inspected and samples collected by ODFW biologists Steve Rumrill and Justin Ainsworth, and so far only a portion of the species clinging to the object have been identified. Most appear to be benign at this point. Some others are looking a bit more ominous.
After further evaluation, ODFW spokesperson Meg Kenagy said the boat poses a "moderate" risk.
"When the experts are done identifying them, we believe there may be 15 to 20 species considered invasive to Oregon," Kenagy said.
This is why the boat was taken away as quickly as possible and then buried in a landfill nearby on the central Oregon coast.
"It's the stuff like docks and boats that have been in the water for a long time we have to worry about, not things like refrigerators and other debris," Kenagy said. "If you go to Newport, lay down on one of the docks and reach your hand underneath, you'll pull up a bunch of creatures that have been growing down there for a long time. That's the kind of thing that was happening over there and that's what we're worried about."
The origin of the boat has not been completely narrowed down. While definitely Japanese, Kenagy said officials "believe" it to be from the 2011 tsunami triggered by the Honshu earthquake. There is still the chance it is simply the usual Asian debris that washes in – although that is an ever-decreasing possibility at this time.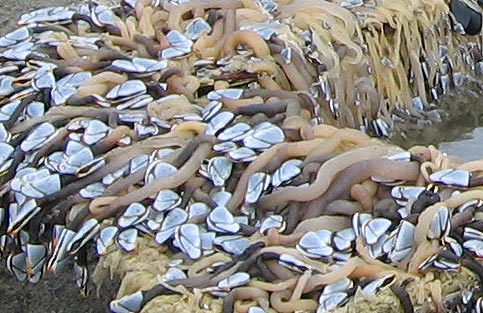 Kenagy said NOAA is working with the Japanese Consulate to help identify the ship.
"They have not been able to find a vin number yet, and we're not sure if it was reported missing or not," Kenagy said. "But then not everything from the tsunami was reported missing."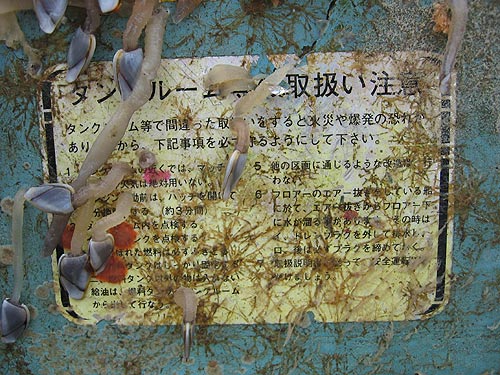 Luckily, the boat had not been around for long. Kenagy said the vessel likely washed up just hours before it was discovered. However, some local officials believe it was the same boat reported floating around the waters off Newport last week.
The boat was about 200 yards from a beach entrance, which created some access issues. It was taken away Wednesday by Drayton Excavation of Lincoln City.
Officials have translated the sign on the boat, a series of warnings and instructions about the gas tank. It contained phrases like "Tank's handling maintenance," "Do not light a cigarette near the gas tank" and "Quality instructional and operations manual."
More about the Depoe Bay - Gleneden Beach area.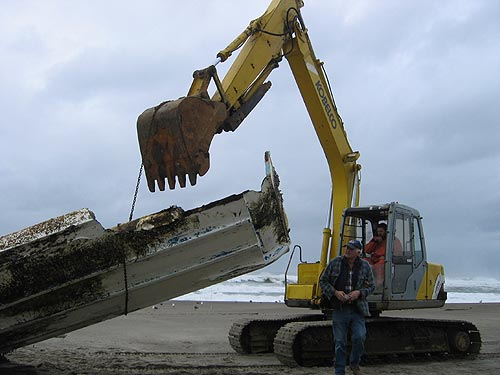 More About Depoe Bay Lodging.....
More About Oregon Coast Restaurants, Dining.....
| | | |
| --- | --- | --- |
| | | |
LATEST OREGON COAST NEWS STORIES