Tsunami Debris Boat on Oregon Coast Had Some Non-Native Species
Published 03/15/2013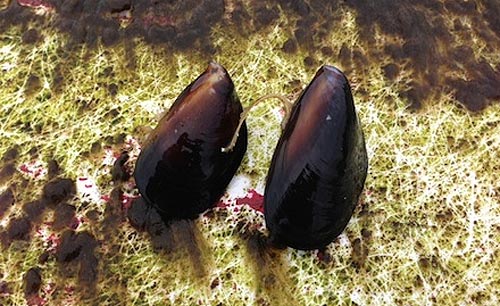 (Florence, Oregon) – A derelict boat that is likely tsunami debris from Japan has been removed from a beach just north of Florence, after initial lab tests show at least one non-native species of mussel present. (Above: invasive species of mussel found on the boat, photo courtesy Surfrider)
The boat was found rather serendipitously by the Siuslaw Chapter of Surfrider Foundation at Muriel O. Ponsler Wayside, as volunteers started searching and analyzing beaches in that area as part of a new directive and partnership with NOAA. The group discovered the boat early in the morning on March 14, and by 7 p.m., it had been removed by Leisure Excavating from Florence and transported to a local landfill.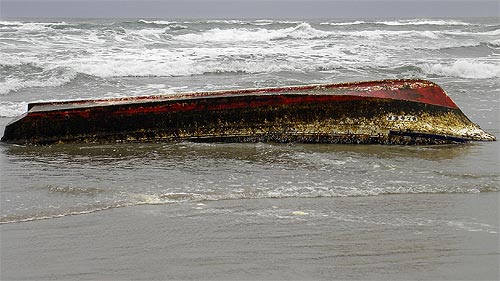 Photo courtesy OPRD
The boat was 24 feet long and nonmotorized. No pollution or other hazardous materials were detected, but there was marine life clinging to the debris. That sea life was scraped off the boat rather quickly, with samples sent off to OSU and to a Surfrider lab.
According to ODFW biologist Steve Rumrill, gooseneck barnacles, mussels, seaweeds and other marine organisms were attached to the hull. Many of those have not been identified yet, but Rumrill said some appeared to be non-native.
An initial test by Surfrider labs indicated one confirmed non-native species, however.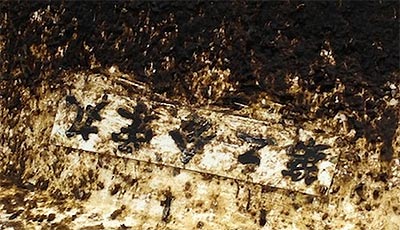 Charlie Plybon, manager of the local Surfrider organization, said tests they had done confirmed the presence of Mytilus galloprovincialis, which has been a problematic invasive in neighboring coastal states and around the pacific.
"It's not invasive here yet, but it has been in other places," Plybon said.
Above: Photo courtesy Surfrider
There is Japanese writing on the vessel, but its exact origin and date it was lost haven't been determined. That information has been passed on to the Japanese Consulate.
Plybon said the volunteer group who made the discovery – consisting of volunteers Lisa Wallace, Al Costa, Jon Tipple and Amber Tucker – acted very quickly in responding to the find. It only took an hour to photograph the boat's ID plate and scrape off the sea life, which in turn allowed state authorities to react so quickly in its removal.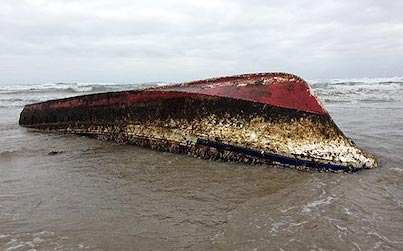 "The team had recently participated in a training and were well prepared to make rapid response notifications to agency leads, collect possible invasive species from the vessels - quick actions that helped lead to the securing and (eventual) removal of the vessel," Plybon said in a post on the Surfrider website.
The boat was found in a remote section of the beach, but Plybon said it is believed the boat had just washed up within a few hours. It was low tide when the vessel was found, and the next high tide would've washed it back out. This means it could not have been around for very long. (Above: photo courtesy Surfrider).
More about the Ponsler beach area below, including a map, as well as at the Upper Lane County Virtual Tour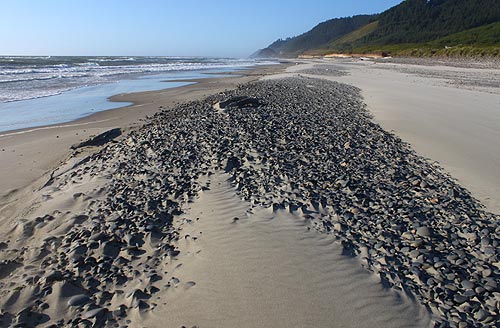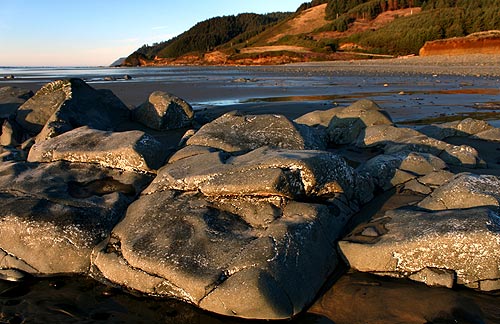 More About Oregon Coast hotels, lodging.....
More About Oregon Coast Restaurants, Dining.....
| | | |
| --- | --- | --- |
| | | |
Latest Related Oregon Coast Stories