How a Shipwreck Became an Oregon Coast BnB
Published 09/29/2014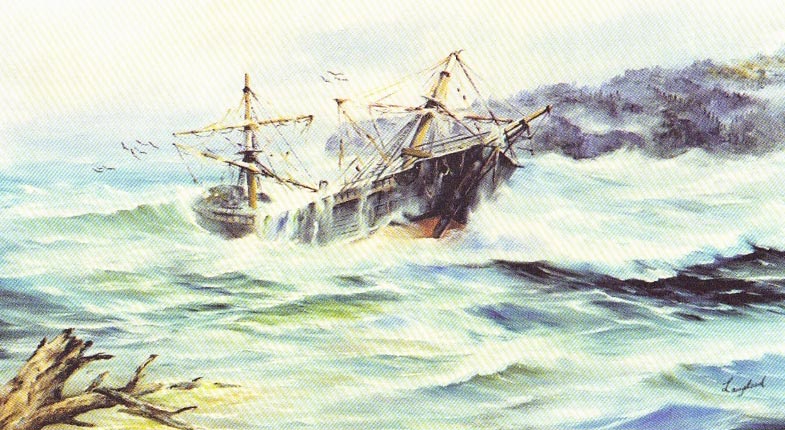 (Pacific City, Oregon) – Not very often can you touch part of a shipwreck along Oregon's tempestuous coast. But near Pacific City, a tiny little bed and breakfast called Sandlake Country Inn is actually built from parts of a shipwreck that hit the area on a Christmas Day late in the 19th century.
Diane and Ron Emineth are currently owners of this charming little lodging, where not only romance reigns but the aromas of some mighty delicious pastries and hearty dinner dishes waft through the place.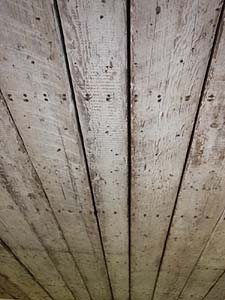 You may want to look a little closer, however. And when you do, there's some interesting history here, starting with a Norwegian ship called the Struan that wrecked nearby in 1890, after captain T.H. Skogland and crew had to abandon ship.
Really, the whole story begins with the man who built the place.
The original homesteader was a gent from England named William Clent King, born in 1854. About three years later his family took their leave of Britain and moved to Wisconsin. Growing up as an American, he tried farming in North Dakota for ten years, but by 1888 he had showed up in Portland. He bought a general store in Tillamook shortly after, which included his second experience with a shipwreck. He and his family were aboard the Argo in 1909 when it wrecked in Tillamook Bay – nearly killing them.
It was 1890, however, that the Norwegian sailing schooner Shuan hit the sand and broke up just south of Cape Lookout, giving locals a kind of Christmas present. On this particular Christmas morning, crew had already abandoned it a few days earlier at sea. It was heading from Canada to Australia, loaded up with lumber.
A news article from the Daily Alta California just after New Year's oin 1891 said the crew was in trouble almost from the start. A mere three days after leaving Port Discovery, Canada, they hit a storm. Then more storms. Then the Struan sprung a leak. On December 14, they spotted a vessel passing by and boarded it, and shortly after they were transported to a tug which arrived in California on January 2.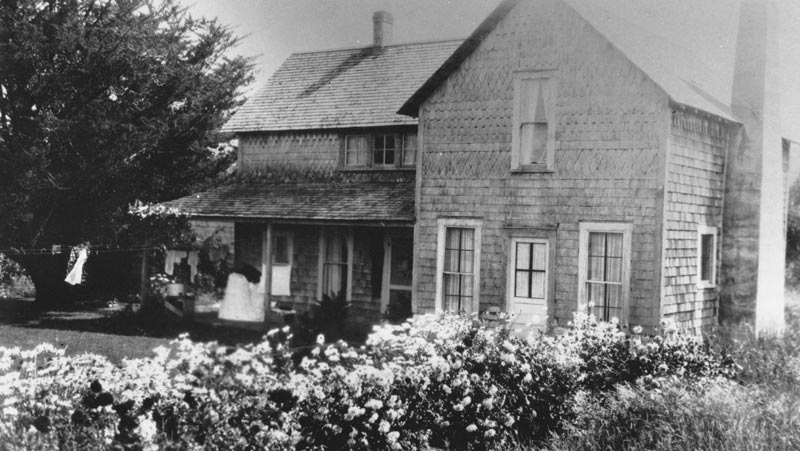 No one died, but two crewmembers were injured in the rough seas and situations. It was tense and dangerous, as the men struggled for weeks to stay afloat and not to get ill from a lack of fresh water. (Above: the home in 1930).
The article says "what has become of the Struan is still a mystery," but everyone theorized it was in pieces by now.
That was mostly true. It drifted on for days by itself, like a ghost ship, before smashing itself on the sand. All that lumber aboard was strewn for more than a mile up the beaches of the Cape Lookout area, sometimes as tall as six feet high.
Settlers grabbed gobs of the stuff. There were almost no mills in the area, and even then, transporting logs over the muddy, dirt tracts that served as roads back then was dangerous and problematic.
All this lumber floating around and the peat bogs that begged development of cranberries helped draw King to a spot right along the estuary near Sand Lake – where the the BnB is now. The building was started in early 1893 by King, his son Burt and his business partner in the store.
First, they needed the wood. They, like everyone else, raided the lumber from the Struan. Getting it to Sand Lake was yet another issue. This took using animals to drag the timber, then pushing the logs into the water to float them upstream.
King continued to run the store in Tillamook while also becoming quite successful at his cranberry bogs biz. The family lived here until 1903, when King sold his ranch and moved to Tillamook. In 1916, he left and moved to the Willamette Valley, living out the rest of his life there.
Emineth said the next owners were Everett and Nellie Allen, who had it for 80 years. It really became known as the "Old Allen Place."
"It stayed in the Allen family until It was purchased in 1989 and turned into a Bn'B," Emineth said.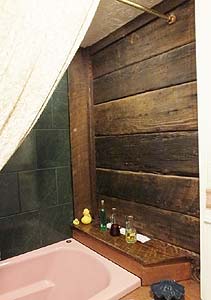 Emineth and her husband are the third owners, having taken over in the early 2000's.
She added some other parts of the ship remain elsewhere, and there are still likely timbers from the vessel in other homes around this part of the north Oregon coast.
"The ship's anchors and some chains and part of the masthead belongs to the Boy Scout camp just north of us, at Camp Meriwether," Emineth said. "That's where the ship actually came aground."
Currently, there are timbers they know about in the home – and those they don't know about. Many of that original wood is behind walls now. But you can spot some of the shipwreck's bounty around the Sandlake Country Inn.
"The ceiling timbers are in the entry room, as soon as you come through the front door," Emineth said. "On the closeup photo (above), you can see the old saw marks from the mill up in Canada. These would have been milled sometime in 1890 out of red fir."
You'll find the Sandlake Country Inn tucked away along Galloway Road, which is the long entryway to Sand Lake Recreation Area's main facilities. The address is listed as in Cloverdale, but don't let that send you astray. It's not far from Cape Lookout State Park, and ten minutes or less from Pacific City. 503-965-6745.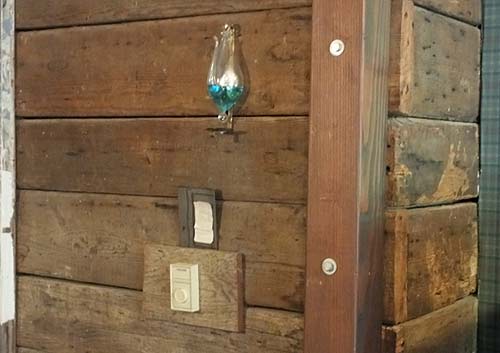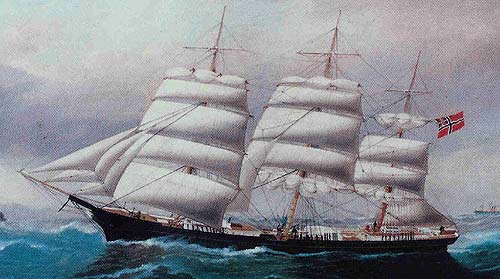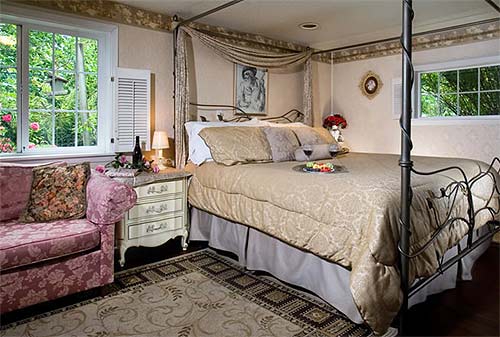 More About Oregon Coast hotels, lodging.....
More About Oregon Coast Restaurants, Dining.....
LATEST Related Oregon Coast Articles
Back to Oregon Coast
Contact Advertise on BeachConnection.net
All Content, unless otherwise attributed, copyright BeachConnection.net Unauthorized use or publication is not permitted