Surreal North Oregon Coast Photo Adventures
Published 05/10/2010
By Oregon Coast Beach Connection staff
(Oregon Coast) – It's one of those glorious spring days on Oregon's coast, with early May presenting plenty of puffy clouds – albeit slightly chilly and windy. Everything looks normal and average, on the surface. But these clouds, in turn, seem to bend and bounce the daylight in curious ways, as is often the case during spring in these watery parts. Things change drastically from moment to moment.
You often have to know what you're looking for to see it – and then the oddness of the situation will gleefully strike you over the head.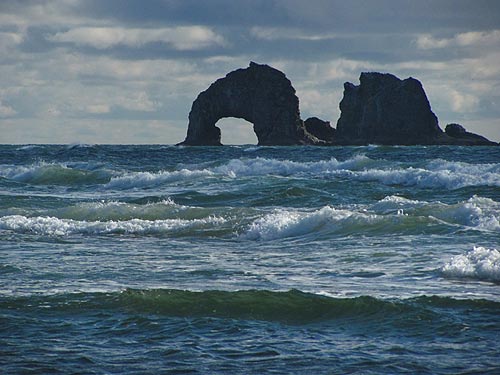 In a matter of a few hours, driving between Garibaldi and Seaside, sometimes back and forth between beach spots, the ethereal and strange poked their heads out through the stuff most people see on the beaches. And in between those moments, you seek out the oddities – and find some surreal results.
This day began in Manzanita, where the ocean was an unusual shade of blue. Around 5 p.m., the trek begins in Rockaway Beach, some 15 miles south, where the goal becomes shooting the renowned Twin Rocks and its unusual arch. But at this moment, those puffy clouds infuse the ocean with a strange kind of blue, and a close up of the waves and Twin Rocks shows the water taking on a kind of pastel. It looks somewhat unreal, even a bit like a cheap painting.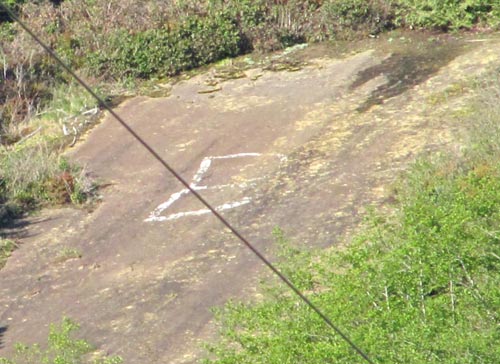 Then begins the search for a definite curiosity on the north coast. At Barview, between Rockaway Beach and Garibalid, there's a big "B" painted onto a concrete slab on the side of a hill overlooking this tiny town of a few indistinct blocks. It's Barview's own rather low budget version of the massive "G" on the hillside above Garibaldi (which in itself seems like a low budget version of "Hollywood" above its borders).
So what is this extremely low-fi version of an already low budget version of self-promotion? We're not really sure; none of the research we've done so far has revealed its origin.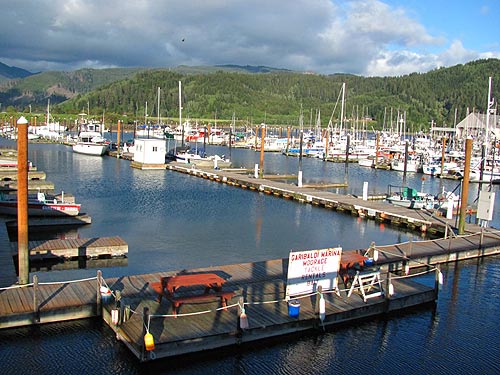 You can't see it from the highway: you have to meander down the road to the park at the jetty. On this day, however, there it is, in full, graffiti-like glory, but bathed in glorious sunshine.
Down the road, obese clouds, bright sunlight and bits of blue sky make for stunning contrasts on the part of Tillamook Bay where Garibaldi's marina sits crammed with boats and docks.
From here, a quick pace is undertaken northward, back through Barview, Rockaway Beach, around the forested Nehalem Bay, Wheeler, Nehalem and then past Manzanita. Just above town, the overlooks present more enticing swashes of color and odd exercises in contrast. These overlooks, part of Neahkahnie Mountain, make for some of the best photographs and views along all the coast. You're around 150 feet above the surf.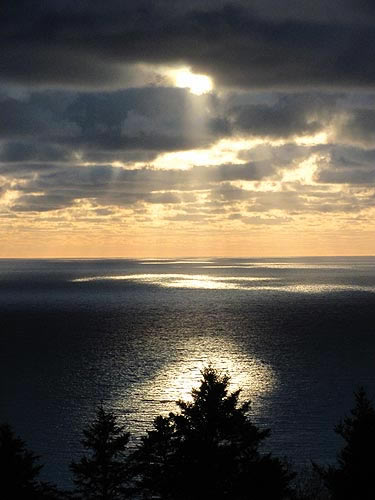 This time, it's like a three-ring circus of funky sights, shadows and shades. On one side of the mountain, a massive expanse of pastel pinks is reflected – albeit subtly – in the bluish ocean below. A few degrees west, clouds break in random ways, allowing an ever-shifting collection of sunlight shafts to come pounding downward. These create shapeless islands of bright sunlight on the horizon, while the darker edges of those clouds block out all the light around the shafts – leaving nearly black ocean surrounding those fuzzy islands.
At one point, the constantly moving formations of bright and dark form an eye-catching symmetry with the trees of Neahkahnie.
One of the big goals of the day is to snag up-close shots of an odd structure just north of Manzanita called Cube Rock. Around Cape Falcon, between the surf Mecca of Short Sands Beach and the Neahkahnie overlooks, you can catch a distant glimpse of this hidden gem as it shyly pokes its head up above the cliffs.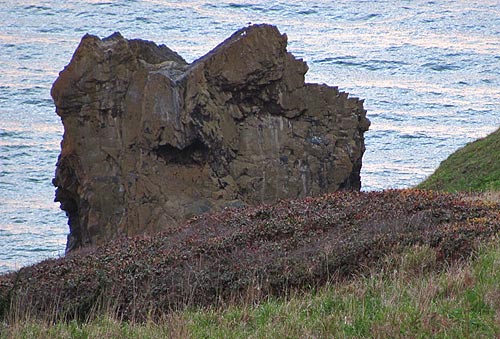 If you see it from closer vantage points, it looks like a remnant of some ancient civilization, like some sort of stone column – although absolutely enormous.
Venturing down closer wasn't an option this time, so the zoom lens was in order. This revealed some interesting geologic formations where it obviously broke off from the cliffs that hide it, perhaps a few millennia ago.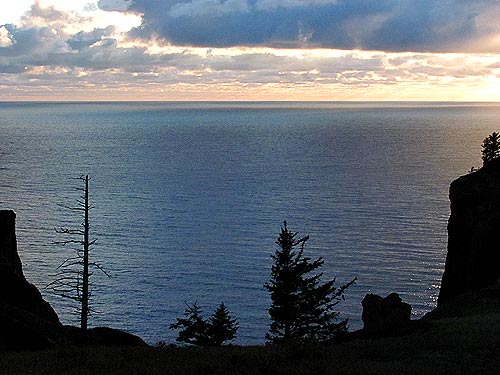 Later, the waning sunlight casts more wispy pastels on the ocean, and the cliffs and Cube Rock make for a nice shadow-based composition around those colors and the chaotic clouds.
A couple hours later, after 9 p.m., the sun has long descended, and the real fun experiments begin.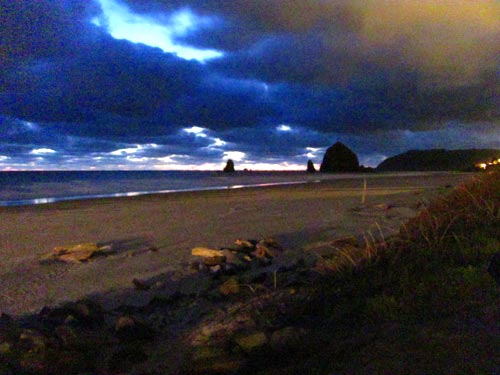 This new camera begs for all sorts of testing, including long exposures at night. Did you know if you left a camera on for about 15 seconds in Cannon Beach, a ways after sunset, you'll get this surreal scene? Colors are all turned around. What looks like night sky to the naked eye becomes dusk to the camera, and the whole landscape looks a bit like infrared during daylight.
It's remarkable. Irresistibly strange.
A half hour later, in serious dead of night, the experimentation begins in Seaside. But this town has so many lights trained on the beach the long exposures don't work correctly. Luckily, the final stretch of Seaside's beach before it hits the mouth of the Necanicum is bereft of lights, and only a hint of the yellowish lamps of the Prom tweak the colors of this session.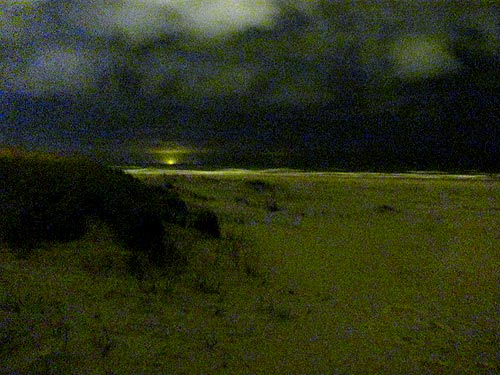 Again, more strange surprises lurk. Clouds turn into hazy, ghost-like chunks of the sky. A fishing boat in the distance creates an odd spray of color. It all looks quite dreamlike.
Sometimes the coast hands an adventure to you. Sometimes you create it for yourself.
More About Oregon Coast hotels, lodging.....
More About Oregon Coast Restaurants, Dining.....
LATEST Related Oregon Coast Articles
Oregon / Washington Coast Alerts: Flood Watch, First Big Waves of Season
Floods, lots of rain, high winds and some rather good storm watching, beach safety
Sea Lions Sick with Leptospirosis on Oregon Coast: Keep Pets, Yourselves Away
Stay clear of sick or dead sea lions. Marine sciences, beach safety
Yachats Oktoberfest Takes German Culture on Oregon Coast to New Levels with L...
A kind of accordian-palooza, there's beer, brats, wine and waves, Sept 29 - Oct 1. Yachats events
At Seal Rock's NW Curtis St.: Funky Little Oregon Coast Access with No Name
NW Curtis St., not far from Newport, Yachats or Waldport
Seaside Event Digs Into Mysterious Bayocean, the Oregon Coast Ghost Town
September 28 at 6 p.m. at Seaside Brewing. History, Seasode events, Tillamook
Central Oregon Coast Artist Shows at Florence Visitor Center
Regina 'Reggie' Oflock of Sea Gypsy Cottage Gallery. Florence events
Small Vessel Strands on Central Oregon Coast's South Beach, Cause Unknown
Fishing vessel Judy stuck on a Newport beach. Florence events, Newport events, Lincoln City events, Yachats
SOLVE Cleanup Finds on Oregon Coast Include a Whale
This carcass had been in the news before, victim of orcas. At Otter Rock near Newport. Marine sciences

Back to Oregon Coast
Contact Advertise on BeachConnection.net
All Content, unless otherwise attributed, copyright BeachConnection.net Unauthorized use or publication is not permitted