Video: Anatomy of an Odd Oregon Coast Sunset Effect
Published 10/31/2018 at 4:29 AM PDT - Updated 10/31/2018 at 10:03 PM PDT
By Andre' GW Hagestedt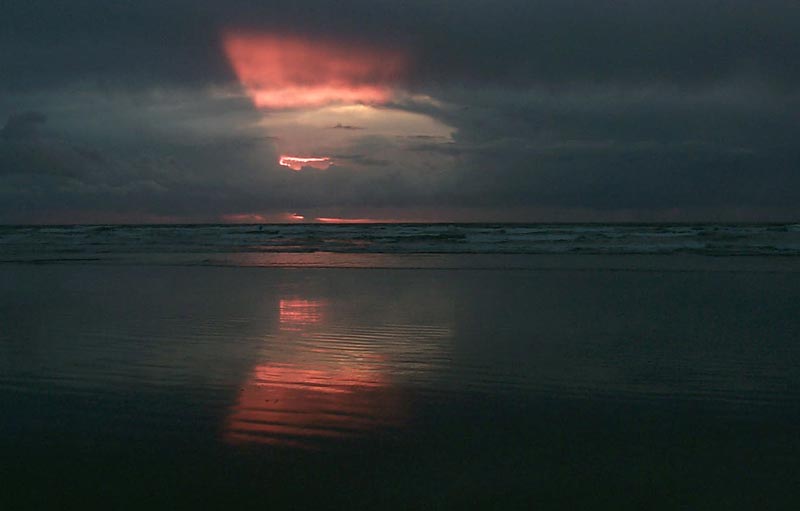 (Seaside, Oregon) – It's October of 2004 – and actually that's significant for reasons other than the subject of this article. I'm bouncing around the beaches of the north Oregon coast and snapping pics left and right, arriving at the southernmost Avenue U access in Seaside close to sundown.
Suddenly, as I'm walking down the path, this bizarre sight occurs. And it gets weirder as I get closer to the sea. In fact, I can already map out how I have to photograph this unusual sunset and begin running towards the tideline as I cannot miss this opportunity.
My hurried run pays off: I get to where this freaky shaft of sunlight is reflected in the wet sands right near the breakers, but I just barely have enough time to capture the sight how I want before it suddenly starts to shift. I get a kind of Pink Floyd album cover effect. Gloriously cool.
Flash forward to 2018 and I make a video from these stills. What's going on here? Well, it's related to the phenomena called crepuscular rays, where you get these shafts of sunlight bursting out of the clouds like something angelic. Admittedly, however, this is a bit different.
Back in 2017, I interviewed Treena Jensen about this shafts of light thing. She was a meteorologist with the National Weather Service in Portland. Crepuscular rays come from particulates in the atmosphere getting illuminated by a break in the clouds, and then a curious optical illusion kicking in after that.
"It's related to the twilight rays that kind of peek through what seem to be holes in the clouds at sunrise and sunset, so the rays appear to converge outward from the setting sun," Jensen said. "And they're only visible when there's enough haze and dust in the atmosphere so the areas not shadowed from the clouds can be scattered towards the observer."
I've snagged plenty of pics of those shafts of light on the Oregon coast before, but something's different about this particular example in Seaside. If you notice there are no clear shafts of light: it's largely all one column, but with some fuzzy hints at sections divided by less light or shadow.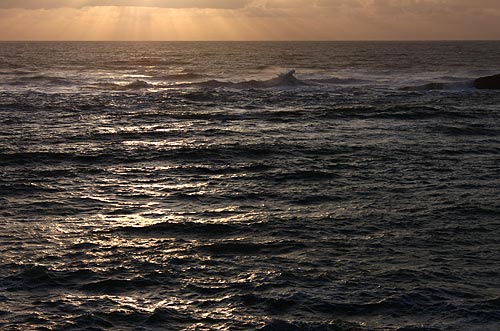 That could be because of two things. One: the particulates involved here are different in some way, perhaps closer together or larger. Or two: the rays are at an unusual angle (normally they're pointed downward in some way but here they're shooting upwards), and that causes the light source to fire up the triangular block. In other words, the original light source – the sun – is causing light interference on its own. It's causing this pink triangle to blowout, if you want to use printer or photographer terms. (Above: what crepuscular rays normally look like).
Ironic and strange. But again, gloriously cool.
Here's the kicker: crepuscular rays are actually straight and parallel. Photos from space have shown them to be just that. So why do they come out bent at angles?
"The rays look like they're diverging outwards, but they're actually parallel from each other," Jensen said. "They appear to diverge due to perspective. So it's the same thing as looking down a railroad track: the tracks closer to you appear to converge at a distant spot because of perspective. All that dust and haze give that appearance that they're converging towards the sun."
It's indeed just as if you're looking at a railroad track: the lines get smaller the farther away they are. It's all about perspective.

The other fascinating aspect of this wacky Oregon coast moment harkens forward to what just happened this October. The period from early September through mid-October is typically when the coastline is at its best weather, nicknamed the Second Summer. Normally, this drops off around the 15th. But this year that didn't happen, as we all know. The weather stayed amazing through to nearly the end of the month. [Note: this article is from 2018]
Same thing with 2004. Except then the weather did turn lousy just before the 15th, but returned to play nice once more right on October 15. It stayed that way on and off until the end of the month. Oregon Coast Lodgings for this - Where to eat - Maps - Virtual Tours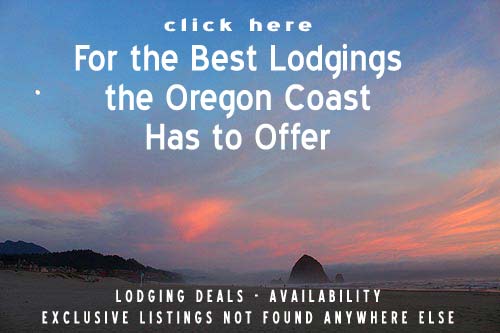 More About Oregon Coast hotels, lodging.....
More About Oregon Coast Restaurants, Dining.....
LATEST Related Oregon Coast Articles
Back to Oregon Coast
Contact Advertise on BeachConnection.net
All Content, unless otherwise attributed, copyright BeachConnection.net Unauthorized use or publication is not permitted