Weird New Creature Find on Oregon Coast, Along with Other Surprises; Video
Published 02/28/2017 at 5:49 PM PDT - Updated 02/28/2017 at 6:19 PM PDT
By Oregon Coast Beach Connection staff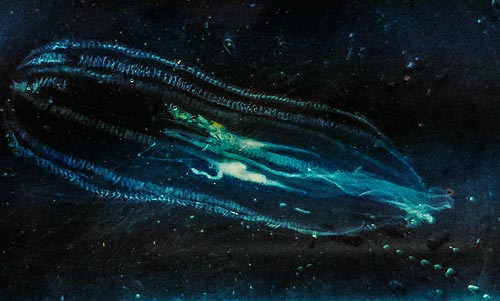 (Oregon Coast) – There's more than meets the eye on Oregon coast beaches these days, as a whole host of interesting creatures are washing up, along with numerous oddities surfacing from beneath the sands. (Above: an oval gooseberry, photo courtesy Tiffany Boothe, Seaside Aquarium. Video below).
Pyrosomes are showing up again, after a couple of months' absence, and those famed velella velella are as well. But so are some new creatures called oval sea gooseberries, which are fairly rare to wash up on beaches.
From below the beaches there are some striking finds as well. Ghost forests are still being seen in places around Newport, Seal Rock and just south of Cannon Beach. Some surreal objects called red towers are showing up near Cannon Beach as well. Then there's that crazy-rare shipwreck that's been seen only a few times in 40 years.
The new kids on the beachy blocks are the oval sea gooseberries, which can be seen on the beach as small, oval blue spots that are somewhat transparent. They look a bit like an ink stain on the sand and would be unremarkable to most unless you knew what they were.
Tiffany Boothe of Seaside Aquarium said they are a kind of Ctenophore – related to the comb jelly. She's managed to capture some and reanimate them in the aquarium, where they show off their true colors.

"In the ocean this animal's cilia refracting the natural light creates quite the light show," she said. "This species, Hormiphora cucumis, can exceed lengths of three inches. It is an impressive species of gooseberry. Hormiphora cucumis are usually found offshore and though they are known to be 'strong swimmers,' they still can not fight the mighty currents of the Pacific Ocean and with the right (or wrong) weather/ocean conditions they find themselves stranded on shore."
These creatures have no brain, heart or blood, and are 99 percent water.
Pyrosomes made a big splash this winter and fall, showing up in droves along the beaches and mystifying many. These tube-like creatures are actually colonies of hundreds to thousands of even tinier jellyfish-like creatures called zooids.
Even more extraordinary, they are bioluminescent when in their natural habitat – meaning they glow.
This was quite unusual for so many to show up this year. They stopped appearing through most of the last three months but have suddenly started popping up again all over the Oregon coast. In the Newport area, there are reportedly just a few here and there, but up north near Cannon Beach and Seaside Boothe reports seeing quite a few in some locales.
They showed up in those areas along with a familiar face: lots of tiny velella velella. These are slightly related to the jellyfish, sometimes called Purple Sails or By-the-wind-Sailors. So far, they've been smaller ones and not in the millions as has been seen in past years.
With winter sand levels getting so low, a host of interesting objects have popped up.
Ghost forests are the remnants of stands of trees that are 1,000 years old to 5,000 years old, depending on the location. These have been spotted at Moolack Beach by Newport, Seal Rock at Curtis St., Thiel Creek just south of Newport, and up near Cannon Beach at Hug Point and Arch Cape.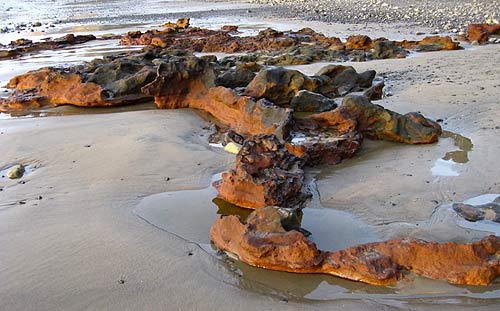 The slightly psychedelic red towers have been seen at those latter two north Oregon coast spots. These are conglomerations of iron and other elements that form surreal reddish structures beneath the sands. Usually only a foot or two high, and coming in all sorts of weird shapes, they are essentially sand cemented together by red iron oxide. They disappear fairly quickly once exposed to air.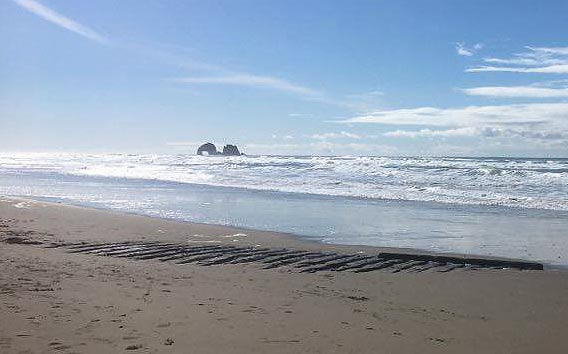 Perhaps the most remarkable find lately has been the shipwreck of the Emily G. Reed at Rockaway Beach, which has only been seen about three times in 40 years. (Photo above courtesy Rachel Sip).
All these finds from beneath the sands may disappear quickly now that storm season has calmed and sand levels start filling back up. Oregon Coast Hotels for this - Where to eat - Maps - Virtual Tours
Ctenophores are washing ashore! Though we typically see sea gooseberries, a larger species of ctenophore has been gracing our shores, the oval sea gooseberry. Check out the video, you can see the cilia moving and refracting light! We slowed the clip down at the end, you can actually see the individual cilia in action. The Oval Sea Gooseberry (Hormiphora cucumis) is a type of comb jelly, of which there are more than 100 different species worldwide. They are 99% water, and have no brain, heart, or blood. They move by means of cilia: minute, hair-like tendrils which line the surface of the comb jelly. They have no stinging cells. The two long branched tentacles are armed with colloblasts: specialized adhesive cells which are used to ensnare their prey.

Posted by Seaside Aquarium on Friday, February 24, 2017
More About Oregon Coast hotels, lodging.....
More About Oregon Coast Restaurants, Dining.....
LATEST Related Oregon Coast Articles
Back to Oregon Coast
Contact Advertise on BeachConnection.net
All Content, unless otherwise attributed, copyright BeachConnection.net Unauthorized use or publication is not permitted