The Other Mystery Creature Washing Up on Oregon Coast: Gooseneck Barnacles
Published 03/11/2016 at 5:51 PM PDT
By Oregon Coast Beach Connection staff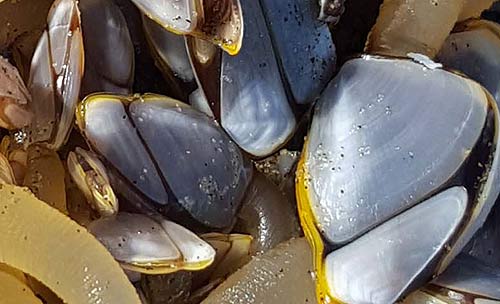 (Oregon Coast) – Those weird little purple velella velella creatures aren't the only oddity being found on Oregon's beaches right now. More and more, logs and other debris are showing up covered in mysterious creatures that are paradoxically brightly colored and yet a dark shade of blue. (Photo: Gooseneck barnacles recently found on the north coast, courtesy Tiffany Boothe, Seaside Aquarium).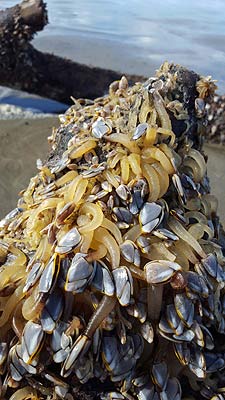 They are called Pelagic Gooseneck barnacles (Lepas anatifera), and they exist entirely by attaching themselves to other things. In fact, they can't live without that. If the barnacle in its egg state doesn't attach itself to anything, it does not live. (At right: a log found by Boothe of Seaside Aquarium covered in barnacles - a wider version of the detailed shot at top).
Tiffany Boothe of Seaside Aquarium explains that right now there are quite a lot of these objects showing up with creatures living on them, thanks to recent storm action. Logs are the most frequent find, but this type of barnacle is found making its home on ropes, garbage, and other debris.
"The term pelagic means in the open ocean," Boothe said. "Along the Oregon coast, when the wind blows out of the west, marine debris which is floating close to shore washes up on the beach. With that in mind, you may want to take a closer look the next time you spot something washing in."
Boothe said the gooseneck barnacle hooks onto hard surfaces via their flexible stalks. They can be found worldwide, drifting along on the ocean's currents and feeding on plankton by filtering it out of the water with hair-like feeding tentacles called cirri.
"There are over 1,000 different species of barnacles world wide," Boothe said. "Some have adapted to living in some extremely unique environments, such as the pelagic gooseneck barnacle, which lives exclusively on floating marine debris. Or the Coronula diadema barancle, which lives exclusively on Humpback whales."
It's not uncommon to find smaller gooseneck barnacles living on larger ones. They make great city planners, apparently.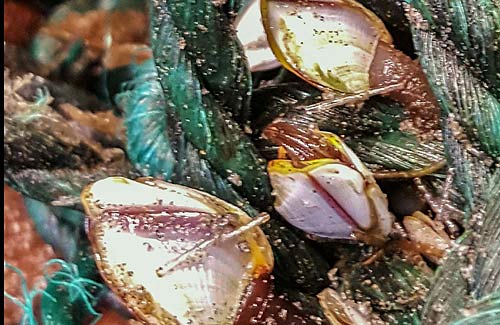 Above: goosenecks living on a rope, courtesy Seaside Aquarium.
Of course, living on debris means you're at the mercy of the winds and currents. There's no telling where you'll be living next, if you're a gooseneck barnacle. You could be floating along the waters of Russia, Japan or Hawaii one moment, and the next you're food for something with wings on a beach on the Oregon coast.
Boothe said seagulls love to eat them, especially once they've stranded on land.
Gooseneck barnacles were also found in abundance on the tsunami debris from Japan. The most notable example was the giant concrete dock that washed up at Newport's Agate Beach in 2012, which was about 90 percent covered in them. The other ten percent included a few unwanted species, which scientists are still worried about to this day. It's possible some kinds of invasive species may have gotten a foothold in the near-shore environment, and that experts just haven't found these populations yet.
Another fascinating find was of a pink slipper in Cannon Beach a few years ago, also presumably part of the tsunami debris. After being brought to the Seaside Aquarium, Boothe found it covered with goosenecks on the inside.
A weird bit of history about the science of studying goosenecks: there was a time when people actually thought a certain breed of geese came from these barnacles. Before it was known that birds migrate, a European species called the Barnacle Goose was never seen nesting, and given its similarity in color to the barnacles, folks of the Middle Ages and even later assumed that's where they came. It also didn't help that there were assumptions that trees already had barnacles on them when they fell into the ocean, since the barnacle was most often found on logs after being adrift in the ocean. Oregon Coast Lodgings for this - Where to eat - Maps and Virtual Tours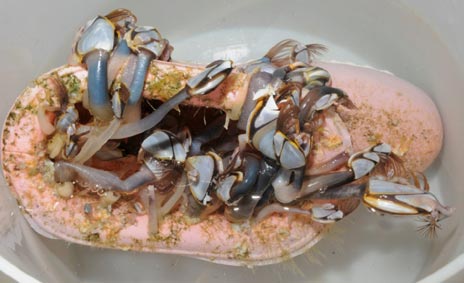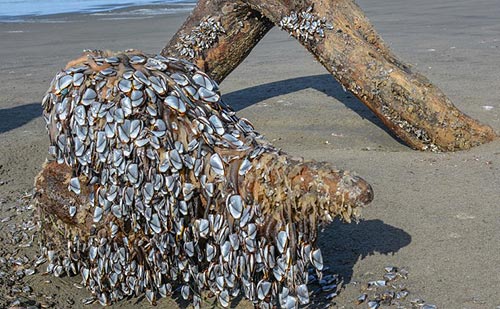 Photos above courtesy Seaside Aquarium: a log covered in goosenecks and the pink slipper tsunami debris containing the creatures.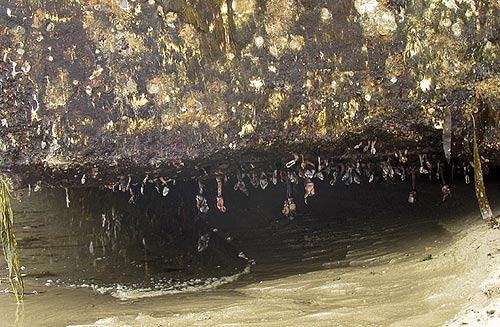 Photo above by Terry Morse: the tsunami dock in Newport, 2012
More About Oregon Coast hotels, lodging.....
More About Oregon Coast Restaurants, Dining.....
LATEST Related Oregon Coast Articles
Back to Oregon Coast
Contact Advertise on BeachConnection.net
All Content, unless otherwise attributed, copyright BeachConnection.net Unauthorized use or publication is not permitted