Oregon Coast Travel: Difficult But Comic Lessons the Beach Can Teach
Published 10/13/2017 at 10:47 PM PDT - Updated 10/15/2017 at 5:07 PM PDT
By Andre' Hagestedt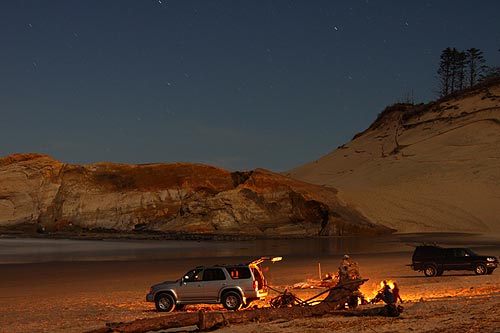 (Oregon Coast) – (Updated with Travel, Weather Latest). Exploring the Oregon coast is an endless array of amusement, wonder and often unforgettable finds. It's bountiful in its beauty and grandeur, a true refresher of the soul and a literal breath of fresh air. (Above: driving around the Cape Kiwanda sands isn't always a good idea)
I consider my job to be that of a professional beach bum: I get paid to go to the beach. As editor of Oregon Coast Beach Connection, this has been my gig for over a decade now. And it never gets old.
Yet the beach has a way of showing you who's boss. This is one thing I've had to learn the hard way at times, even with the respect of the ocean I've always had.
Still, these lessons have had their comical side. Some of these occurred long before this publication existed. They weren't always funny at the time, but sure they can be viewed that way now.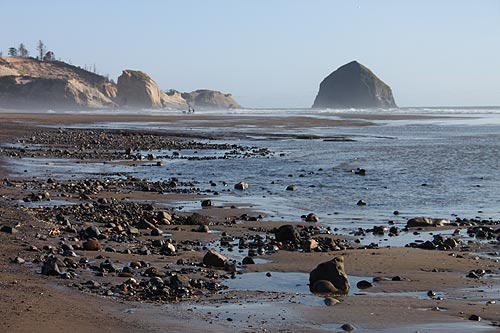 Above: where I lost my keys
Lesson One: Don't lose your keys on the beach. It's a beautiful Second Summer day in September of 1993 at Cape Kiwanda State Park, and I should have been a little more on the obsessive-compulsive side than I usually am about checking for my keys. Somewhere along this sunset walk, my rather old, torn shorts let my keys loose into the surf of the Oregon coast.
And the sun was going down fast. I lost light within a half hour.
An hour after calling a locksmith, he finally arrived, and it turned out he had vision problems and couldn't create a replacement key. After two hours of shivering in the cold, aching from hunger and too much coffee earlier, I was left with a steering column that was ripped open so I could at least start the car. This cost me 75 bucks.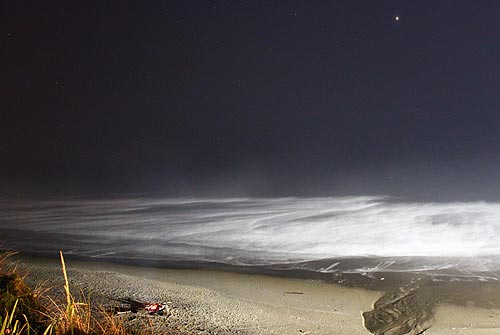 Above: Lincoln City at night

Lesson Two: Make sure you buy enough gas to head out to the coast. One night in November 1994, my friend Ruth and I abruptly decided we should drive (from Salem) to Lincoln City. It was 1 a.m., and about halfway there I noticed we were low on gas. I assured her there was an all-night gas station there. After all, I'd agreed to drive back, so she could sleep, because she had college classes in the morning.
It turned out, no, there was no gas to be had. At this time, stations in Lincoln City weren't open all night during the winter season as they are now. We were a bit panicked, but luckily I remembered a little secret that some cabbies stored gas just for such a situation. Whew.
That's probably not the case now. Oh and I wound up kind of a jerk: I passed out in the passenger seat, forcing my poor friend to drive back anyway. Ouch.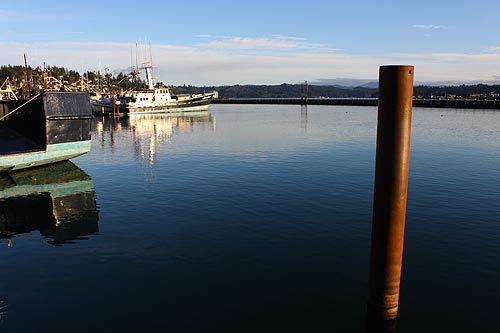 Lesson Three: Watch Out for Beach Karma. About 1997, my girlfriend at the time and I went out on one of those Discovery whale watch tours in Newport. We overheard one lady tell the crew she was a journalist doing a story on the tour. Within 15 minutes, she, out of all the 20 people onboard, was the only one to get really seasick.
My lady friend and I snickered about this a bit, and relished in the fact we felt fine, practically boasting to ourselves. I even stood at the front of the ship and made goofy impressions of that scene in "Titanic" with my arms outstretched. (Hey, it was 1997 and that gag wasn't overdone as yet).
By the last half hour of the trip, Kathy and I felt increasingly queasy and awful. It felt like punishment for making fun of the seasick journalist.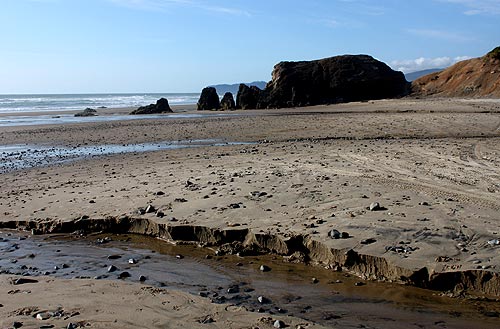 Above: the beach where I got stuck, McPhillips Beach at Cape Kiwanda, is also where I lost my keys ten years before.

Lesson Four: Follow Your Beach Intuition. In fall of 2004, I decide to take my little Toyota Corolla onto that same beach at Cape Kiwanda where I lost my keys eleven years earlier. Yet something nagged me inside about this being a bad idea, partially because I nearly got stuck in the sand last time, a few months ago. Sure enough, this time I get totally stuck. If it wasn't for a family from Coos Bay who were used to pulling others out of the sand at home, I would've spent the night on this beach. How dopey I felt admitting to them my job was editor of this publication.
If You're Heading to the Oregon Coast soon: Keep an eye on heavy rains coming. Check Oregon Coast Traffic Conditions and Oregon Coast Weather. See Oregon Coast Lodging for the latest bulletins on places to stay and their specials. Oregon Coast Hotels in these areas - Where to eat - Maps - Virtual Tours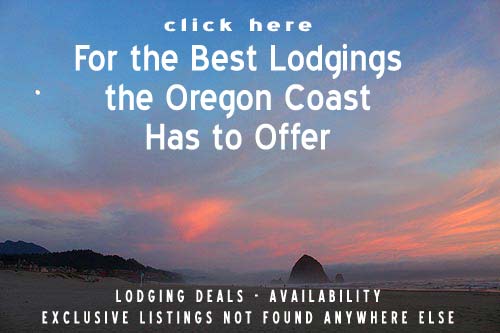 LATEST Related Oregon Coast Articles
Back to Oregon Coast
Contact Advertise on BeachConnection.net
All Content, unless otherwise attributed, copyright BeachConnection.net Unauthorized use or publication is not permitted