Latest in Oregon Coast Tsunami Debris News - How to Report Tsunami Debris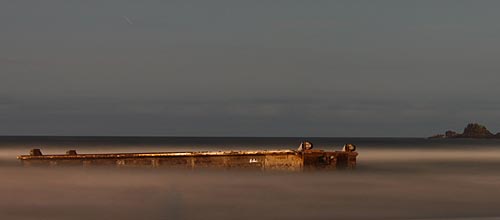 (Oregon Coast) –. See below for constantly updated tsunami debris news from Oregon and Washington.
How to Report Tsunami Debris:
To report tsunami debris on the Oregon coast call 211 (1-800-SAFENET) or send an email at beach.debris@state.or.us.
Latest Tsunami Debris News Articles - Oregon, Washington Coast

Oregon Coast Citizen Science Day and Talk on Tsunami Debris
The weekend of June 24 and 25 will be a special weekend on the central Oregon coast that's entirely devoted to the Otter Rock Marine Reserve. Depoe Bay events

Oregon Coast Event Examines Debris Boats and Their Invasive Species
On Tuesday, May 17, Hatfield researcher John Chapman gives a talk with background information on this phenomenon. Florence events

Oregon Coast Beach Cleanup Finds the Odd, Spooky and Amusing
5,000 volunteers pulling some 90,000 pounds of litter and marine debris from Oregon coast beaches

SOLVE's Oregon Coast Cleanup Calls for Volunteers
On Saturday, March 26, scour beaches for wayward litter and debris washed in from winter storms

Agates on Oregon Coast Crazy Good; Erosion Changes Beaches
Other remarkable changes as well, including shifting streams around, filling beaches with debris, remodeling dunes

A Look at Oregon Coast Marine Debris, King Tides
A discussion about marine debris along the Oregon coast and a call for help about documenting king tides. Yachats events

Oregon Coast Presentations on El Nino, Birds, Marine Debris, the Blob
October 1 and 2 present some unique learning opportunities on two parts of the Oregon coast

Officials Tracking Suspected Tsunami Debris Boat off Oregon Coast
The object will soon be retrieved, and already has contained some still-living sea life

Clean Up the N. Oregon Coast's Bay and Estuary on March 7
Every two years, residents from the Manzanita/Nehalem Bay area of the north Oregon coast bundle together and attack the bay and its estuary to clean up litter and debris. Manzanita events

Oregon Coast and River Cleanup Snags nearly 5,000 Volunteers
SOLVE said over 52,200 pounds of trash and debris were collected from over 110 project sites including beaches, rivers, neighborhoods, parks, and school grounds around the state

Oregon Coast Tsunami Debris Questions: What are the Red Bulbs?
Among the many ocean debris finds of late along the Oregon coast are red bulbs, hardy and hardened enough to make the trek across the sea

New Meteor Shower Possible for Earth - including Oregon, Coast, Portland
Earth will be passing through a large cloud of debris from comet 209P/LINEAR on May 23 and 24

Oregon Coast Rush of Tsunami Debris: Call for Volunteers
A sudden flood of tsunami debris and other objects along the Oregon coast has officials scrambling to clean up the beaches

SOLVE Announces Date for Oregon Coast Spring Beach Cleanup
March 22 is now the official date for the next SOLVE Beach Cleanup along the Oregon coast. Tsunami debris. Science. Warrenton, Seaside, Cannon Beach, Manzanita, Rockaway Beach, Oceanside, Pacific City, Lincoln City, Depoe Bay, Newport, Yachats

Biggest Oregon Coast News Stories, Developments of the Year
Tsunami debris, wild weather, astronomy, meteors, whale research, somber ocean science, a weird fish, and more

Latest Tsunami Debris from Google News, various media

Debris that could be from a 100-year-old shipwreck found on Oregon coast - Or...
16 Jun 2017 at 1:10pm

OregonLive.com
Debris that could be from a 100-year-old shipwreck found on Oregon coast
OregonLive.com
Now, the state archaeologist's office in Salem will examine the log to determine whether it is a very old ship's keel or something else entirely, like debris from the tsunami in Japan in 2011. They may study the wood and the cuts and hardware to ...

and more »
Possible shipwreck debris uncovered in Cannon Beach - Daily Astorian
15 Jun 2017 at 4:21pm

Daily Astorian
Possible shipwreck debris uncovered in Cannon Beach
Daily Astorian
Without a thorough examination, the object could be anything from a structural part of a ship to debris still washing ashore from the tsunami in Japan in 2011. Dewey, an anthropology ... Shipwrecks are not uncommon along the Oregon Coast. Three men ...

and more »
Nature Walks, Talks at Oregon Coast Beach Bill Party in Cannon Beach - Oregon...
21 Jun 2017 at 6:00am

Oregon Coast Beach Connection
Nature Walks, Talks at Oregon Coast Beach Bill Party in Cannon Beach
Oregon Coast Beach Connection
Henderson (whose books include Strand: An Odyssey of Pacific Ocean Debris, and The Next Tsunami) will be speaking on the native trails and highways, leading into the history of the Oregon Coast Trail and its present status. Refreshments will again be ...


Highway workers injured in hit-and-run on I-5 north of Aurora; causes massive...
6 Jun 2017 at 7:21am

OregonLive.com
Highway workers injured in hit-and-run on I-5 north of Aurora; causes massive traffic backup
OregonLive.com
Two Oregon Department of Transportation contract workers were seriously injured early Tuesday on Interstate 5 in a hit-and-run crash near Aurora, Oregon State Police said. Troopers responded around 3:15 a.m. to the crash near northbound milepost 280 ...

and more »
Bend police investigating mother's role in daughter's suicide - OregonLive.com
6 Jun 2017 at 9:50am

OregonLive.com
Bend police investigating mother's role in daughter's suicide
OregonLive.com
Now, the state archaeologist's office in Salem will examine the log to determine whether it is a very old ship's keel or something else entirely, like debris from the tsunami in Japan in 2011. ... In a terse statement Friday, the U.S. Attorney's office ...

and more »
Japan Gifted $5M to 5 States for Tsunami Debris Cleanup - Big Island Now
26 Apr 2017 at 6:50pm

Big Island Now
Japan Gifted $5M to 5 States for Tsunami Debris Cleanup
Big Island Now
After the devastating tsunami generated by the 9.0-magnitude earthquake that struck the coastal areas of Japan's T?hoku Region on March 11, 2011, the Japanese Ministry of the Environment estimated that 1.5 million tons of floating debris had been swept ...

and more »
Japan's tsunami debris: Five remarkable stories - BBC News
8 Mar 2016 at 4:09pm

BBC News
Japan's tsunami debris: Five remarkable stories
BBC News
This belonged to someone, this is someone's property," recalls Marcus Eriksen, a marine conservationist who led a 2012 expedition to survey the vast volume of debris cast into the ocean by a massive earthquake-triggered tsunami that hit Japan's ...
Invasive Species Doubts Five Years After Japan's TsunamiThe Maritime Executive
Tsunami's Hitch-hiking Marine Life Find Refuge in OregonVoice of America
Tsunami washed Japanese shore crabs, barred knifejaws and blue ...The Register-Guard

all 11 news articles »
Debris, presumed to be from 2011 Japan tsunami, found in Oregon - CNN
11 Apr 2015 at 4:55am

CNN
Debris, presumed to be from 2011 Japan tsunami, found in Oregon
CNN
The Oregon Parks and Recreation Department has reported that a section of a fiberglass boat 20 or 30 feet long was spotted off the state's coast this week and has been towed into harbor. The debris is suspected to be from the earthquake and tsunami ...
Suspected Tsunami Debris Found in OregonThe Maritime Executive
Piece of Ship from Japan's 2011 Tsunami Surfaces in OregonNewsweek

all 77 news articles »

Latest from Washington State, various media

Opium use booms in Afghanistan, creating a 'silent tsunami' of ... - Washingt...
19 Jun 2017 at 1:04pm

Washington Post
Opium use booms in Afghanistan, creating a 'silent tsunami' of ...
Washington Post
One recent morning, three figures in white lab coats descended cautiously into a pitch-black netherworld beneath a crumbling bridge in the Afghan capital.

and more »
Swimming robot to probe damage at Japan nuclear plant - Washington Post
15 Jun 2017 at 12:26am

Washington Post
Swimming robot to probe damage at Japan nuclear plant
Washington Post
YOKOSUKA, Japan ? A Japanese industrial group unveiled Thursday a robot designed for underwater probes of damage from meltdowns at the Fukushima Dai-Ichi nuclear plant after the March 2011 earthquake and tsunami. Remote controlled robots are ...

and more »
Debris that could be from a 100-year-old shipwreck found on Oregon coast - Or...
16 Jun 2017 at 1:10pm

OregonLive.com
Debris that could be from a 100-year-old shipwreck found on Oregon coast
OregonLive.com
Now, the state archaeologist's office in Salem will examine the log to determine whether it is a very old ship's keel or something else entirely, like debris from the tsunami in Japan in 2011. They may study the wood and the cuts and hardware to ...

and more »
Mountains of debris from the Japanese tsunami have floated to the West Coast ...
5 Aug 2015 at 8:50am

Washington Post
Mountains of debris from the Japanese tsunami have floated to the West Coast
Washington Post
The month-long barge operation is part of a massive project to clean remote and rugged shorelines of tons of marine debris, some of it from the 2011 Japanese tsunami. Helicopters are slinging giant sacks of debris out to the floating barge, which is ...
With barge arrival in Seattle, 2011 tsunami debris nears journey's endThe Seattle Times
Tons of tsunami debris from Japan now docked in SeattleQ13 FOX
Barge brings tons of tsunami debris, marine trash to SeattleKOMO News
Mother Nature Network -Northwest Public Radio
all 215 news articles »
Highway workers injured in hit-and-run on I-5 north of Aurora; causes massive...
6 Jun 2017 at 7:21am

OregonLive.com
Highway workers injured in hit-and-run on I-5 north of Aurora; causes massive traffic backup
OregonLive.com
Now, the state archaeologist's office in Salem will examine the log to determine whether it is a very old ship's keel or something else entirely, like debris from the tsunami in Japan in 2011. They may study the wood and the cuts and hardware to ...

and more »
Bend police investigating mother's role in daughter's suicide - OregonLive.com
6 Jun 2017 at 9:50am

OregonLive.com
Bend police investigating mother's role in daughter's suicide
OregonLive.com
Now, the state archaeologist's office in Salem will examine the log to determine whether it is a very old ship's keel or something else entirely, like debris from the tsunami in Japan in 2011. They may study the wood and the cuts and hardware to ...

and more »
4 years later, tsunami debris washes up in Washington state - OregonLive.com
31 May 2015 at 9:25am

OregonLive.com
4 years later, tsunami debris washes up in Washington state
OregonLive.com
OLYMPIA, Washington -- Four years after a tsunami devastated Japan's coast, debris still washes up in Washington -- and winds up in the hands of state wildlife officials. The debris comes with an environmental threat -- invasive species and parasites ...
Invasive Species From Japan Reaches Washington Via Tsunami DebrisTech Times
Invasive species hitching a ride on debris from Japan's tsunamiThe Seattle Times

all 25 news articles »
Beachcombers Still Finding Likely Tsunami Debris More Than 5 Years After Disa...
10 Apr 2016 at 3:26pm

OPB News
Beachcombers Still Finding Likely Tsunami Debris More Than 5 Years After Disaster
OPB News
Local beach cleanup volunteer Russ Lewis showed NOAA Administrator Kathryn Sullivan and Congresswomen Jaime Herrera Beutler, R-Wa, a wide variety of debris he collected that had Japanese writing or labels. ?You can go out there one morning after a ...

and more »
Back to Oregon Coast
Contact Advertise on BeachConnection.net
All Content, unless otherwise attributed, copyright BeachConnection.net Unauthorized use or publication is not permitted
Follow us on


OREGON COAST VIRTUAL TOURS
Explore Every Beach Spot