Ten Engaging, Unique Lodgings of Manzanita, Rockaway Beach – N. Oregon Coast
Published 10/27/2017 at 5:47 PM PDT
By Oregon Coast Beach Connection staff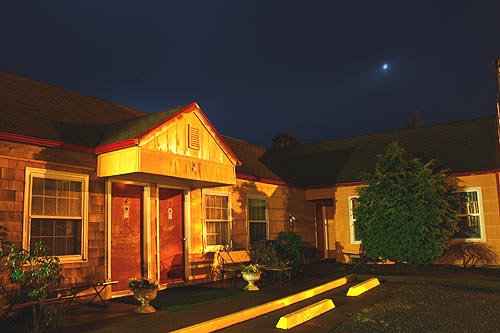 (Manzanita, Oregon) – Sometimes you just want something different – maybe even startlingly so. And so it goes with a visit to the north Oregon coast, and your next adventure to the Nehalem Bay area: encompassing Manzanita, Wheeler, Nehalem, Rockaway Beach and maybe even the Tillamook Bay area. (Above: San Dune Inn, Manzanita).
Where to stay in these areas when you want something a little out of the ordinary? Here's a glance at roughly ten distinctive, perhaps even individualistic places to stay in this haven of the truly unique: the Nehalem Bay towns of Rockaway Beach, Manzanita, Nehalem and Wheeler. (See the full Manzanita, Rockaway, Wheeler Lodging page for bulletins on deals and specials, and for exclusive listings not found anywhere else.)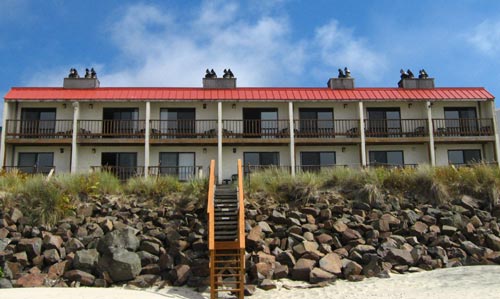 Starting in Rockaway Beach, the Tradewinds Motel is not only oceanfront but it's a close drive to all the essentials and highlights of this part of the north Oregon coast: the fishing opportunities of Tillamook Bay and Nehalem Bay (not to mention crabbing), playing on the beach at Rockaway Beach, historic train rides around Garibaldi, and the splendors of Manzanita, Wheeler and Nehalem. There are oceanfront units and less costly non-oceanfront units, but what really makes Tradewinds unique is how many of the rooms can connect to host larger groups.
That, and the close proximity to the ocean. Winter waves can really put on a show here. (503) 355-2112 - 1-800-824-0938. www.tradewinds-motel.com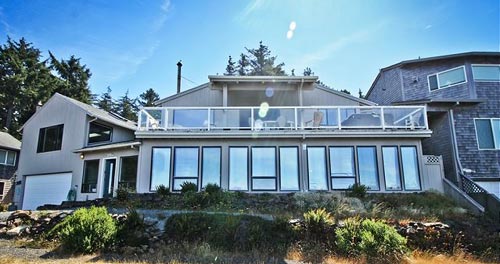 Also covering Rockaway Beach and Manzanita in great numbers is Sunset Vacation Rentals, with a whole lot of pet friendly options. Homes sleep anywhere from 2 to 20. A couple of highlights include a house that has a babbling brook next to it, or the lively lovely that's a log cabin on the inside. 503-368-7969. 800-883-7784. www.ssvr.com.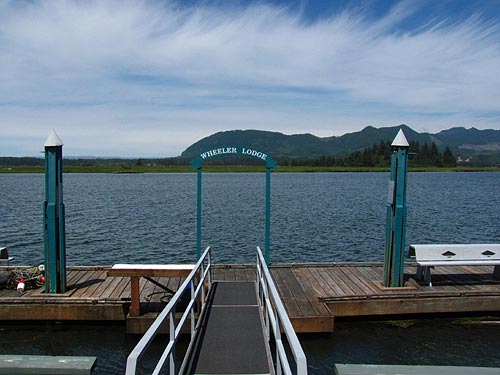 There isn't much in Wheeler in the way of lodging, but what is there is stunning: namely Wheeler on the Bay Lodge. While there is no beachfront in this village, the Lodge's rooms are right on the Nehalem Bay. You even get your own dock, essentially (and free use of kayaks if you stay more than two nights). Watch the bay in calm or in chaos, depending on the weather. Another highlight is the elk and other wildlife on the island across the way, sometimes duking it out during mating season. 503-368-5858. 800-469-3204. www.wheeleronthebay.com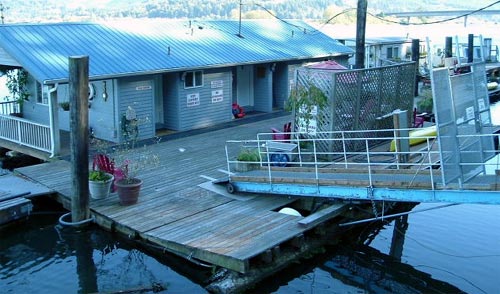 Just up the road in Nehalem, Beach Break Vacation Rentals features some gorgeous homes in Rockaway Beach as well, including some spectacular lakeside beauties around Lake Lytle. Their reach also extends all the way south to the mysterious little village of Cape Meares – part of the Bayocean Spit, where a ghost town once stood. Plenty of vacation rental homes in Manzanita, of course, and one all the way up in the secretive Falcon Cove area (sort of hidden to the north of Oswald West State Park). One of the highlights here are some of the vacation home options on the Nehalem River – including that "boatel," a floating home. 503-368-3865. 877-655-0623. www.beach-break.com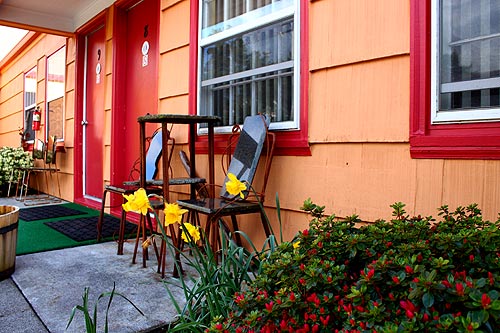 Inside Manzanita, tucked away on a back road just a block from Laneda, is the historic charmer of San Dune Inn. Super pet friendly and family-friendly. The place is like a garden in the summer, and the whimsical little glowing fairie set up beneath one tree adds a whole new fantasia-like vibe. There's a lovely barbecue and tent in the back garden. Plus, you get cool smaller touches like beach chairs and blankets to hit the beach with, games, beachballs and even some bikes to carouse around in. 503-368-5163. San Dune Inn Website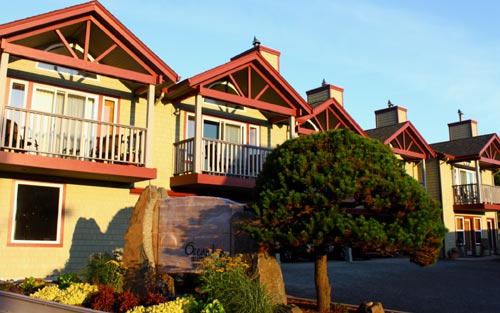 Ocean Inn is an exquisite beauty right on the beach, with a vibrant exterior and some extraordinary interiors. Rooms have an upscale glow to them, or they have wood paneled walls and brick that immerse you in a sense of the homey. The ocean-facing decks don't hurt, either. Manzanita, Oregon. 503-368-7701. 866-368-7701.  www.oceaninnatmanzanita.com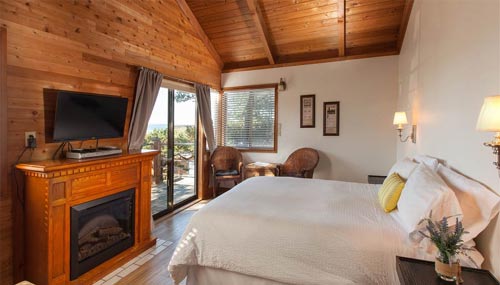 In the midst of a dense little forest all its own, Inn at Manzanita is downright radiant and aglow with its use of wood and cheery color schemes. First, you step into an almost mystical garden that feels somewhere between rustic rain forest and a Japanese garden. Sleek designs mix with partial ocean views and whispers of the waves at night. Manzanita, Oregon. 503-368-6754 http://innatmanzanita.com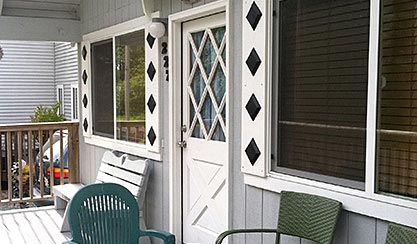 Rustic to dreamy, cozy cottages to nearly massive mansions – or oceanfront to soaring views: these are the kinds of vacation rental homes you'll find at Meredith Lodging in Manzanita. They have greater Manzanita sowed up, with a ton of houses on the slopes of Neahkahnie Mountain, close to the golf course, in the forested section near the beach, next to Nehalem Bay State Park or right on the beach. Manzanita, Oregon. 541-996-2955 or 1-800-224-7660. Web Site Here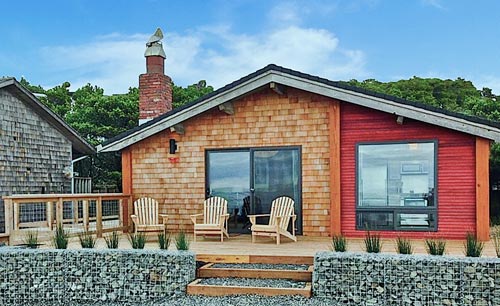 Another truly unique set of vacation rental homes is The Houses on Manzanita Beach, where the beauty can be downright unreal. This handful of houses all have ocean views or are on the beach, and they can come with some fascinating amenities, such as radiant floor heating in one. One is practically a sprawling complex while another is brightly painted with vibrant colors. Manzanita, Oregon. (503) 354-4287. Website here.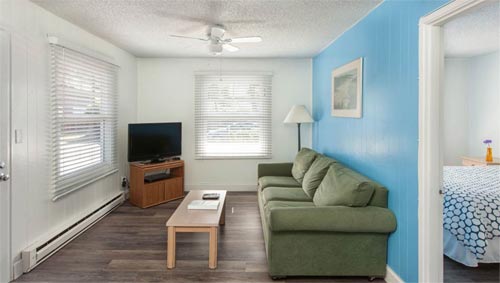 Spindrift Inn, just a block from the beach, is yet another historic wonder in town. The quaint charms of yesteryear plus all the modern conveniences combine with that wistful sound of the waves. A private, hidden garden and rather inexpensive prices add to the fun factors. Manzanita, Oregon. Toll-free (877) 368-1001., www.spindrift-inn.com
Another two are of note in the area, including the various homes run by Oregon Beach Vacations and the standout and very original Sheltered Nook on Tillamook Bay, a bit south of Rockaway Beach.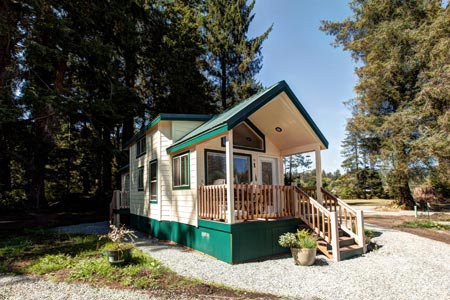 At Bay City, Sheltered Nook on Tillamook Bay offers up not only a spirited charm that is really uncomparable but very unique and ingenious idea: tiny homes as vacation rentals. They don't look tiny when you get inside, interestingly enough. Moreover, their dedication to eco-friendly ideals is resplendent. Bay City, Oregon. (503) 805-5526. http://shelterednook.com
Oregon Beach Vacations has gobs of rentals all over the Oregon coast, but they have quite a variety in Bay City, at Rockaway Beach and in Manzanita. Find inexpensive options to large mansion-like dwellings all over the Nehalem Bay area. Office in Cannon Beach. 1-800-723-2383. www.oregonbeachvacations.com
Nehalem Bay- Manzanita, Wheeler, Rockaway Beach Virtual Tour, Map