Colorful Sea Slugs Make Waves in Oregon Coast Tide Pools
Published 2007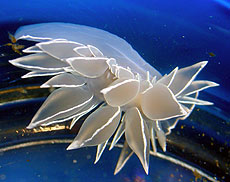 Dirona albolineata
(Seaside, Oregon) – They look like surreal creatures from a sci-fi film, or maybe an example of the freaky fractal exercise known as the Mandelbrot set - existing in a myriad of shapes and colors that simply blow the mind. (All photos Seaside Aquarium).
And you find them in tide pools of the Oregon coast.
As the ocean water and the beaches warm up over the summer, playing around tide pools becomes de rigueur on a trip to the area.
"When you go out to a tide pool, are you seeing all there is," asked Seaside Aquarium's Tiffany Boothe. "Do you know what it is you're looking at? Can you determine whether or not what you're looking is an animal or a plant?"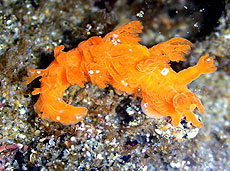 Dendronotus
Boothe said there's a lot people are probably overlooking on their often cursory glances or looks into the little colonies of life left by low tides. One of these is the wild and wonderfully colorful sea slugs – or nudibranchs (pronounced with a "k" sound at the end, not a ch sound). They come in such diverse shapes, patterns and colors it is impossible to see all the configurations.
Some 3,000 different species inhabit the world's oceans and tide pools, ranging in length from 1/8 inch to 12 inches.
All photos here taken by Boothe on different expeditions to coastal tide pools.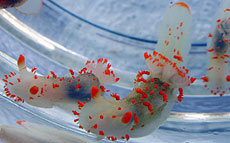 Catalina tropha
"Nudibranchs are marine snails, relatives of limpets and abalone," Boothe said. "Through evolution they have lost their shell. In fact, the name nudibranch means 'naked gills,' referring to the fact that their gills are on the outside of the body. While most lack shells some species have a reduced or internal shell."
Boothe said they come in all shapes, sizes, and colors. Some nudibranchs are able to blend in with their environment by means of cryptic coloration; while others brightly advertise their presence to everyone.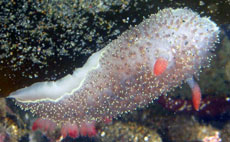 Nanaimo dorid
200 different species call the Pacific Northwest home, making quite the color splash in those tide pools you're peeking into on the Oregon coast.
The bright coloration of some nudibranchs is a warning to predators of a foul taste and in some cases toxins, Boothe said. Scientists have observed fish repeatedly swallowing and spitting back out nudibranchs until the association between bright color and foul taste is learned.
Like all other gastropods, they move slowly on the bottom of the ocean. Some of these creatures have numerous body projections which are called cerata, which increases the overall body surface of these funky critters as well as enhances breathing.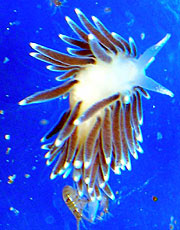 Flabellina triophi
Because of some unique physiology involving a narrow dietary range and a few other factors, they tend to exist only in small, special environments – known as micro-environments. Therefore, they can't be kept in aquariums, because reconstructing such specialized environments is extremely difficult.
This biological need for such a singular surroundings also keeps them from being fished out by tourists or collectors. They lose their colors and shape if taken away. So, if you see one of these incredible creatures in a tide pool and feel the need to nab it for that week's show-and-tell, you won't have anything to show.
They sometimes have an interesting way of defending themselves beyond the bad taste. They actually adopt the stinging defenses of other creatures they eat.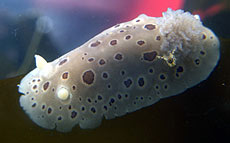 Diaulula sandiefen
"Nudibranchs often feed on prey that most sea creatures deem unpalatable,
such as hydroids and sea sponges," Boothe said. "Some nudibranchs, such as the Opalescent (Hermissenda crassicornis), can recycle the stinging cells (called a nematocyst) of its prey to use in its own defense. The cells are often more concentrated in the nudibranchs, and after handling an Opalescent I am often left with a small itchy rash where the nudibranch stung me."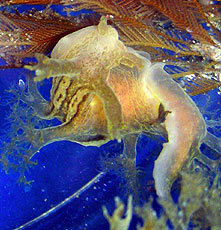 Dendronotus subram
Boothe equated the pain level to that of a bee sting – not too bad, but not something you want to do for fun. She also noted they don't sting unless they feel threatened for reason. She's picked up numerous samples, but only been stung a few times. One of those few times was when she was touching it periodically, then holding it a bit. Then all of a sudden – for some reason – it stung her hand.
She said it takes a little looking around, but you can find them in tide pools all up and down Oregon's 364 miles of coastline. "While exploring just one tidal area I was able to find eight to nine different species," Boothe said. "Once I spotted the Opalescent nudibranchs, and began looking a bit closer and I noticed that this place was a nudibranch city. They were everywhere."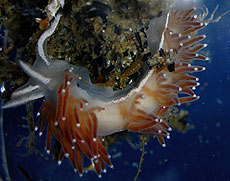 Palmagrante
They are more obvious during warmer months, Boothe said, coming out of the upper portions of the ocean's layers to lounge around tide pools. But they are always around, whatever time of the year. They're just a bit more hidden.
Boothe added nudibranchs are aiding medical research.
"Another interesting tidbit about these beauties is that scientists have recently turned to the nudibranch in hope that the tiny sea slugs might shed some light on the fight against cancer," she said.
It's better to find tide pools at low or extremely low tides, but some places have them at just slightly lower tides.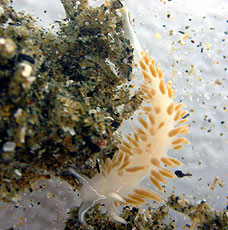 Flabellina trillin
For the north coast, good places to find tide pools are Hug Point, Arcadia Beach and Cannon Beach (at the bottom of Haystack Rock). Some could be found at extreme low tides at the southern end of Arch Cape. There are mostly sandy beaches or cliffs from Seaside to Astoria, or from Manzanita down to Tillamook Bay (some 40 miles). The next area to find them would be on the other side of the tunnel at Oceanside (this is not always accessible), some parts of Cape Lookout State Park and one small area at Cape Kiwanda.
For the central Oregon coast, most of Lincoln City is too sandy, but some tide pool areas exist near the NW 15th street ramp and below the Inn at Spanish Head. There are marine gardens near the Devil's Punchbowl, at Newport's Yaquina Head, lots of them at Seal Rock, and tons of them along Yachats' rocky slabs and beaches. Between Yachats and just north of Florence, there are dozens of hidden beaches where tide pools outnumber people by at least 10 to one.
The Oregon State Parks Department website urges you to not poke, prod or pry off creatures from tide pools. Do not squish them, injure them or collect them. Prying a creature off rocks may tear off their arms and feet or destroy their organs. In the case of mature mussels, not only can they not reattach themselves – and thus die – when they're pulled off a rock, but it can also take years for others to grow back.
The best way to take something home from a tide pool is to take a photograph of it. More about Oregon Coast Science..............All Oregon Coast Tide Pools (where to find them - every single tide pool)
More About Oregon Coast hotels, lodging.....
More About Oregon Coast Restaurants, Dining.....
LATEST Related Oregon Coast Articles
Oregon / Washington Coast Alerts: Flood Watch, First Big Waves of Season
Floods, lots of rain, high winds and some rather good storm watching, beach safety
Sea Lions Sick with Leptospirosis on Oregon Coast: Keep Pets, Yourselves Away
Stay clear of sick or dead sea lions. Marine sciences, beach safety
Yachats Oktoberfest Takes German Culture on Oregon Coast to New Levels with L...
A kind of accordian-palooza, there's beer, brats, wine and waves, Sept 29 - Oct 1. Yachats events
At Seal Rock's NW Curtis St.: Funky Little Oregon Coast Access with No Name
NW Curtis St., not far from Newport, Yachats or Waldport
Seaside Event Digs Into Mysterious Bayocean, the Oregon Coast Ghost Town
September 28 at 6 p.m. at Seaside Brewing. History, Seasode events, Tillamook
Central Oregon Coast Artist Shows at Florence Visitor Center
Regina 'Reggie' Oflock of Sea Gypsy Cottage Gallery. Florence events
Small Vessel Strands on Central Oregon Coast's South Beach, Cause Unknown
Fishing vessel Judy stuck on a Newport beach. Florence events, Newport events, Lincoln City events, Yachats
SOLVE Cleanup Finds on Oregon Coast Include a Whale
This carcass had been in the news before, victim of orcas. At Otter Rock near Newport. Marine sciences