Seven Wowing Wonders of Oregon Coast's Oceanside
Published 09/17/2015 at 5:24 AM PDT
By Oregon Coast Beach Connection staff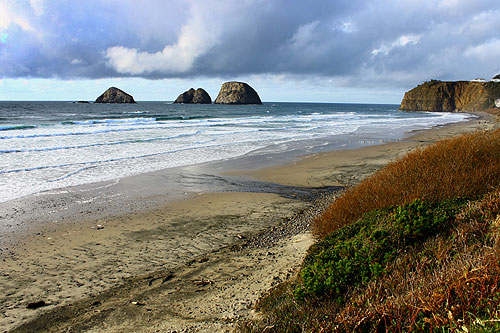 (Oceanside, Oregon) – About nine miles west of Tillamook, on the north Oregon coast, you'll find a tiny, seemingly nondescript village called Oceanside, at the northern edge of the Three Capes Tour. But there is so much more to this puny placethan meets the eye, and in fact you could not explore all of it in one day.
It is one wondrous place. But if you positively, absolutely, had to narrow them down, you could compact these wow factors into a list of Seven Wonders of Oceanside.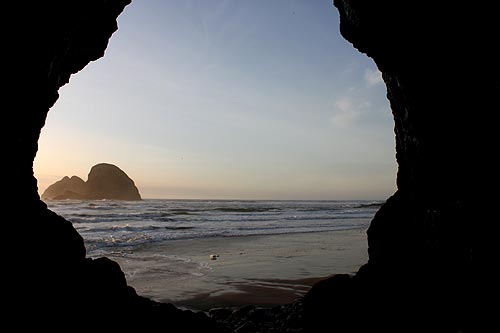 Tunnel Through Maxwell Point
Probably the most recognized feature of the village of Oceanside is that oh-so-enticing tunnel. Maxwell Point had a hole blasted in it about 100 years ago, and thus a small resort was briefly born.
It's spooky but fun, and a tad claustrophobic. Indeed, it is a kind of cheap thrill (as in free), with a bit of a jolt to the system like those haunted houses at Halloween. Water is dripping from crusty and jagged walls, and for a while it's nearly pitch black. Then, the light appears brightly, leading you back the way you came – or to a beach full of delights.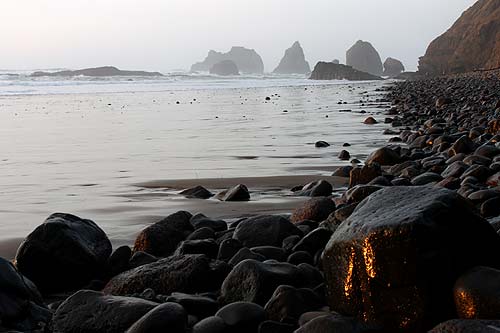 Beach Beyond the Tunnel Star Trek Beach
Originally called Tunnel Beach by some, it seems to have acquired the nickname Star Trek Beach in the last two decades as many started noticing structures that had similarities to the original sci-fi classic (like the place where Kirk fought the Gorgon).
Mostly, this once-secret spot boasts bundles of basalt features to climb around on, plentiful agates in winter, and gobs of beautiful starfish colonies. Some funky little caves and crevices cajole, with the best saved for last: one big, yawning cave at the very end of this strand.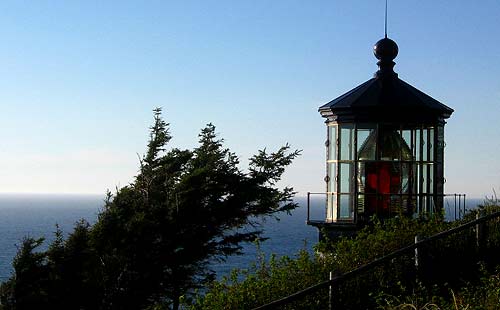 Cape Meares
There is much about this last of the three capes (or the first one, depending on where you enter the Tour) that is jaw-dropping. The immense ocean vistas, for one. These fill the eyes and the horizon, with platforms and benches set up for one Kodak moment after another, or to just soak in the sights.
Storms are quite sensational here. Monster waves come crashing in, and under the right conditions they can look like they're high enough to be gunning for you at this height of 200 feet. They smack the haystacks with impressive intensity and then disappear.
It's also a favorite birding spot, where you can often see bald eagles try to swoop in on the nests of whatever bird of the season is there trying to raise its young.
Then, of course, there is the Cape Meares Lighthouse, which you can get inside during the summertime.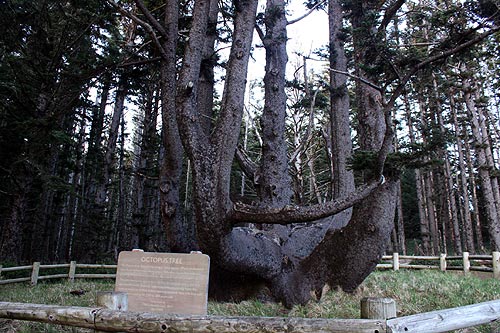 Octopus Tree at Cape Meares
Once it had eight massive limbs, but now only seven – after a storm ripped it up in the 80's. This weird, wacky oddity is famous for being famous, having once been listed in the Ripley's Believe It Or Not books.
Its candelabra shape is thought to have come from native tribes burying their dead in canoes in the tree, causing limbs to grow up and around them. And who can blame them for using such a burial site? An astounding view spills out from this cliff, where you can see the other side of the Three Arch Rocks and look down at both Short Beach and the famed Lost Boy Beach.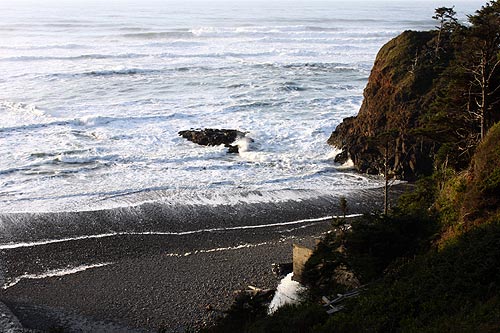 Short Beach
Behind Oceanside runs the last leg of the Three Capes Tour's road, and between the town and Cape Meares is one of the Oregon coast's best kept secrets: Short Beach. Look for Radar Road (named for an actual radar station once there). Take the long, long stairway down (apparently 1,000 steps or so) and you reach this awe-inspiring little cove-like beach.
It's recognizable by the blob of a basalt structure at its tide line – one that looks a lot like Proposal Rock at Neskowin. Surrounding it are large, polished stones that are rather difficult to walk on, but they give way to a tiny slice of sand. Keep walking north (you can't get too far) and you'll spot what looks like another mini-cove within this mini-cove, and some pretty waterfalls.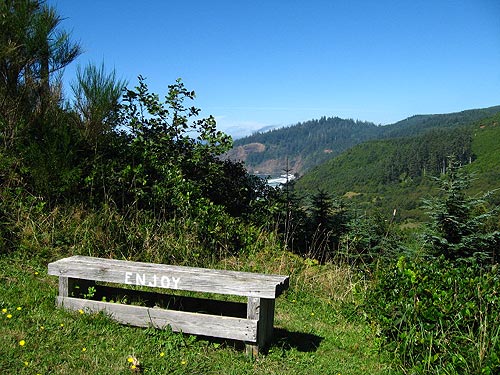 Neighborhood Drive
If you've got the time, this drive has the wonders. Take a leisurely stroll or trip by car through Oceanside's tiny back streets, which slowly wind up that compacted hill you see above it. Ocean views abound, but the real star is some of the homes.
The more elderly residences are stunning enough, but some of the more recent additions may drive you mad with jealousy with their opulence and the views they soak in. A few of these have delightfully weird shapes which will astound you and maybe cause you to scratch your head. Many are located high up on the hill overlooking Oceanside and Maxwell Point, where a panoramic view of the ocean nearly wallops you with its immensity.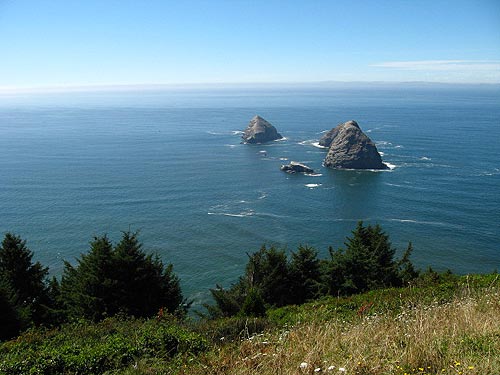 Top of Maxwell Point
When you take that neighborhood tour, at the very top sits one of the more incredible viewpoints along the entire Oregon coast. A favorite place for hang gliders, part of it is cordoned off now, and parking is difficult. It's also one of the region's most coveted secret spots.
Here, you are actually looking down on the iconic Three Arch Rocks, and nearly at equal height with the clouds. The beachgoers on the sands look like tiny ants. It's beyond breathtaking. Even more on this area at the Oceanside Virtual Tour, Map.
More About Pacific City, Oceanside, Netarts, Tierra Del Mar Lodging.....
More About Oregon Coast Restaurants, Dining.....
LATEST Related Oregon Coast Articles
Back to Oregon Coast
Contact Advertise on BeachConnection.net
All Content, unless otherwise attributed, copyright BeachConnection.net Unauthorized use or publication is not permitted