What's Up with Those Claims of Oregon Coast Towns?
Updated Periodically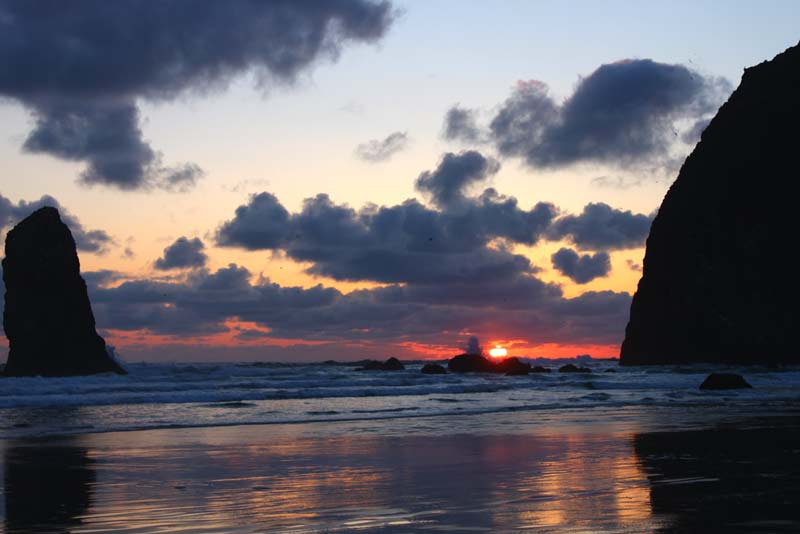 By Andre Hagestedt
(Oregon Coast) – One of them says it's the "Gem of the Oregon coast." Another claims to be "The Friendliest" and the "Dungeness Crab Capital of the World," while others claim to have the largest this or that, or maybe the smallest.
Those little burghs along the coast have a lot to offer, although some of the spin may be more in the realm of fish tales.
What is the truth behind these claims? Sometimes, it's obviously a slogan, but some towns defend these rather fiercely. And, as it turns out, several towns don't have to defend anything – because the truth is a lot more complex than you'd imagine.
This whole story idea came about because of something we at BeachConnection.net encountered about the two Haystack Rocks on the coast: one in Pacific City and one in Cannon Beach.
Cannon Beach has always claimed their's was the "third largest monolith" in the world, but we discovered the one at Pacific City was taller.
Then we discovered the term "monolith" wasn't exactly used everywhere in the world of geology, and then we found ourselves wandering down a strange path of all sorts of puzzling discoveries when it came to coastal towns claiming they have the biggest something or the smallest, or whatever.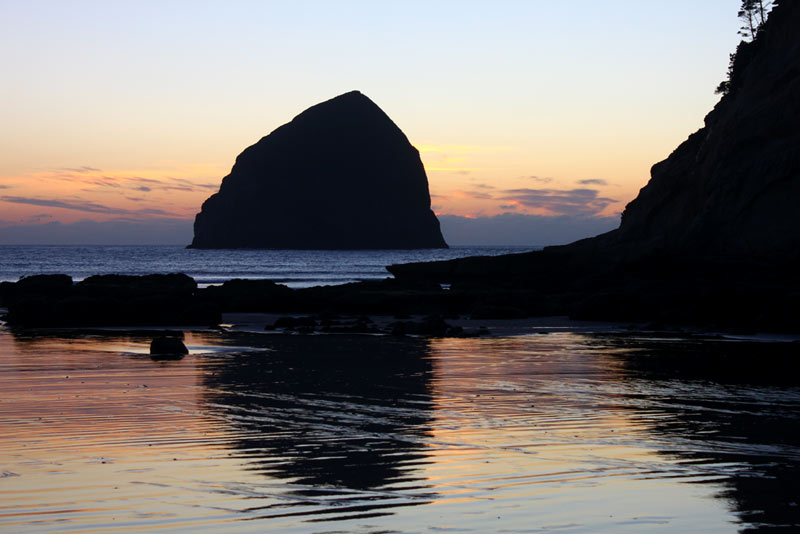 We asked geologist Jonathan Allan, with Oregon Department of Geology and Mineral Industries, about the height of the Haystack at Pacific City.
"The rock has an estimated height of 340.6 feet (103.8 m) as determined from Lidar data collected by our agency last year," he said.
Tom Horning, a geologist from Seaside, echoed what we already knew about Haytack Rock in Cannon Beach. It's about 235 feet high.
Meanwhile, no one in Cannon Beach could remember where the claim came. Neither Patrick Nofield of Escape Lodging, the Cannon Beach Historical Society or George Vetter of Cannon-Beach.net, all longtime residents, had any clue where it started.
"I don't recall ever having heard or seen the origin of that claim, but it has been repeated for at least 30 years to my knowledge," Vetter said.
So there was no way to track down the original geologist who made this observation.
Jeff Jewel, Executive Director of the Cannon Beach Chamber, was careful to point out Cannon Beach never claimed it had the "third tallest monolith" in the entire world, but the "third largest intertidal monolith" in the world – meaning they were referring to mass of the object and not height. But just as importantly, by "intertidal" they meant a sea stack (or monolith) that you could walk out to at low tide.
Uh, what?
Yes, Haystack Rock in Pacific City is taller – by around 100 feet. Yes, it's probably got more mass. But you can't walk out to it.
"I have calculated the Cannon Beach Haystack at 1 million tons of rock," Horning said. "My best guess for Pacific City's rock is about 3 million tons."
But Haystack Rock in Cannon Beach is – according to tourism officials – the Third Largest Intertidal Monolith in the world.
What are the other largest intertidal monoliths in the world? Good question. And that's where the real zinger comes. No one we talked to kept any such list. There were just lists of largest or highest monoliths on the Net – a good start for research, but you don't trust anything you find on there.
Essentially, if Cannon Beach claims Haystack Rock is the "Third Largest Intertidal Monolith in the World," there's no way to prove or disprove that. They may have made up that category by themselves over 30 years ago, and you can't prove them wrong with all those various criteria there.
To boot, it turns out there is a yet a third Haystack Rock on the southern Oregon coast, somewhere in Curry County.
"If I got picky, I can think of several very large rocky knobs in Alaska that have been sculpted by ice (monadnocks) but that are surrounded by water (stacks or islands), but which are 20 times the size of either of our Haystack Rocks," Horning said. "And they have many smaller but immense cousins. Our features do not rate as among the world's largest. Perhaps among Oregon's largest, but not the world's largest. It is just a bit of tourist promotion that has gotten a life of its own."
In the end, it's all still lovely as hell to look at. A sea stack is a sea stack by any other name, unless it's an intertidal monolith – or something like that.
Other claims on the Oregon coast we've noticed (and looked into):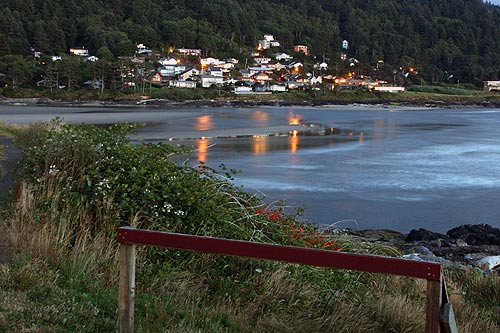 Yachats – "Gem of the Oregon coast." So is there room for someone to claim "Diamond of the Oregon coast?" In the final analysis, we can't argue that one for all sorts of aesthetic reasons. It is really awesome.
Newport – "The Friendliest" and "Dungeness Crab Capital of the World."
For visitors, it's going to be fine. Calling it "friendlier" than any other tourist destination is a bit of a stretch, however. Living there as a local can show some less than pretty sides to human nature, but for tourists, that's a non-issue. Newport is a blast.
The Dungeness Crab claim comes from its crabbing fleet, which did break some state records periodically for crab catches. That moniker is registered to Newport now.
Depoe Bay – "Whale Watch Capital" and "World's Smallest Navigable Harbor."
Can you see more whales here? While that's a slogan, the answer is probably yes. Not because there are more whales, but because the Whale Watch Center is staffed with people to help you see them.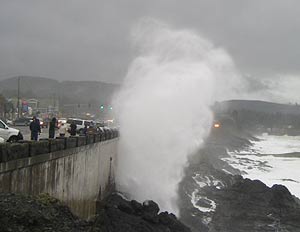 Depoe Bay promotes itself as having the "world's smallest navigable harbor," and at around 350 feet wide and 750 feet long, that may not be a stretch. There is no discernible category for this claim, but it's certainly among the smallest if not the tiniest.
Lincoln City – "D River is World's Smallest River." The short story is: nope, never was certified by Guinness as such. According to Guinness' Sara Wilcox, a PR assistant with the organization, D River never had that title.
The longer version is really odd, especially considering there were many articles about this subject. According to various articles, for a time, Guinness Book of World Records supposedly did call the D River the shortest in the world. Then, also supposedly, the claim was for a few years taken away from them by a river in Montana, and when Lincoln City residents challenged this, Guiness gave them both the title for a while, based on the fact the D River can get much lower at low tides.
If someone else decided the Roe and D Rivers should both have that honor – who knows? But Guinness never recognized the D River, according to Wilcox.
Other claims:
Astoria - It wasn't quite the first town west of the Mississippi: almost, however. It was the second town, founded in 1811 by the Pacific Fur Company and owned by John Jacob Astor.
In 1847, the first post office west of the Rockies was established here by James Shively. The first U.S. Customs house was established in 1849 in this spot as well.
Sea Lion Caves near Florence - Wilcox, with the Guinness Book of World Records, confirmed this is indeed true: they recognize the Sea Lion Caves as the largest sea cave in the world. "The Sea Lion Caves have a chamber 95m 310ft long, 50m 165ft wide and around 15m 50ft high in a wave cut passage 400m 1315ft long, close to Florence, on the Oregon coast, USA," she said. Oregon Coast Hotels for this event - Where to eat - Map - Virtual Tour

More About Oregon Coast hotels, lodging.....
More About Oregon Coast Restaurants, Dining.....

LATEST Related Oregon Coast Articles
Back to Oregon Coast
Contact Advertise on BeachConnection.net
All Content, unless otherwise attributed, copyright BeachConnection.net Unauthorized use or publication is not permitted