Published 05/27/09
Hiking It and Roughing It on Oregon's Coast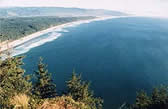 A secret viewpoint on top of Cape Lookout.
(Oregon Coast) – Some of the nation's most pristine scenery lays on Oregon's coast, which is also known as being perhaps the cleanest beaches in the U.S. It's where striking, giant cliffs of basalt tower over long stretches of immaculate sands, and what look like boundless forests loom in the near east of the small mountains all scrunched up together in undulating waves of dark green.
It's here where bundles of beautiful hiking trails snake their through these tiny mountain ranges, providing stunning ocean vistas at times. And it's where numerous campgrounds – both modern and primitive – dot the trails, beaches and headlands.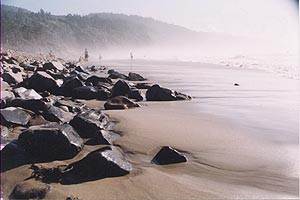 Cape Lookout State Park
Cape Lookout State Park
At Cape Lookout State Park, the road changes from Whiskey Creek Road to Cape Lookout Road - hence the sign that reads milepost 0 here.
The beach at this popular park – a ways west of Tillamook, on the Three Capes Tour - is mostly one immense, sandy stretch, going on for nearly five miles to the north into Netarts Spit. Parts of the beach dip steeply into the tide line, causing the waves to crash loudly and abruptly, then quickly running out of steam and altogether creating an intense, natural spectacle.
Hiking on the Netarts Spit is no small feat, but you'll dig the solitude as much as the opportunity for clam digging. A ways after the two-mile point, look for paths onto higher dunes for more stunning viewpoints. Along much of the way, green, mushy marshland follows you to the end of the spit, where roses, wild strawberries and other plant life delectables lay on the pathways.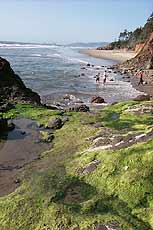 If you're hiking this entire sandy wonder and looking to make this journey in a loop, this is sometimes a difficult undertaking. There is no official return route around the spit. However, the bayside is filled with thick vegetation, and if you're really willing to rough it, you could trudge through the brush even without a real trail.
Camping: Cape Lookout boasts 191 campsites (two accommodating the disabled), one electrical site, four group camping areas, a reservable picnic area, a meeting hall, four yurts, 54 full RV hookup campsites (maximum 30 feet), full restroom and shower facilities as well as a waste disposal station.
Cape Lookout has a $3 day-use fee. Campsite reservations can be made at (503) 842-2545.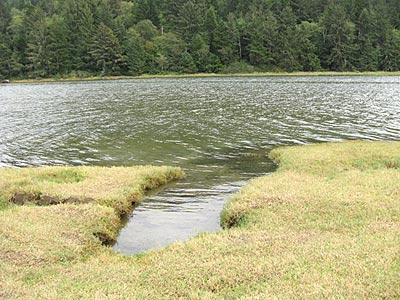 The sandy lake pleasures of Whalen State Park.
Whalen State Park
A few miles south of Cape Lookout, and about five miles from Pacific City, a small clump of forest lies at the center of this tiny park, lined by picnic tables, campsites and a lovely view of the marshy, mushy Sand Lake. There's no beach access here, but it's a swell spot for boating, fishing, bird watching or just taking in the sights.
The park is located on a slightly steep drop just off the side of the road and you might miss it if you blink. It features a reservable group area and RV hookups as well. The forest on this "island" has some interesting ruins of a cabin hidden deep within.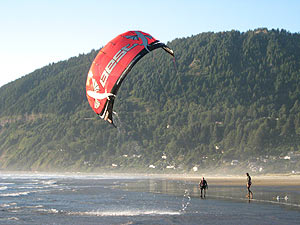 Nehalem Bay State Park and Manzanita
This one's a real killer: there's nothing like standing on this beach and having to strain your neck to look up at Neahkahnie Mountain looming above you.
A wide and beautiful sandy beach fills the eye at the stunning little burgh of Manzanita. Although at the beach's northernmost access – near Neahkahnie Rd. – it quickly becomes large cobblestones until it ends at the base of Neahkahnie Mt. some 200 feet down.
The most obvious beach accesses lie past its downtown and at the bottom of the main road, Laneda Rd. But there are numerous hidden ones south of there, between the homes, along the beachside roads. These eventually dead-end at a back entrance to Nehalem Bay State Park.
At the north end of Nehalem, you'll find the park and its numerous hiking possibilities. This sprawling shoreline of nothing but sand goes on for over two miles. A good two miles down the sand spit you may find spots to watch seals rather closely.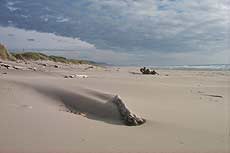 Nehalem Bay State Park
But don't get too close: bothering them in their natural habitat is illegal.
This beautiful state campground contains 284 campsites, full toilet systems and hot showers. Each campground features a picnic table and a fire pit. There's also a horse camp with 17 sites and two corrals, and a company sits onsite providing horse rides during the summer months.
Cummins Creek Trails and Beaches

Between Yachats and Florence sit some of the Oregon coast's most amazing beaches. And with it comes a famous trail: the Cummins Creek Trail, just south of milepost 168.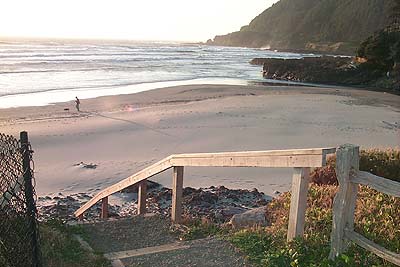 The wild scenes of clandestine Neptune State Park.
This trailhead is part of the Cummins Ridge trail, starting some 2 miles down a twisty gravel road. There is a barricade and parking lot at the end, where the trail begins a six-mile ascent through lush forest.
At the top is another parking lot, which is accessible by the Cummins Ridge Trailhead, some two miles south of the Cummins Creek Trailhead on 101. For the Cummins Creek Trailhead, look for MP 168 and turn east. It's almost kitty-corner from the entrance to Neptune State Park.
Travel a little bit farther south and you'll find the Cummins Ridge Trailhead. This road, also on the east side of the highway (and almost kitty-corner to the Strawberry Hill entrance), takes you some ten miles up steep and winding roads to the upper trailhead of the Cummins Ridge trail. It's all just less than a quarter mile from the first entrance to the north.
Nearby Neptune State Park is a pretty place, lodged in the middle of forestland and rather easy to drive past if you're not looking carefully. There's picnic tables, restrooms, a small patch of forest to wander in and access to a small, cobblestone beach. At low tides, you can continue walking south, stoop in wonder over tide pools or check out the sea cave about a quarter of a mile down.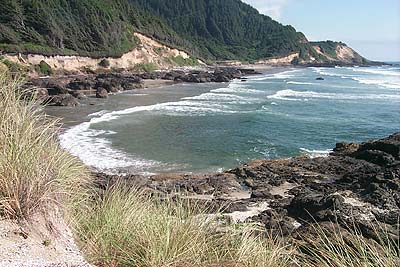 The unmarked access near the county line is one of the coast's most interesting beaches.
Or, just north of all the trailheads and Neptune, immediately next to MP 168, you'll find an unmarked access with a load of treasures and interesting finds. A parking lot gives way to two routes to this varied and rather amazing beach.
Walk the winding, twisting path over the bluff to hop onto large basalt structures filled with cracks and crevices that give glimpses of churning waves beneath you. They'll sometimes squirt water up at you. Wander here to find tide pools and watch the sea knock logs around.
Or walk down a lengthy but smooth and paved trail from the parking lot to the sandy part of this beach, which makes for a cozy little cove, bordered by the cliffs of Neptune State Park to the south.
You can probably hop up and down the basalt structures from here as well, and part of the rock forms an intriguing arch in the sand. At its northernmost, there's a small cove and tiny patch of beach which ends in a large wall. It's all just a tiny bit after the county line and MP 168.
For more about Oregon Coast Lodging....
Moderate Chances of Aurora / Northern Lights Over Washington / Oregon Coast. ...
Friday may be your best chance of viewing on the coastlines
Saturn Brightens, Jupiter a Monster, Still Some Meteors Above Oregon Coast, W...
Delights in the night skies are numerous, including Saturn in opposition
Raw Sewage Spill Closes N. Oregon Coast's Netarts Bay to Crabbing, Clamming, ...
Netarts Bay is near Oceanside and about 15 minutes from Tillamook
More Beach Wheelchairs Available for Oregon's Tillamook Coast Region
In Manzanita, Rockaway Beach, near Tillamook, Garibaldi, Pacific City, others
Lewis and Clark Live Re-Enactment Returns to N. Oregon Coast's Seaside
Sept 10 and 11 with the Lewis and Clark Saltmakers program. Seaside events
Three Die in Crash at Gleneden Beach on Central Oregon Coast Highway
The crash involved two vehicles and had tied up traffic all day
90 Years of Oregon Coast's Sea Lion Caves Celebrated at Florence's History Mu...
Party in Florence on Aug. 26. Florence events
When That Spectacular Glow Hits the Oregon Coast: Surprise Colors Between Yac...
The colors that would erupt around here were mind-bending
What's New, Cool, What's In at Outdoor Markets on Oregon's North Coast Food T...
In-season at Astoria, Seaside, Cannon Beach, Manzanita, Tillamook, Neskowin
Pirates of Pacific Festival Invades Brookings on S. Oregon Coast Aug 12 - 14,...
You'll be screaming 'Arrr, avast ye maties' with unrestrained glee. Brookings events
Poaching Offenses Get Oregon Coast Dory Boat Stiff Penalties, Suspensions
The law takes poaching in Oregon seriously, even when it comes to fishing
Intricate, Intense Stretch of Oregon Coast With Odd Hollywood Connections
A multivaried experience between Yachats and Florence with ties to Norman Bates. History, travel tips
Charleston's Seafood, Beer, Wine Fest Makes Big Comeback to S. Oregon Coast
August 12 - 14 sees the return of the festival of crab, music and kiddie fun. South coast events
Unusual Mole Crab Incident Reminder Oregon Coast is Full of the Unexpected
The aquarium had bumped into something new they'd never seen
Pollution Cleanup Starts on N. Oregon Coast After Ferry Sinks at Astoria
The Tourist No. 2 is leaving environmental hazards behind