Take Your Own Oregon Coast Ghost Tour
Published 2008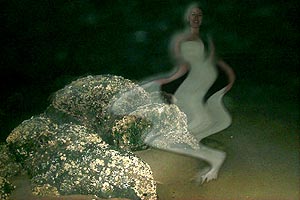 (Oregon Coast) - It's a case of believe it or not. And whether you do or whether you don't, checking out the purportedly haunted or paranormal spots along the Oregon coast is a non-stop kick in the pants. It could be your own personal episode of "Scare Tactics" or "Ghost Hunters" on the Sci-Fi Network. Call it "Coastal Ghost Tourism."
The tales are varied and odd; sometimes hazy, nebulous yarns that are hard to understand or pin down. They range from the usual legends of hauntings, goofy ghost tales, UFO talk, spirit spots, to vague legends of secret military bases or places with all sorts of indistinct supernatural qualities. There are plenty of spooky lighthouses, hotels and restaurants, as well as ghost ships, otherworldly dogs and all sorts of other stuff that goes slink, clink or bump in the night.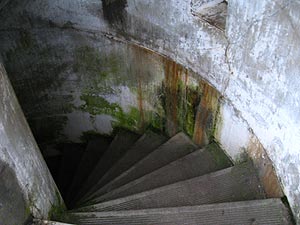 Eerie Fort Stevens: is it any wonder some restless infantryman spirit wanders here?
Astoria
At the very northwestern tip of Oregon, this is one of the oldest towns anywhere west of the east coast, which includes a troubling history of men being drugged and kidnapped into service aboard ships. Many homes are Victorian mansions that are on the national historical registry. So it's no surprise it's got quite the gaggle of ghosts floating about.
The Liberty Theater has numerous longstanding tales of a geist named "Handsome Paul," who just periodically appears looking quite dapper. Purportedly many of the knobs and door handles in the place will go bonkers every once in a while because of mischievous spirits who also call the stately building home. The nearby firefighters museum has haunting tales associated with it as well.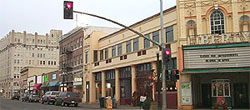 Liberty Theater, Astoria
The Wet Dog microbrewery and restaurant may have an old employee sticking around way too long. Legend has it someone was killed there by an elevator, and he or she still haunts the basement area.
Some claim to have seen UFO's in this area too.
One of the more creepy ghosts that have come into light in recent years is that of a spectral army man walking around the Warrenton/Fort Stevens area, just south of town. Numerous separate accounts relate encounters with this silent figure who simply disappears. He's apparently even been spotted down in Seaside, on the Promenade, some 15 miles south of Fort Stevens.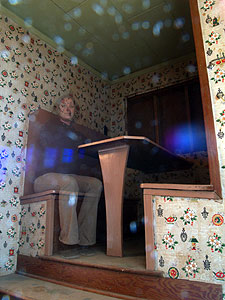 Upstairs at the Seaside Aquarium, where ancient apartments lay untouched for 40 years. (photo effect Tiffany Boothe, Seaside Aquarium)
Seaside
At the very northern end of town, a native American princess is buried, and she purportedly shows up still on the front porch of her old home, simply rocking in a swing and gazing out on the modern world.
The Gilbert District is sort of Seaside's old town, a couple of blocks of sizably older buildings. A coffee shop that once resided there has several stories of a wispy, smoke-like figure appearing to customers and owners alike. The restaurant Lil' Bayou has some talk of kitchen utensils moving strangely and of a presence felt in the office.
Just up the street, on Broadway, long-standing Girtle's Restaurant and Lounge owner Bob Girtle has told numerous tales of a flying coffee pot, strange shadow figures and other happenings, supposedly the result of the ancient Seaside Hotel being torn down in the 80's and ghosts from there following the employees to the newer Girtle's at the time.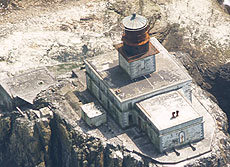 Tillamook Rock Lighthouse (photo Seaside Aquarium)
The old Seaside Aquarium recently celebrated 75 years in business, but the building goes back to the 20's. Until the 70's, the top floor was an apartment building. Over the years, some employees claim something still lurks in those dusty, freaky corridors that have tilted and warped with age, bent into a twisted caricature of a fun house. That part is not accessible to the public, however.
Tillamook Rock Lighthouse, just offshore, has some strange yarns attached to it during its run from the 1880's to the 1950's, beginning with its deadly construction when local natives warned it was cursed. Most of those are just silly talk, however. But in the 30's, a ship narrowly missed crashing into the lighthouse, ending up in a pile of wreckage on the headland itself. All crew were killed, except the dog. One legend says sometimes you can hear the dog howling on the remote, inaccessible part of the headland.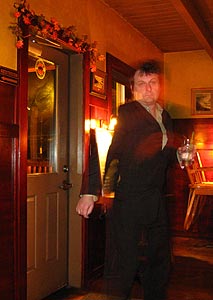 What haunts the Warren House in Cannon Beach?
Cannon Beach
The big one of Cannon Beach is perhaps among the silliest of haunted tales: Bandage Man. He's sort of a low-budget coastal version of the mummy, who only seems to show up on stormy nights, sometimes carjacking trucks at low speed on the dark highway just south of town.
One hilarious tale has a group of local kids in the 70's who planted a bandage man in the back of a classmate's truck, so completely freaking out the driver that he nearly killed the poor sap made up like the legend as he tried tossing him out the bed by moving erratically at high speeds.
Local wateringhole Bill's Tavern supposedly has some ghost or Bandage man haunting the place – this depends on who you talk to. Numerous older homes in town are said to have ethereal residents, while the Warren House Pub has some employees whispering about a creepy presence there.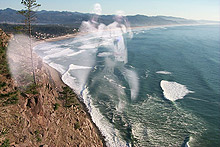 Nehalem Bay: some spooks are good, some are bad.
Nehalem Bay
Comprised of Manzanita, Wheeler and Nehalem, this sprawling area of three towns is jam-packed with wacky legends – some of them quite pleasant.
Nehalem Bay Winery is full of talk of odd moments, like floors creaking with a walking sound, doors suddenly flying open and something being seen exiting, as well as a ghost hunting crew who heard something whisper "Kill me" over and over again.
The lovely Old Wheeler Hotel has guests and the owners talking about some indefinable moments, like when owner Winston Laszlo said he was looking in the mirror at the couch in the sitting lounge, and saw a man there he didn't recognize as a guest. When he turned to look at him – no one was there. Ghost hunters came out there once to check it out and actually have shots of what they claim as a spirit orb.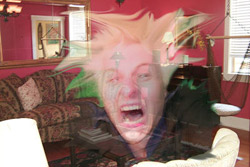 Old Wheeler Hotel (yes, it's a fake ghost shot).
The owner of a house on the north end of tiny Wheeler received state permission to burn down her own home back in the 90's. Her reasoning was that it was haunted by the spirits of native children burned in that spot once. She still holds the land and won't let anything be built there.
Some employees at The Sea Shack in Wheeler also talk about something haunting the upstairs area.
Throughout the bay area, there's something called the "Wheeler Moment:" a strange and serendipitous legend that's a part "make a wish and it just may happen" and part weird coincidences. The list of these goes on and on, and makes village resemble the paranormal island on the show "LOST." Many claim to have extraordinary coincidences here, like running into lost relatives and friends, or discovering you're connected to someone you just met in a startling way. Others experience answers to problems just falling into your lap in strange, out-the-blue ways. You can read more here.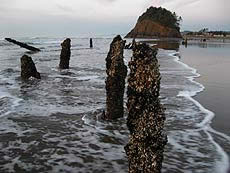 Serene and spiritual Neskowin also has the famous "ghost forest" - an intriguing geologic oddity.
Tillamook to Neskowin
There is literally almost nothing in the way of legends in this area, which is roughly 40 miles from Tillamook to Lincoln City. Not even the lighthouse at Cape Meares has any spook stories. Although just a ways inland at Mount Hebo, where 101 veers east and the Three Capes Loop is the highway along the ocean, there are some very mysterious and hush-hush accounts of a massive secret military base once built in the mountain here, then dismantled and completely covered up.
It's hard to know what to make of this one, but the way in which it came to BeachConnection.net was rather spectacularly like an old "X-Files" episode. A tipster who refused to be identified said he'd talked to some elderly military types and they've hinted at or talked in a very secretive manner about such a place at Mount Hebo.
Once you get south of Pacific City, you'll find the sleepy village of Neskowin, where many around the state claim it has an unusual spiritual quality to it: an extremely warm feeling of calm and peace.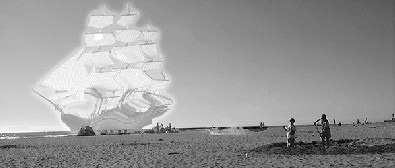 Rumors of a ghost ship at Siletz Bay are particularly powerful considering there actually is a ship buried in the sand in the bay, although it is no longer visible.
Lincoln City
This little town is big on wild legends. Check out Siletz Bay on a foggy day and you may see the ghost ship cutting through the haze, and then disappearing. Something supposedly haunts the Wild Flower restaurant at the north end of town, as well as one of the fire stations.
That one has had some interestingly credible witnesses, including the former head of the Visitors Bureau and a local news cameraman, Jim Kusz. Kusz said something weird happened when he was filming a group of ghost hunters at the Oceanlake firehouse, and they claimed the presence there had a pain in his chest. This really struck him, as he knew from previous historical research that a firefighter died of a heart attack in one of the old engines, back in the 30's or so.
Nearby, in Depoe Bay, there's also footage available from the Lincoln City Visitor Center about a creepy ghost upstairs in the Spouting Horn Restaurant in that little town.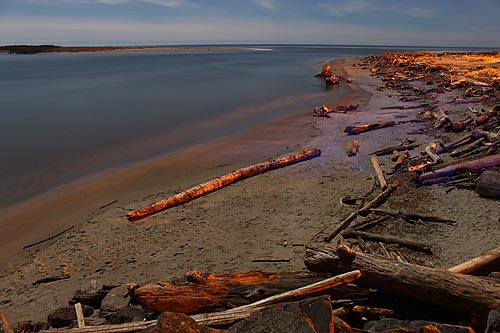 Lincoln City at night
Just outside of Lincoln City, in the Van Duzer Corridor that brings visitors over the coast range, lay some of the weirdest stories of the coastline. Accounts are all over the place and disjointed, but they seem to point to a kind of Area 51 in the hills. Some talk about strange lights or people appearing then disappearing in the middle of the road, while others talk of a secret base somewhere in the hills.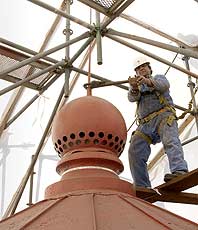 The top of the Yaquina Head lighthouse during its remodel in recent years.
That latter part could be from the government research facility that does lay at the end of a road just south of Cascade Head. It is clearly marked as being off limits, and it is rather mysterious.
Newport
This town has two lighthouses and lots of creepy tales, although both legends of the lighthouses have been thoroughly debunked.
One is of the southern lighthouse, the smaller Yaquina Bay light, where the ghost of a teen girl supposedly ran loose there and on the beach. That turned out to be from a fictional story in the local newspaper in the 1910's, but somehow got ingrained in local culture until the 80's.
The taller Yaquina Head Lighthouse once had a legend of a wispy Mr. Higgins, who purportedly died of dubious circumstances on the spiral stairway. That turned out to be bunk as well, as around '99 or 2000 the agency that runs the structure received a letter from a descendent of Higgins who said he left the place for Portland to become a dock worker, eventually passing away in Portland in the 30's.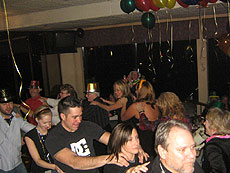 "I see drunk people"....It's hard to tell the spooks from the rest at many bars in Newport.
But some say a former lighthouse keeper and his daughter haunt the beaches and bars, looking for each other, after they both died on a stormy night in separate places.
The couple who run Starfish Point at the north end of Newport say their quarters appears to have a spirit goofing around.
Waldport to Florence
It's a stretch of 40 miles, and it includes one of the bars in Waldport supposedly having something not of this world wandering about.
Just south of there, Yachats apparently has no haunted tales, but a wacky history that gets darker the farther back you go. According to one historical account, the original Highway 101 was paved over an Indian burial ground – which is creepy by itself.
The U.S. government did install numerous secret little facilities or lookouts in the Cape Perpetua area during World War 2. One that's left is the stone lookout near the top of the mountain.
The real ghosty tale of tales happens at Heceta Head Lighthouse near Florence, where the keeper's quarters is now a B&B that has a well documented ghost. This female is actually considered one of their own by the family that runs the lodging. Some talk of her showing up as a wispy, smoke-like figure; others say they hear her cleaning up stuff in the middle of the night. The sightings go on and on and come from some pretty credible witnesses, including an interview with famed nature photographer Steve Terrill. Below: Heceta Head Lighthouse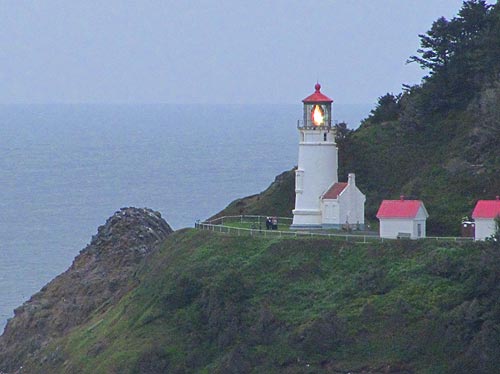 More About Oregon Coast hotels, lodging.....
More About Oregon Coast Restaurants, Dining.....
Back to Oregon Coast
Contact Advertise on BeachConnection.net
All Content, unless otherwise attributed, copyright BeachConnection.net Unauthorized use or publication is not permitted