Covering 180 miles of Oregon coast travel: Astoria, Seaside, Cannon Beach, Manzanita, Nehalem, Wheeler, Rockaway, Garibaldi, Tillamook, Oceanside, Pacific City, Lincoln City, Depoe Bay, Newport, Waldport, Yachats & Florence.
10/21/07
Spooky Discoveries on the Central Oregon Coast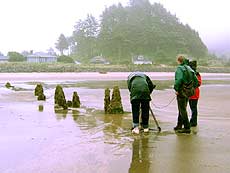 (Newport, Oregon) – From lighthouses, spirits wandering the beaches and bars, to hauntings of restaurants, Oregon's central coast is stuffed full of creepy tales.
With towns like Newport, Depoe Bay and Lincoln City bringing in the biggest chunk of tourism to the region, it's no surprise this chunk of Lincoln County has the most ghosts.
But sometimes researching the ghosty tales can yield its own skeletons. You can encounter the strangest things when you're in the media, digging into these stories.
This one is a massive tale of discovery and weirdness that stretches over time: from the beginnings of the lighthouses, through to their creepy tales and other oddball bits of history, to the background behind the research that went into the various projects. It involves at a couple TV crews, and a few reporters and researchers, and the various scary stories that eventually wind up binding them together.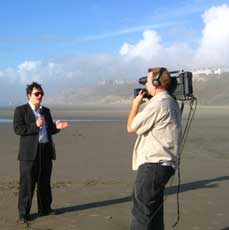 Gibson filming on the beach at Newport
The Filming of "Oregon Lights"
Sometimes the storytellers can be the storymakers as well.
Such is the case with Scott Gibson, cameraman and producer with Oregon Coast Show, who produced "Oregon Lights" around 2000, which then aired on OPB a couple times. The film will soon be released on DVD for purchase.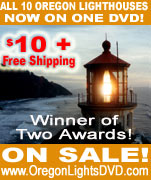 It takes the viewer on a tour of all the lighthouses up and down the coast, through their history, and touches upon the legends of hauntings as well. It even features interviews with author Jim Gibbs, who not only served aboard the crazed Tillamook Rock Lighthouse until it was shut down in 1957, but he created his own small lighthouse with his home in Yachats.
It was a labor of love for Gibson, who thought about the documentary for years. "Ever since I was a kid I had a fascination with lighthouses," Gibson said. "So I was happy to blend my skills as a producer with a fascination of mine. I really loved making this documentary."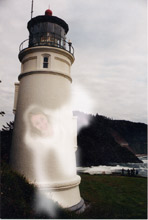 Heceta Head Lighthouse: the scene of one of the more notorious hauntings in the country
The film took about a year to make, with Gibson having to rent equipment for $300 a day at the time, since he didn't have his own broadcast quality gear. "It became a real 'magical act' for me to coordinate interviews and days that were available to shoot at the various lighthouses," he said. "Plus, I had to coordinate with the ever-changing Oregon coast weather."
Postproduction took another three months, and still included a lot of exhausting driving between the coast and Portland.
The making of the film had its perks, however. Most lighthouse officials gave Gibson exclusive access to areas not normally permitted to the public. He got to see a lot of things most people don't.
But one hurdle was the officials at Cape Arago's lighthouse, on the south coast. "The Coast Guard Chief from Coos Bay at that time would not allow me to cross the footbridge to get right up to the lighthouse," Gibson said. "He said it was a liability issue, and I explained that I would sign any necessary waivers, etc. But he wouldn't budge. It seemed to me like he just wanted to throw his weight around. I saw the footbridge myself and it would have been safe for me to walk across it."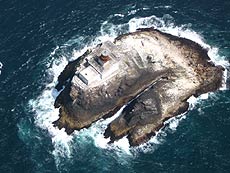 Tillamook Rock Lighthouse, on the N. coast, is also featured prominently in Gibson's film
Gibson learned much from his documentary work, including the revelation that the Yaquina Bay Lighthouse's ghost was from a work of fiction. In the DVD, he's careful to point that out, and to dispel the myth that Yaquina Head's lighthouse was accidentally built in the wrong place.
"Basically, there's no reason a lighthouse as tall as Yaquina Head would need to be placed high atop Cape Foulweather where it would be in the fog line much of the time," he said.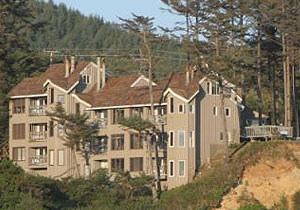 STARFISH POINT Newport - Offers only the finest in luxury condominium lodging. Every unit is focused on the beauty of the sea and the beach.
All units boast two bedrooms, two bathrooms, designer kitchens, wireless broadband Internet, fireplaces, Jacuzzi's and private decks. Friendly staff dedicated to high quality and superb customer service. 140 NW 48th Street, Newport. (541) 265-3751. (800) 870-7795. www.starfishpoint.com
The ghost stories didn't faze him at all. Gibson is a realist – but one who knows firsthand the sad truth about Oregon's lighthouses. The DVD ends with a poignant statement about what won't ever happen again with these wonderful icons.
"I don't know if any of the other ghost stories have any credibility, but lighthouses are truly remarkable structures," Gibson said. "It's sad to think another one will never be built."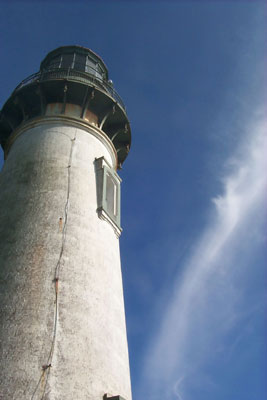 Yaquina Head Lighthouse
The Connection to Beach Connection
It was about 2001 when BeachConnection.net editor Andre' Hagestedt saw Gibson's film, "Oregon Lights" – some five years before they actually met. This, like anything about the coast, grabbed his attention, Hagestedt said. He watched it intently, and even took notes.
"I'd never heard the story about the ghost in Yaqunia Head's lighthouse," Hagestedt said. "It enthralled me."
Not long after, Hagestedt was assigned a story on coastal ghosts for the Salem Statesman Journal. He called up the Bureau of Land Management to find out more about the ghost story, and got an interesting surprise.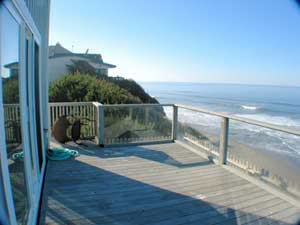 Lincoln City Vacation Homes Something for everyone: smaller homes with a view to a large house that sleeps 15. All are either oceanfront or just a few steps away – all with a low bank access and fantastic views. Most are in the Nelscott area; one is close to the casino. You'll find a variety of goodies: fireplaces, multiple bedrooms, dishwashers, Jacuzzis, washer/dryers, hot tubs, cable TV, VCR, barbecues; there's a loft in one, and another sprawling home has two apartments. Pets allowed in some homes – ask first. Each comes with complete kitchens. Most have seventh night free. Prices range from winter $85 to summer $230 per night. www.getaway2thecoast.com. 541-994-8778.
"They told me they had just gotten a letter from a descendant of the guy who was supposedly the ghost, and she said the guy had actually moved to Portland and passed away there in the 30's," Hagestedt said. "There was no ghost there."
In the summer of 2005, Gibson and Hagestedt met, as part of a shoot for the Oregon Coast Show.
"I remember babbling on about coastal ghost stories to the crew, including that experience where that ghost story was ghost busted," Hagestedt. "It was kind'a funny the odd looks of recognition on our faces. I was talking about having seen the ghost story on HIS video, but didn't totally realize who had done it until that moment."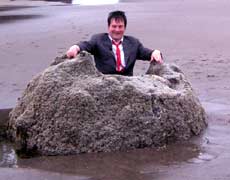 Hagestedt clowning around in Neskowin, just before he gets bitten by the mysterious creature
A Real Life X-File in Neskowin
That shoot took place in Neskowin, with the crew interviewing Hagestedt about what is called the "ghost forest" there – nearly petrified stumps from a forest about two thousand years old.
At one point, with Hagestedt's feet submerged in wet sand during the shoot, he felt something sting his foot. He pulled it out, finding what looked like a bug or wood chip in that spot. He brushed it off him and let his foot sink back in again.
Then the weird stuff happened.
"It kept stinging," he said. "But I ignored it for ten minutes, thinking this has got to be my imagination. But after awhile I looked at it again, and the same black object was there. It was a bug of some sort, and it kind of looked like a leech – somewhere between that and a potato bug.
"And the crew actually filmed this: there was a little bloody spot there. Whatever it was, it actually drew blood. So there's proof."
Part of the crew included on-air personality Cindy Hanson, also the PR person for the Oregon Coast Aquarium. She said she was pretty well versed in aquatic life and species, but had no clue what could act a bit like a leech.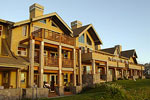 The Ocean Lodge. There will not be another property built like this in Cannon Beach in our lifetimes. Rare, premiere ocean front location; handsome, dramatic architecture and tasteful, fun (nostalgic) beach interiors. Overlooks Haystack Rock. 100 percent smoke free. Imaginative special occasion packages. Massive wood burning lobby fireplace. Library w/ fireplace, stocked with impressive book collection. Pet and family friendly. Lavish continental buffet breakfast. In-room fireplaces, mini-kitchens. Jacuzzi tubs in select rooms. DVD players, complimentary movies. Morning paper. Warm cookies. 888-777-4047. 503-436-2241. 2864 Pacific Street. Cannon Beach, Oregon. www.theoceanlodge.com
"I swear I might've encountered a new species," Hagestedt said. "No one there, or my friends at Seaside Aquarium, had any clue what this was."
Kusz shoots the Pacific panorama for the lighthouse episode
Ghosts in the Machine
Sometimes you hear about these horror movies being filmed where the subject matter seems to bring up some sort of dark energy, and bad things happen.
When Hagestedt filmed the haunted lighthouse segment for Oregon Coast Show last year, he said the vibe got weird.
The cameraman was Lincoln City resident Jim Kusz, who does a lot of video work for various news agencies, commercials and for Oregon Coast Show. It turned out that Kusz had a lot of new ghost stories – and new angles on old ones – that Hagestedt hadn't heard before.
Hagestedt, a friend of his and Kusz met at a secret spot in Depoe Bay, with dramatic crashing waves.
"First, there were some weird noises where we were," Hagestedt said. "It was just birds, I guess, but it was broad daylight and they sounded like kooky moans. Jim and I laughed and made scary noises."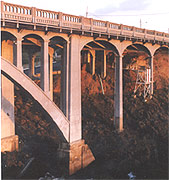 Depoe Bay: sight of another strange haunting story
At one point, Kusz was filming a girl in the distance, looking out over the sea in a wistful, slightly moody moment, possibly for use in the ghost segment. Kusz made a joke about "Oooo, and there's the ghost girl…" – a reference to the teen ghost story about the Yaquina Bay Ligthouse.
Just then, said Hagestedt, another unseen bird made one of those weird noises.
"The part that really freaked us out, however, was his ghost stories," Hagestedt. "And, it turned out, he was the guy who had filmed the footage they use in the 'Oregon Coast Ghosts' videotape that the Lincoln City Visitor's Center sells."
Kusz told firsthand stories about filming the ghost hunters in the video who were checking out the ghost at the Spouting Horn in Depoe Bay. He talked about witnessing the two ghost hunters telling the third to be still, as the ghost was screaming and yelling at him.
"It's a particularly chilling moment on that video," Hagestedt said.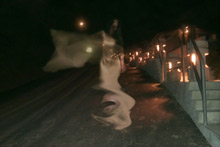 Lincoln City has quite the reputation for having haunted places
Kusz talked about the legend of the Oceanlake firehouse in Lincoln City, where he had brought the ghost hunters to do some fake ghost shots.
Apparently, Kusz hadn't told them this place was supposedly haunted. He told them to just relax while he set up. They soon came up to him and said, "There's a presence here."
They told Kusz something to the effect that "there's pain in his chest."
That freaked him out, Kusz said, who later did some research on the firehouse. There was a 1940's fire truck still in the firehouse for show. Kusz said he discovered it was the same one that carried away a firefighter who suddenly had a heart attack while on a call. "The man died on the way to the hospital – in that very fire truck," Kusz said.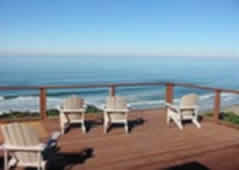 A1 Beach Rentals, Lincoln City. Perfect for large family vacations all the way down to a getaway lodging for two - with over 25 vacation rental homes to choose from. A breathtaking collection of craftsman or traditional beachfront homes, or oceanview houses – from one to seven bedrooms. In various areas of Lincoln City and overlooking the beach, with some in Depoe Bay. All kinds of amenities are available, like hot tubs, decks, BBQ, rock fireplaces, beamed ceilings and more. Some are new, some are historic charmers. Lincoln City, Oregon. 1-(503)-232-5984. www.a1beachrentals.com.

D Sands Condominium Motel, Lincoln City. Free, fresh baked cookie upon check-in is just the start. All rooms beachfront and up against Lincoln City's most famous stretch of beach: the D River. Each room comes as a suite or mini-suite, and has a kitchen and balcony or patio. Some w/ gas fireplaces, while all have a DVD Players; movies to rent come with free popcorn. Heated indoor pool, a spa, and this fabulous beach is lit at night. Rooms sleep from two, four to six - including a deluxe fireplace suite. Gift certificates orspecial occasion packages. www.dsandsmotel.com. 171 S.W. Highway 101. 800-527-3925.
Weiss' Paradise Suites & Vacation Rentals - Seaside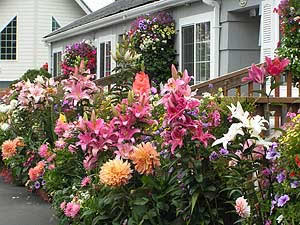 Unique Luxury Accommodations in Seaside. 1BR Suites, 1BR & 2BR Duplex Units and 3BR Houses, units for 2-8 people. Rent entire property for 20-26. Close to beach, river and Broadway St.
Suites are designed for two adults; vacation rental units for families. All units have kitchen and many have fireplace, deck and jetted tub. Comfy robes, slippers, luxury bath amenities, quality linens and more. 741 S. Downing St., Seaside. 800-738-6691. www.SeasideSuites.com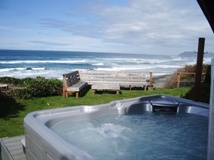 Arch Cape Property Services. Dozens of homes in that dreamy, rugged stretch between Cannon Beach and Manzanita known as Arch Cape. Oceanfront and ocean view , or just a short walk from the sea.
All homes are immaculate and smoke free; some pet friendly (with a fee). Some with broadband, indoor or outdoor hot tubs, fireplaces, decks, and fire pits or barbecues. Call about tempting winter specials that go until March (not valid holidays, however). www.archcaperentals.com 866-436-1607.

Tradewinds Motel, Rockaway Beach. All rooms are immaculate and have TV's, VCR's and in-room phones w/ data ports. Oceanfronts have queen bed, a double hide-a-bed, kitchen, cozy firelog fireplace and private deck. Both types sleep up to four people. Others are appointed for a two-person romantic getaway, yet still perfect for those on a budget. Elaborate oceanfront Jacuzzi suite has two bedrooms, kitchen, double hide-a-bed, fireplace and private deck, sleeping as many as six. For family reunions or large gatherings such as weddings, some rooms can connect to create two-room and three-room suites. Some rooms pet friendly. 523 N. Pacific St., Rockaway Beach. (503) 355-2112 - 1-800-824-0938. www.tradewinds-motel.com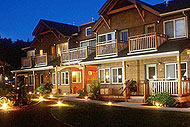 Inn at Cannon Beach. Beautifully wooded natural setting at quiet south end of Cannon Beach. Great during winter storms with a new book by the fireplace – or when the sun is out for family fun and beach strolling. Handsome beach cottage-style architecture. Lush flowering gardens and naturalized courtyard pond. Warm, inviting guest rooms. Continental buffet breakfast. Warm Cookies. Family and Pet Friendly. Welcome gifts. Smoke-free. Complimentary Wireless Connectivity. Wine and book signing events. 800-321-6304 or 503-436-9085. Hemlock At Surfcrest, Cannon Beach, Oregon. www.atcannonbeach.com.
RELATED STORIES
OREGON COAST VIRTUAL TOURS
Explore Every Beach Spot