BEACH NEWS YOU CAN USE
Covering 180 miles of Oregon coast travel: Astoria, Seaside, Cannon Beach, Manzanita, Nehalem, Wheeler, Rockaway, Garibaldi, Tillamook, Oceanside, Pacific City, Lincoln City, Depoe Bay, Newport, Wadport, Yachats & Florence.
It's Fall on the Coast: Summer is Here Again.
Day or Night Mysteries and Merriment on Oregon Coast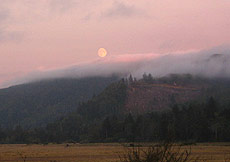 Surreal sunset/moonscape scene at dusk, Lincoln City
(Oregon Coast) – It's a side to the travel world seldom seen. After the sun goes down, the Oregon coast has a distinctly different vibe and atmosphere, one that creates an entirely new layer for play, repose and exploration, and more options for the visitor of any kind.
It goes way beyond looking for a haunted house or beach – although that is the easy choice. There's the nightlife options, which really come to life after dark (and Heaven knows, with daylight hours waning, this becomes a little more emphasized on the beaches). Then there's simply exploring the beaches at night, which is a sublime pleasure all its own for a variety of reasons. These spots have a completely different look and feel, and there are treasures to find in some very esoteric ways that can't be found during the day.
Here are several beach spots on the coast with a wide range of different aspects and attractions – both at night and during the day. Some aren't so much beach spots as they are wondrous places along the coastline, containing their own surprises. But each of these sandy spots are easily accessible at night, and don't pose any danger when bouncing around the beach.
Lincoln City's Nelscott District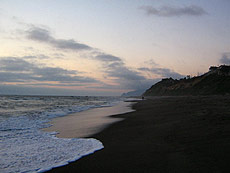 Once upon a time, the area now known as Lincoln City was a long strip of five tiny towns called Nelscott, Delake, Taft, Oceanlake and Cutler City. But in 1964, locals took a vote and combined forces to become this long, meandering town.
The Nelscott area lies just north of the enormous Inn at Spanish Head, including a large bluff that's been turned into a winding street full of beautiful homes. There's also the businesses district here, where you'll find some scrumptious eateries, a year-round Christmas shop and various beautiful lodging on 101 as well as on the streets skirting the beach.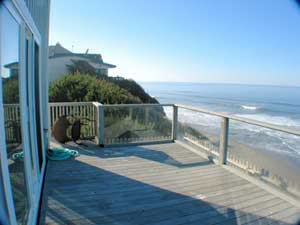 Lincoln City Vacation Homes There's something for everyone among this selection of wondrous homes: smaller homes with a view to a large house that sleeps 15. All the homes are either oceanfront or just a few steps away from the sand – all with a low bank access and fantastic views. Most are in the Nelscott area; one is close to the casino. You'll find a variety of goodies, depending on the home: fireplaces, multiple bedrooms, dishwashers, Jacuzzis, washer/dryers, hot tubs, cable TV, VCR, barbecues; there's a loft in one, and another sprawling home has two apartments. Pets are allowed in some homes – ask ahead. Each comes with complete kitchens so you'll have a home away from home. Most have the seventh night free. Prices range from winter $85 to summer $230 per night. www.getaway2thecoast.com. 541-994-8778.
Take a turn west on 32nd St. and you'll find one of the more prominent beach accesses of the area. But down at the end of 35th St., there's a tiny parking lot with beach access that's especially delightful. A few hundred feet to the south you'll find some fun rock structures for climbing (at acceptably lower tides, that is) and the beach below the Inn at Spanish Head.
All these spots are easily traipsed at night, with good lighting in some areas and little or no obstacles to trip you in the dark. There are some accesses dark enough to catch sight of the "glowing sand" phenomenon, should it reappear.
Just south of here, at night, the Taft area bubbles over with nightlife activity, such as at the oddball Snug Harbor and the effervescent Roadhouse 101, practically an earthquake of live music fun and frivolity. This area also includes the Siletz Bay, which is also incredibly beautiful at night – especially wonderful for a romantic little walk over that pier.
Mysterious Manzanita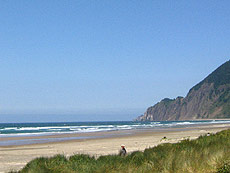 Just south of Cannon Beach sits the stunning town of Manzanita, which seems almost hypnotic in its intriguing mix of class, ruggedness and mystery. Ancient legends of crashed sailing ships and rumors of hidden treasure mix with murky fir trees, a somewhat hip, almost urban sense of architectural aesthetics and a backwoodsy sense of sorts, making this burgh a place you don't want to leave.
There's some incredible cuisine lurking here too. Try the taste bud-bursting fast food Mexican grub of Left Coast Siesta for a startling and wonderful foray that's inexpensive to boot.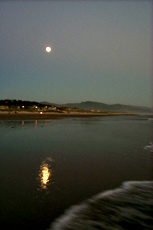 At night, the place to be is the San Dune Pub or the Wateringhole in Nehalem - both friendly and playful full service bars with sometimes inadvertently kooky lounge acts or other brands of entertainment on the weekends.
The beaches of Manzanita are a real killer: there's nothing like standing on this beach and having to strain your neck to look up at Neahkahnie Mountain looming above you.
A wide and beautiful sandy beach fills the eye here. Although at the beach's northernmost access – near Neahkahnie Rd. – it quickly becomes large cobblestones until it ends at the base of Neahkahnie Mt. some 200 feet down.
The most obvious beach accesses lie past its downtown and at the bottom of the main road, Laneda Rd. But there are numerous hidden ones south of there, between the homes, along the beachside roads. These eventually dead-end at a back entrance to Nehalem Bay State Park.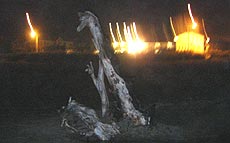 Odd creature made of driftwood on a Manzanita beach.
In this tiny town that's full of culinary pleasures, wondrous new objects can pop up on the beach at sufficient minus tides - or at night as well. Depending on the amount of sand lying around that time of year, different rock objects appear on an otherwise smooth, barren beach.
If the sand levels are low enough, you'll find one rock looks a lot like a chair from some angles, with a large crack going down what would be its back. This barnacle-covered oddity has a much more indistinct shape, however, and sadly it's not a shape suited for sitting.
Walking on the beaches here at night is an ethereal pleasure to say the least: Neahkahnie is hit by yellow lights that have a mysterious vibe to them after dark, adding to the majestic surrealism and spiritual feel of the place. Plus, it makes part of the basalt wall look as if it's hovering in the dark.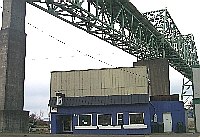 Astoria/Megler Bridge
The big lifeline between Oregon and Washington starts here, taking 4.1 miles to cross the Columbia River.
Take it from the Oregon side and you'll wind right past the windows of two homes as this part of the bridge snakes around these houses. There's also a small covering over the onramp to the bridge – a remnant of the tollbooth for the bridge which once helped pay back bonds for its construction. On the other side, it's a few miles to the Washington coast with a few Lewis & Clark landmarks along the way.
Constructed back in 1962, it's the world's longest continuous bridge.
The beautiful monstrosity towers over everything in the town, slithering over parts of downtown like a giant sea beast from an old horror movie, stretching its limbs as it rises from the deep.
There are a couple high-rise buildings with windows still close to the bridge, and you slither past them as the winding onramp snakes its way upward, past these homes. It's almost a little awkward, as you realize you could easily peep into someone's apartment on your little drive towards Washington – the onramp is that close.
Try this drive at night for a spectacular experience of river ambiance and a smattering of glittering lights on the bridge and from Astoria.
The Freaky and Fun at Neskowin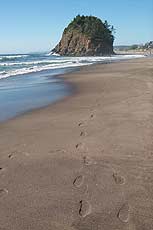 At MP 98, this picturesque and engaging village is largely comprised of a few condominiums, a golf course, a couple of businesses and a smattering of charming little homes.
There is, at first glimpse anyway, not much at Neskowin. The beach is really the real top bill here: a nearly never-ending promenade of sand. But because of Neskowin's relative isolation, tucked away along a twisty stretch of highway, it's a treasure trove that's usually not very crowded.
From the parking lot, Neskowin State Park and Beach is a short walk to the beach and its slightly unusual dark grains of sand, plus enough driftwood to make yourself a decent fire.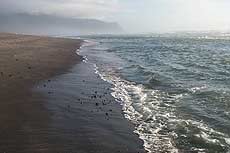 Proposal Rock is the intriguing blob-like structure sitting in front of you, boasting a small forest sitting on top. There's a sizable creek between you and it, however, and to get to the structure means crossing this cold body of water barefoot.
Atop the rock, there are some hidden trails meandering through the forest where the views are somewhat legendary. Watch the tide closely or you could get stranded, and be careful of the trail's slippery entrance.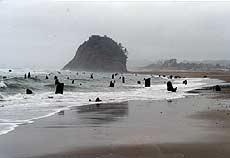 Near the entrance, look for a small, round brass plaque, an oddity embedded there early in the century.
On the other side of the often cold and heavy flow of the creek, you'll find weird 2,000-year-old stumps – called the Ghost Forest. This downright spectacular oddity is almost a rare sight in Neskowin, but you may not know just how spectacular it is unless you know what it is you're looking at.
They look somewhat like old, ragged pilings leftover from something manmade - but they are, in fact, stumps of a 2,000-year-old forest. As many as 100 are sometimes visible in various shapes and sizes. It's theorized that around 2,000 years ago a massive, cataclysmic earthquake abruptly dropped this forest as much as six feet. This wound up preserving them, rather then destroying and scattering them as natural erosion might've done.
There are 4,000 year-old stumps periodically visible near Newport, although these are quite rare.
After the sun goes bye-bye, this place becomes pitch black. But it's one of the notoriously most deserted and romantic beaches at night on all of Oregon's coast. Plus, the esoteric little village and beach are known as a kind of "spiritual spot," where an unmistakable and yet indefinable sense of peace and calm envelopes you. It's rather legendary for this and must be experienced to be understood.
Heceta Head Lighthouse Viewpoints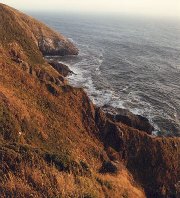 South of the Cape Creek Bridge and its tunnel (just north of Florence), you'll find yourself along a winding twisting road with large basalt cliffs on one side and dramatic ocean views on the other. Soon, there's a few amazing viewpoints. Stop for a while here – as most people do – and you won't be disappointed. Check out the views of the lighthouse and Devil's Elbow State Park.

More of this road is winding and twisting just south of the Sea Lion Caves, sometimes dotted with various viewpoints and small waterfalls tumbling off the basalt rocks on the landward side of the highway.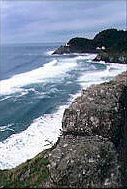 These viewpoints are bordered by black rock walls which give them a slight Gothic castle vibe – especially if you stop by on a stormy night. Below them can be spotted various kinds of wildlife, from birds to sea lions. But mostly they provide opportunistic views of the Heceta Head lighthouse, which help make it among the most photographed lighthouses in the world.
You'll want to watch yourself here, however, as this part of the road is winding and twisty, and rubbernecking at the greats vistas is easy while driving. But plenty of viewpoints continue to lurk along the side of the road as you hedge southward, allowing you dramatic views of the ocean – and eventually a great aerial shot of the expanse of Baker Beach (Look for MP 181).