BEACH NEWS YOU CAN USE
Covering 180 miles of Oregon coast travel: Astoria, Seaside, Cannon Beach, Manzanita, Nehalem, Wheeler, Rockaway, Garibaldi, Tillamook, Oceanside, Pacific City, Lincoln City, Depoe Bay, Newport, Wadport, Yachats & Florence.
It's Fall on the Coast: Summer is Here Again.
Second Summer Rears Its Pretty Head on Oregon Coast
By Andre' Hagestedt – September, 2006
(Oregon Coast) – Finally, near the end of September, that whole Second Summer phenomenon kicks in on the Oregon coast, with an explosion of intensely warm weather (which included Seaside topping out the region at 87 degrees on September 24).
Finally, the coast catches up to the things that have been crammed into this website left and right for the last month or so. But aside from that most pleasant discovery, this is the beginning of a few wonderful days of fun, sun, weird beachy anomalies, fine food, romance and more fine food.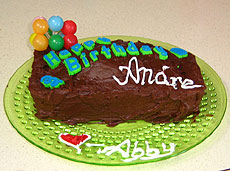 On this weekend, I have my cake and eat it too
The end of September also always means birthday party madness for me, with a triple dose of maniacal playtime between the north coast, central coast and Portland.
It's Friday, and I've set up a wild 'n' crazy b-day bash at Warren House in Cannon Beach. Unfortunately, no one showed. Except for my Rockaway friend Abby-normal, and a quick appearance by Gary Diebolt of Flashback in Seaside, I was it.
But BeachConnection.net staffer Rachel had some surprises in store, cajoling Abby and I down to Nehalem, where a massive party was going on at the Wateringhole. This place is unbelievably packed on this night, with a full parking lot and more people than I've ever seen here before. It's here where we set the place on fire – and according to this one photo, it appears my friends are literally aflame.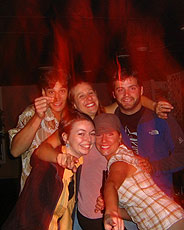 My friends on fire: (clockwise from top, Dave, Rachel, Trevor, Abby and Allison)
At one point, out on the patio on this rather warm evening, a massive shooting star goes streaking across the skyline. None of my other friends notice it.
Later, Abby and I hit Nehalem Bay to look for the glowing phytoplankton we've seen in here before. Sure enough, as we drag our flip-flops through the water, the telltale glowing blue trail appears behind our shoes, except this time parts of the trail sparkle and twinkle in the water, instead of just glowing mysteriously.
We, justifiably, shriek with delight.
DIVE INTO LUXURY, HISTORY AT THE TIDES
THE TIDES BY THE SEA, Seaside. For over 80 years, The Tides has been a favorite of Seaside visitors. History meets modern luxury here. 51 oceanfront condos, individually owned and decorated. Find suites for couples, small apartments with fireplaces and kitchenettes, one or two bedroom family units with fireplaces, kitchens and dining rooms. There are wonderful oceanview cottages that sleep anywhere from two to eight people, with two bedrooms, some with lofts, fireplaces and kitchens.
Meanwhile, the heated outdoor pool, enormous grounds with picnic tables and location at the quiet southern end of Seaside make for some memorable means of play and repose. 2316 Beach Drive. 800-548-2846. www.thetidesbythesea.com.
We soon hit the beaches of Rockaway to look for it, finding a dark place on the north end. Indeed, they are there – the tiny, bioluminescent phytoplankton that create the faint, bluish green sparks that cause such glee. They are spotty and barely visible, with only a couple here and there. I see about ten or 15. Abby notices only a couple.
The next morning, Abby presents me with a lovely birthday cake.
It's extremely warm on this day, probably in the lower 80's. Manzanita is abuzz with people, and my favorite early afternoon breakfast of Mexi-food at Left Coast Siesta takes something like 40 minutes of waiting. Meanwhile, the sea is calm and fairly still beyond the white of the breakers, and the ocean is a deep blue in color.
Oddly enough, there are a lot of weird little bugs everywhere in Rockaway on this day.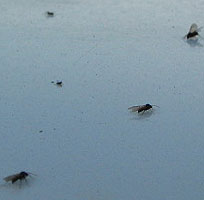 Bunches of bugs in Neskowin
The warm weather has brought something out: they cover the cars and lawned areas in great swarms. They're somewhere between a regular fly and a fruit fly in size, yet look more like the latter.
At Abby's pad in Rockaway, we sit mesmerized by the remake of "The Fog," which is set in a fictional north Oregon coast town. With that supposed location, and the weird legends of a wrecked galleon and buried treasures around Manzanita, the coincidences are an extra amusing addition to our movie viewing experience. We sit and joke about one scene or another, saying "that's not Manzanita," or joking about one landmark or another in the movie that could be from the tiny little town. During a scene in a bar, we kiddingly wonder about which bar in Manzanita could it be: Wateringhole, Sea Shack or San Dune. There are also numerous cracks about the lack of the usual Tillamook County characters in the film, such as "where is the semi-toothless mullet crowd?"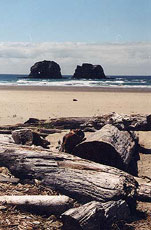 Rockaway
This long, lazy day ends around 6 p.m., as I embark on a rather hurried ride to Newport. It's there, after all, where I have a date set up with an astonishing local beauty and a birthday party as well. I'm anxious to get there, but things are too beautiful along the way to ignore. About an hour later, I've been through the stunning, placid waters of Tillamook Bay, the comely countryside just outside Tillamook, and then that mysterious area just south of Pacific City, with its occasional viewpoints and breathtaking vistas.
At Neskowin, the creek wanders through its little pathway with a particularly stunning shade of blue, a reflection of the sky, as if it were pouring its hues into the water just for the aesthetic beauty. The north side of Cascade Head is aglow in a jaw-dropping, slightly fuzzy orange, brought on by the twilight.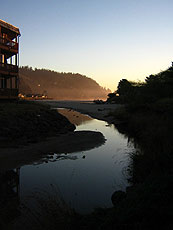 Neskowin
I can't help but stop and take a snapshot.
By the time I make it Lincoln City, the sun is doing some wild, odd things as it nears the end of its workday. The horizon isn't far way, and it is enormous, as I'm driving along 101.
I zip down a street on the north end of town, to see this huge sun reflected and slightly stretched in the water, making it even bigger and giving it a particularly weird shape. It's surreal as all hell, but unforgettably beautiful.
I stop to take shots of the sunset, along with everyone else and their dog – quite literally. The streets and beaches are lined with hordes to watch this spectacle.
My head is still reeling with all the research I've done on the freakish "green flash at sunset." In fact, I was actually filmed by The Oregon Coast Show talking about this recently. And sure enough, as I'm photographing this, I see it!!!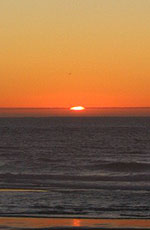 Hints of the green flash at sunset
For reasons I can't explain, it doesn't show up in this photograph, although there are hints of it. But I did indeed see a greenish aura, or blob, surrounding the sun for about half a minute, before it retreated below the horizon. It sort of undulated and changed shape and size, even disappearing briefly. But there it was – and this is the third time I've seen it now.
Then it was gone.
In the photograph, if you look closely, there is a sort of reddish "border" on the outer edges of the top of the sun - which is more or less what this greenish blob looked like. Yet here, it shows up red rather than green, and much thinner and less dynamic.
By this time, I was starving. I rushed toward Newport, where all the shoreline was clear and crystalline, except for Yaquina Head, which is surrounded by a deep fog. It's freaky and awesome, and reminds me of the creepy movie I'd just watched nearly 100 miles away, in Rockaway. A quick bit of Thai Talay in Newport, and I make it to my lovely friend Melissa's house.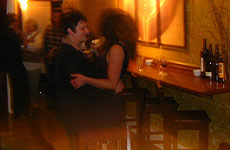 Slow dancing at Blu Cork Wine Bar
A while later, it's my birthday party at Blu Cork Wine Bar, where Melissa shows up in the most stunning little black dress. We slow dance to a song by Sting, and it's a delicious moment. Everyone was watching us.
The next morning, Nye Beach is smothered in sunlight and topped with seamless blue skies. We have a magnificent breakfast at Village Market & Deli, with Melissa taking the "Forestier" sandwich – a combination of mushrooms, chevre cheese and other fantastic herbs and ingredients. I again had the "Tuscan Turkey," where turkey is surrounded by numerous, intriguing layers of a kalamata olive mayonnaise, sun dried tomatoes and red onions, creating a wild rush of zings from many culinary angles.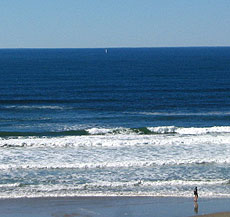 Ocean blues of Nye Beach, with a small white dot in the distance: a sailboat taking in the surf and sun
There's a sailboat traipsing around the rich and dark blue ocean, which I've never seen before. Dozens are hovering around the beach at this moment.
The rest of this adventure is a blur of driving north again, with intermittent fog and sun, a puzzling combination of clear skies that showed major shooting stars at certain points and mist that diffused the lights shining at night, spreading the rays around in curious ways that illuminated everything even more than usual.
It was, as always, the coast creating a magical ride.