BEACH NEWS YOU CAN USE
Covering 160 miles of Oregon coast travel: Seaside, Cannon Beach, Manzanita, Nehalem, Wheeler, Rockaway, Garibaldi, Tillamook, Oceanside, Pacific City, Lincoln City, Depoe Bay, Newport, Wadport, Yachats & Florence.
It's Fall on the Coast: Summer is Here Again.
Oregon's Biggest Travel Secret: Summer Starts with Fall on the Coast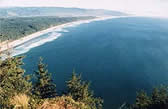 Trails - like this at Cape Lookout - are at their dryest right now
(Oregon Coast) - It's likely THE biggest news story about the Oregon coast, yet it's one of the area's biggest secrets: Fall is just the beginning of really warm weather, and the start of a load of features that make this the most inviting time of the year on Oregon's beaches.
Fall is known as the "Second Summer": meaning the coast is at its warmest in September and early October.
By the time September comes around, the ocean is at its warmest because it's been heated up all season. Meanwhile, things get cooler in the valley, which evens out the temperature differences between the two regions. This allows warmer air flows from the east and from California to help warm things up even more, as well as causing the winds to die down in general and decrease fog.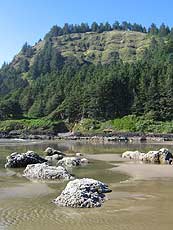 Cape Perpetua from below
During the summer, those temperature differences drive the sea breezes and fog. But by early fall, those differences are not as significant, allowing these factors to come together and making for sunnier, hotter days than during June, July and August.
Weather experts say this usually lasts well into October, with the middle of the month generally being a turning point towards more blustery weather. However, in 2004, those summer-like conditions lasted well into the last few days of the month. Perhaps it's global warming, perhaps it's not: but this phenomenon seems to be lasting a bit longer in many of the past few years.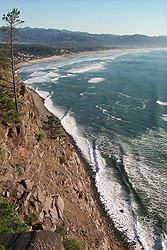 Manzanita
On top of it all, this season boasts lesser crowds, lower lodging prices and fewer cars on the highway – making this the best time of the year to venture to the Pacific Ocean.
In Manzanita, San Dune Inn owner Brian Hines is looking forward to what the "second summer" can bring to the coast, noting many retirees and RV'ers partake in the amenities of this time of year. "This should be of particular interest to the 'Buick' crowd who seem to surface and start to travel after school starts," Hines said. "My guess would be with the gas prices and people staying closer to home in Oregon, we at the beach should have a good second summer, assuming, of course, the weather co-operates somewhat."
Surprises in Seaside, Nehalem Bay and Newport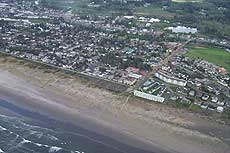 Seaside from above, thanks to Seaside Helicopters
Each town on the coast has its own identity and each experiences the benefits of the "other summer on the coast," as it's sometimes called. But Seaside has some particularly pleasant amenities during "Second Summer." Keith Chandler, manager of Seaside Aquarium noted he sees more whales wandering these waters at this time of year than at any other. "Not because there are more whales," he quickly adds. "But because the east winds make for less white caps and calmer waters, so it's easier to spot them."
At Seaside Helicopters, all these nice days keep pilot/owner Gary Turel quite busy. The long run of pleasant weather makes for ideal flying conditions for his aerial tours of Cannon Beach and Seaside. Hwy 101 - just south of Seaside. www.seaside-helicopters.com. (503) 440-4123.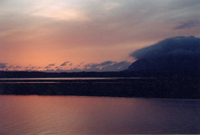 Nehalem Bay
"Fishing season is in full swing here on the Nehalem Bay," said Winston Laszlo, owner of Old Wheeler Hotel in Wheeler. "We're already seeing them from the window of the hotel wrestling some big fish into their boats."
In Newport, this increasingly famous secret about the coast means a lot of dining al fresco possibilities. In fact, it's a little known fact that Newport has the most outdoor dining of any town on the coast. You'll find at least 12 of them: Rogue Ales Public House, Gino's, Lighthouse Deli (in South Beach), Kam Meng, Shirley's, Port Dock One, Local Ocean Seafood, The Coffee House, Village Market & Deli, Café Stephanie, Blu Cork Wine Bar and Nye Beach Scoop. The last four are in Nye Beach, where the sands are just a few steps away.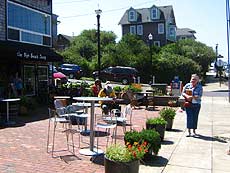 Al Fresco in Nye Beach
Village Market & Deli specializes in putting together to-go lunches for the gourmet palate. It's a growing need, says owner Deb Trusty, with an ever-larger crowd coming in to grab fine artisan cheeses, imported meats and wines and head for the beach. Combine a variety of sandwiches, deli items and even wines for a beachy picnic with a large dose of panache. NW 3rd, (541) 574-9393.
At Pacific Oyster, on Tillamook Bay, there's the perfect opportunity to take in the coastal atmosphere, complete with the salt air, Pacific breezes and lull of lapping waves, while snagging some of the freshest seafood possible for your enjoyment back home. The massive facility has a few outdoor benches to enjoy the amazing conditions this region has to offer, with stunning scenery all around you.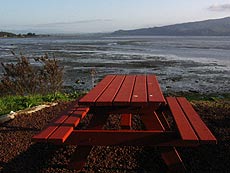 Pacific Oyster in Bay City
A little known secret about the Tillamook Bay: since it's a ways inland, Pacific Oyster and Bay City is often the recipient of nicer weather, especially if the beaches are foggy.
There's little that isn't seafood on the menu, with burgers made of former ocean dwellers, fish 'n' chips and seafood melts between $5 and $15, while more complete dinners are around $13. They have a cioppino to die for: thick, hearty and so stocked full of a variety of fish it puts a hatchery to shame. It contains a huge variety of fish, from oysters, halibut, cod and shrimp to even a smattering of octopus. The oysters are like tender little chunks of beef: extremely rich and flavorful, quite powerful for their miniscule size. 5150 Oyster Drive, Bay City. (503) 377-2323.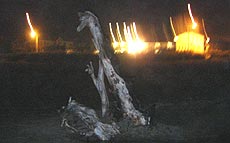 Oregon beaches at night yield strange wonders
For a serious surprise – and a hefty measure of surrealism – this season is some of your best chances of the year to find what is called "glowing sands" on the coast. What you see is small, faint bluish/green sparks at your feet when you move them around the sand. Or sometimes, if you move your hands around bays like Nehalem Bay, there will be a strange bluish glowing trail behind your hand.
At the heart of this are creatures that are a form of phytoplankton called dinoflagellates – part of the family of microscopic plants that form the bottom of the food chain for marine life. This particular brand is bioluminescent, meaning they give off a glow when disturbed or bumped through internal chemistry processes, much in the same way a firefly does.
They tend to hit Oregon's beaches in warmer periods when nutrients can be more abundant and more sunlight can help "charge them up."
Lodging Specials: Fall Means Falling Prices
In most cases, lodging prices begin to dip sometime in September, although some businesses don't drop until October or later. One interesting rule of thumb is that more expensive lodgings drop farther in price, while more inexpensive hotels, vacation rentals or motels tend to drop less.
Lodgings in most towns start to drop in September, although Seaside largely stays the same throughout the month because it's still quite busy, say tourism officials there.
However, Lorna Davis, interim director of the Newport Chamber of Commerce, said you'll start to some drops in Newport fairly soon.
"You don't see a drop in price immediately after Labor Day, but when you start to see a decline in tourists, and the lodgings aren't always full, then you start to see a drop," Davis said. "Certainly after September 15 there are some reductions, there are more discounts, and you're more apt to find two-for-the-price-of-one specials to entice people to come out. This also a really good time to book conferences and meetings, and you see a lot of those happening because the lodgings aren't as packed, or they are attracted to the place by the lodgings' sales efforts."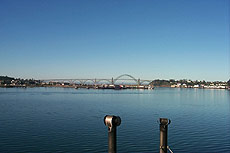 At Embarcadero Resort, specials can be a gas – a gas card, actually. The "Free Gas 4 U" promotion gives you the possibility to get up to $100 in free gas when you stay there multiple nights. A minimum 24 hour advance reservation is required, but two nights will get you $25, three nights $50, four nights get you $75 and five nights put $100 worth of gas in your tank. The special expires November 22. SE Bay Boulevard, Newport. 800-547-4779. www.embarcadero-resort.com.
Elizabeth Street Inn, in Nye Beach, hosts a "Whale Watch Special," as you can see the glorious cetaceans from the oceanfront inn as the begin their journey south. The special runs midweek, Sunday through Thursdays, where you can get rooms for $99 a night instead of the usual $159. The special runs until October 30. 232 SW Elizabeth St., Newport. 877-265-9400. www.elizabethstreetinn.com.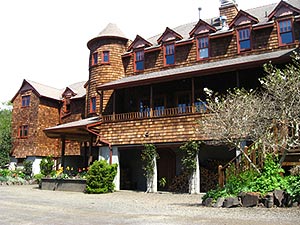 On the north coast, at Arch Cape House, you can stay for less during the week at a real castle, overlooking Arch Cape and Castle Rock. After October 1, weekday stays begin to drop substantially. Look for East Ocean Rd., just north of the Arch Cape Tunnel. www.archcapehouse.com. 800-436-2848.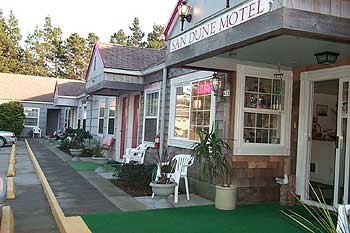 At the adorable, family-friendly and pet-friendly San Dune Inn in Manzanita, prices are anywhere from $95 for two people to $160 for a family in August. Lodging prices drop about 15 percent in the middle of September and another October 2, which translates to about $25 to $30 per night savings off the summer high season prices. Guests who make early reservations get a further discount. The San Dune Inn features fun and funky pleasantries like free bicycles, game equipment for the sand, beach chairs, etc. www.sanduneinn.com. 428 Dorcas Lane. 503-368-5163.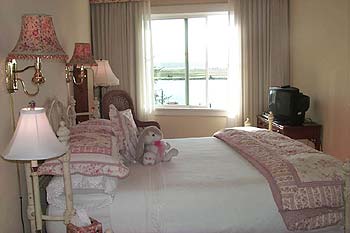 If romance is on your mind, Old Wheeler Hotel presents stunning views of Nehalem Bay in charming, ancient building so beautiful it's been nicknamed the "Westin-Benson of the Oregon Coast." Their prices are generally between $80 to $240, but prices begin falling October 1. They've also added two more rooms, which brings the total to seven these days. Hwy 101 and Gregory. www.oldwheelerhotel.com. 877-484-3843.