BEACH NEWS YOU CAN USE
Covering 160 miles of Oregon coast travel: Seaside, Cannon Beach, Manzanita, Nehalem, Wheeler, Rockaway, Garibaldi, Tillamook, Oceanside, Pacific City, Lincoln City, Depoe Bay, Newport, Wadport, Yachats & Florence.
Summer Cometh: Are you ready?
Fall Camping in High Gear on Oregon Coast
(Oregon Coast) – Oregon tourism's biggest secret is that summer is only beginning on the coast in September. In fact, the beginning of fall is when summer weather gets into high gear in this region.
Thus, camping is prime after Labor Day Weekend. The kids are back in school, the crowds are much less dense - especially during the weekdays, and the weather is at its warmest and winds are at their least.
It's one of the more intense pleasures on this shoreline. There's little like a night under the stars while roughing it in some backwoodsy area – but on the coast, with the sound of the surf in the distance, this a special experience.
From the nearly upscale delights of the yurts, to campgrounds with showers and other amenities, to the totally primitive sites: the upper half of Oregon's coast offers much in the way of outdoor camping bliss.
Fort Stevens State Park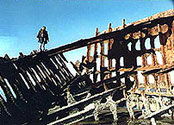 Get lost – in history, that is.
Near Astoria, enter the park by a six-mile drive after going west off 101 at the signs – approximately a half-mile south of MP 9. There, you'll find incredibly huge park – which is actually the biggest west of the Mississippi – with the largest number of campsites on the Oregon coast. There are 173 full hook-up sites, 157 with water and power, 194 tent and RV sites as well as 15 yurts. Hot showers and full restrooms add to the outdoor frivolity here.
Here, enormous gunneries once guarded the mouth of the Columbia River, lodged in huge turrets which rested in sprawling concrete fortresses – all empty and abandoned now, with gaping holes like sad, hollow eyes where guns, officers' quarters and other war machinery once sat.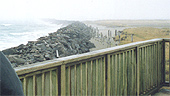 Around one bend, you'll find Battery Russell and its enormous concrete bunkers. Built around the turn of the last century, the gunnery eventually watched for invaders during World War II.
There is also the wreck of the Peter Iredale here (the most photographed shipwreck in the world), and the southern jetty of the Columbia River mouth provides insane spectacle in the realm of wild waves during stormier times, visible in complete safety from the viewing towers.
Nehalem Bay State Park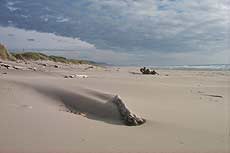 At the north end of Nehalem, this sprawling shoreline of nothing but sand goes on for over two miles. A good two miles down the sand spit you may find spots to watch seals rather closely.
This beautiful state campground contains 284 campsites, full toilet systems and hot showers. Each campground features a picnic table and a fire pit. There's also a horse camp with 17 sites and two corrals.
Nearby, Manzanita, Nehalem and Wheeler comprise the captivating Nehalem Bay, where numerous incredible restaurants, interesting shops and other activities await.
Cape Lookout State Park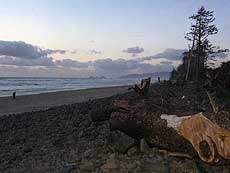 This beauty sits just west of Tillamook, between Oceanside and Pacific City.
The beach at this popular park is mostly one immense, sandy stretch, going on for nearly five miles to the north into Netarts Spit. Parts of the beach dip steeply into the tide line, causing the waves to crash loudly and abruptly, then quickly running out of steam and altogether creating an intense, natural spectacle.
Hiking on the Netarts Spit is no small feat, but you'll dig the solitude as much as the opportunity for clam digging. A ways after the two-mile point, look for paths onto higher dunes for more stunning viewpoints. Along much of the way, green, mushy marshland follows you to the end of the spit, where roses, wild strawberries and other plant life delectables lie on the pathways.
For camping, Cape Lookout boasts 191 campsites (two accommodating the disabled), one electrical site, four group camping areas, a reservable picnic area, a meeting hall, four yurts, 54 full RV hookup campsites (maximum 30 feet), full restroom and shower facilities as well as a waste disposal station.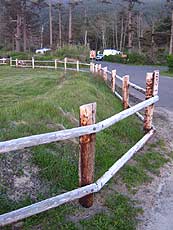 Cape Lookout has a $3 day-use fee. Campsite reservations can be made at (503) 842-2545.
Nearby, take the Cape Trail and its five-mile loop around the entire cape. It winds up at the tip of this majestic outcropping where, if the weather permits, you can catch sight of Cascade Head and Cape Foulweather - some 40 miles to the south. To the north, you can even see Tillamook Head - about 42 miles to the north. It's primarily an easy trek with very little elevation gain. But there are enough uphill stretches to induce heavy breathing in even the most hardy.
About a half mile down the Cape Trail - at one of the first railed lookout spots - there's the Crash Sight Memorial, where a World War II B-17 bomber slammed into the headland in 1942.
Sand Beach Campground & Dunes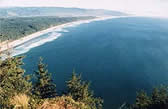 Sandlake from above (as seen from atop Cape Lookout)
Just south of Cape Lookout, take Galloway Road (at approximately MP 5) and you'll find a place where ATV enthusiasts abound because of the sprawling dunes - so expansive they are known as the ``Other Dunes on the Oregon Coast.''
Sand Beach is divided into the East Dunes, the West Winds campground area and the Fisherman Day-Use area. In between these sections, there are numerous sandy trails meandering throughout the small, brownish pines.
From Sand Beach northward, it's a sandy, grassy, dune-covered stretch of about 4 miles until the secretive cove at the bottom of Cape Lookout - and not much else. But after the first mile it's usually pure solitude as you leave the roaring ATV's far behind.
Whalen State Park
Just north of Pacific City, a small clump of forest lies at the center of this tiny park, lined by picnic tables, campsites and a lovely view of the marshy, mushy Sand Lake. There's no beach access here, but it's a swell spot for boating, fishing, bird watching or just taking in the sights.
The park is located on a slightly steep drop just off the side of the road and you might miss it if you blink. It features a reservable group area and RV hookups as well.
Beverly Beach State Park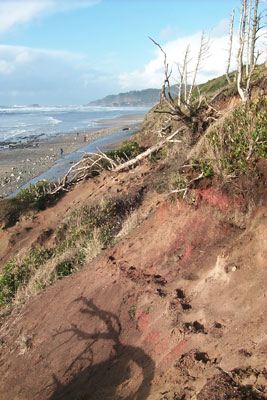 Access to this popular state park and campground is on the east side of the highway, just south of the southern entrance to the Otter Crest Loop and the Devil's Punchbowl.
Some 273 campsites stuff this popular park, with a beach access via a tunnel underneath Highway 101. From there, you've got a mile and a half of sand to the north before you reach the Devil's Punchbowl; to the south, there's a whole four miles of beach before you're stopped by Yaquina Head.
76 of these sites have water and electricity, 129 are tent sites, and there are 53 RV sites. Some even come with cable TV hookups.
Beachside Recreation Site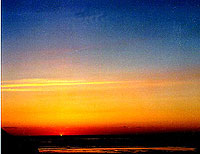 This beautiful little place is so close to the ocean waves that at some times of the year it's prone to flooding and shut down.
Still, 32 campsites (with water and electricity) and 50 tent sites make this one a regular family favorite for many. Hot showers, full restrooms and access to a big, sandy beach help round out the equation for way too much fun.
About a mile south lies the famed Tillicum campground – and just a ways from there lie the wonders of Yachats.
Sutton Recreation Area
At the north end of Florence, head east, just after the Alder Dune entrance, and you'll find Sutton Lake and its amenities. Six miles of trails crisscross between here, the beach and Alder Dune Campground. There's a boat launch, rest rooms, picnic tables and 80 campsites for both tents and RV's.
Miles of trails crisscross here, and you may even be able to spot a black bear.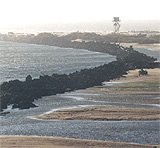 Harbor Vista County Park
Harbor Vista, within Florence, is one of Oregon's lovely little secrets. There are 38 campsites here, spread around an area which overlooks the north jetty of the Siusilaw River. But there is a gorgeous little viewpoint looking over that jetty, with a long but wonderfully convenient pathway leading down to the beaches there. The pathway even features steps embedded in it most of the way, making it much easier for the climb back up.