Structures Found on Oregon Beach May Be 80,000 Years Old
Published 03/03/2007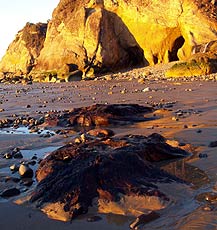 Photo Seaside Aquarium
(Cannon Beach, Oregon) – Locals and tourists have been tickled lately by the odd sights now visible along Oregon coast beaches because of big storms sweeping away large amounts of sand. Such abnormally low sand levels have yielded dozens of peculiar objects that are usually well below the sand, including ancients stumps in Neskowin that are around 2,000 years old and remnants of a forest around Newport that was likely leveled by a massive tsunami three hundred years ago. Other oddities abound as well: geologic curiosities that are showing now that the sand is six feet or more below normal. (for the larger, more detailed story on this, click here)
The most recent stunners are remnants of a really old forest near Cannon Beach, in a geologic wonder zone called Hug Point State Park. One notable scientist from Seaside, Oregon, has theorized these could well be around 80,000 years old – predating mankind by a long shot and offering a unique glimpse into how this pristine area looked just under a million years ago.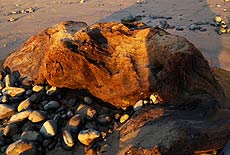 80,000-year-old stump at Hug Point, Oregon (photo Tiffany Boothe)
Tom Horning, with the Coastal Natural History Center in Seaside, said they appear to be from a forest that grew on the prehistoric Oregon coast, around the time a major ice age epoch began. "They are part of a forest that grew at the base of the cliffs 80,000 years ago, around the time that sea levels began to withdraw as the Wisconsinian glacial epoch began," Horning said. He added there are other such entombed forests beneath the various creeks on the north Oregon coast.
Theories vary on their origins, with explanations differing on each locale, but it's agreed they are remarkably preserved because some sudden, perhaps even abrupt, catastrophic event buried them fairly quickly in sediment, sand or sea water. If left out in the air, these ancient forests would have decayed as any other wooden object.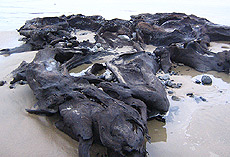 Stumps at Moolack Beach, Newport
The "ghost forests" – as these are often called - of Moolack Beach in Newport and of Neskowin are generally thought to have been created by a massive quake that plunged chunks of shoreline several feet to 25 feet lower, or a tsunami that rumbled in, lopping off the treetops and burying them deep enough to preserve them. Theories vary on this and some experts take pot shots over who is correct.
Horning is leaning towards the explanation that something a little slower than an abrupt event buried the ghost forest at Hug Point, saying it's probably sediments that washed in over the forest over a matter of years or decades. But he admits the more frightening theory is plausible.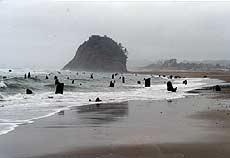 Neskowin 'ghost forest'
"Possibly, the mechanism by which it was entombed was from a great earthquake which dropped the land several feet, sinking the forest into the marshes, where the stumps of the trees were preserved beneath the water," Horning said.
Horning said drilling for water wells in the area has revealed other such entombed forests, sometimes 50 feet below the sand, and 14 feet below sea level. Some of these buried stumps go on for about a mile north of Hug Point, deep beneath the cliffs or sands. Currently, more stumps are also visible at Arcadia Beach and Arch Cape. Horning said it suggests that not only was there a great forest of spruce and cedar growing along the shore at the same but that they might've been entombed by the same process.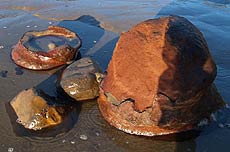 "Red Towers" made of sand cemented by iron are also found beneath the sand
"The stumps at Hug Point are numerous," Horning said. "The trees are up to several hundred years in age. They have wide growth rings, indicating ideal growing conditions at the time. They extend to within 60 feet of the cliffs, and perhaps with more storm action this winter we will see more of them closer."
The ancient stumps aren't the only visible wonders now available for viewing by tourists and beachgoers. There are what are called "red towers" now sticking out of the sand, and odd shaped sandstone structures that resemble mushrooms a bit.
Horning said the sand towers – only a couple feet high, if that – are basically beach sand cemented by red iron oxide. They stay strong enough to not be destroyed by the tough objects that batter them if they're kept under the sand most of the time. "Minerals cement the sands together to form reinforced, irregular bodies within and under the beach," Horning said. "Not uncommonly, the tops of the towers are exposed first, and rocks will wear these away, creating little pot-hole craters that make attractive landforms for photographers."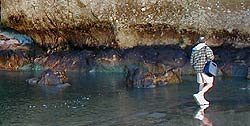 Odd colors mark the walls of rocks normally never seen in the air
Mushroom-shaped rocks at Hug Point are popping up with the low sand levels as well. "These knobs of sandstone bedrock are being eroded by cobbles and pebbles on the sea floor that are swished and thrown against the bedrock during periods of strong storms," Horning said. "Similar ledges are present under the cliffs at Hug Point, formed by the same erosional process."
The low sand levels have also revealed strange discolorations in the inverted terrace-like ledges beneath the cliffs. Horning said the colors come from the fact these areas are almost never exposed to air.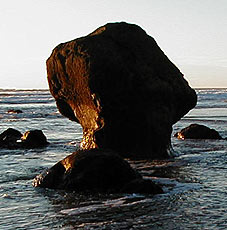 This whole area south of Cannon Beach, but especially Hug Point, was part of an ancient beach and set of cliffs that were eventually buried under mounds of stuff after the ice ages. Only now, in the last few thousand years, is it being exhumed by erosion and showing off what was here 80,000 years ago. At one point, the land here was 40 feet or so higher, and the shoreline was maybe as far as 20 miles west of where it is today.
In time, as sea levels rose again, the shoreline moved up, and the stuff that buried these beaches was eroded.
"So, the next time you visit Hug Point, look upon it as a cliff that has been given a second chance to see the sun, and to see these strange new critters that walk on two legs that it didn't see the last time the ocean washed at its toe," Horning said. (for the larger, more detailed story on this, click here)
| | |
| --- | --- |
| | |
| Red towers in Arch Cape | Red tower photo Boothe/Seaside Aquarium |
More About Oregon Coast hotels, lodging.....
Back to Oregon Coast
Contact Advertise on BeachConnection.net