Covering 180 miles of Oregon coast travel: Astoria, Seaside, Cannon Beach, Manzanita, Nehalem, Wheeler, Rockaway, Garibaldi, Tillamook, Oceanside, Pacific City, Lincoln City, Depoe Bay, Newport, Wadport, Yachats & Florence.
12/13/06
Oregon Coast Freaky Fish, Celebrities, Ghost Trees and An Exploding Whale
(Oregon Coast) – It's time for freaky facts about the Oregon coast, kids.
Each week in December and January, BeachConnection.net will release a horde of offbeat, odd, funky, fun or just amusing tourism tidbits about the coast – from the worlds of science, history, nature, weather or just interesting trivia.
It's a digital trip to the coast you won't soon forget.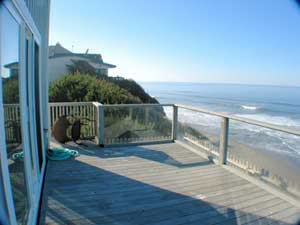 Lincoln City Vacation Homes There's something for everyone among this selection of wondrous homes: smaller homes with a view to a large house that sleeps 15. All the homes are either oceanfront or just a few steps away from the sand – all with a low bank access and fantastic views. Most are in the Nelscott area; one is close to the casino. You'll find a variety of goodies, depending on the home: fireplaces, multiple bedrooms, dishwashers, Jacuzzis, washer/dryers, hot tubs, cable TV, VCR, barbecues; there's a loft in one, and another sprawling home has two apartments. Pets are allowed in some homes – ask ahead. Each comes with complete kitchens so you'll have a home away from home. Most have the seventh night free. Prices range from winter $85 to summer $230 per night. www.getaway2thecoast.com. 541-994-8778.
This week, you'll find out about some freaky fish, a central coast hotel's oddball history that involved a celebrity and a cult, the "ghost forest" of Neskowin and the infamous legend of Florence's exploding whale.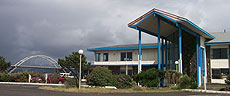 Who's That Famous Man with the Pink Leisure Suit?
Did you know that singer Pat Boone used to have an interest in a hotel in Waldport? The relationship to the hotel is unclear, but in the early 70's it was called the Pat Boone Inn, located in the Bayshore district. The marquee even featured a picture of Boone wearing - get this - a pink leisure suit.
In the late 70's it became the Bayshore Inn, and the Heaven's Gate cult held a gathering there (the UFO cult that became infamous in the 90's for committing mass suicide in California).
For a while in recent years, it was called the Evening Star Hotel, then briefly returning to the name Bayshore Resort, until that venture failed. Currently, it's the big Howard Johnson's hotel.
Jim King, a former manager at one of the restaurants in the hotels long lineage, grew up in the area and told BeachConnection.net he attended the Pat Boone Motel's opening ceremonies in the late 60's. He remembers Boone being there.
Some Weird Fish of the Oregon Coast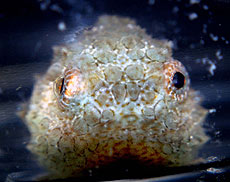 These underwater weirdos inhabit our coastal region, and many of them you can spot at the Seaside Aquarium.
Spiny Lumpsuckers:
A colorful title, to be sure; but its name is actually upstaged by the appearance of this most unique and wondrous looking critter. A close cousin to the Snailfish, Lumpsuckers get their name from their habit of clinging to rocks and other objects with a small disk found on the breast of the fish.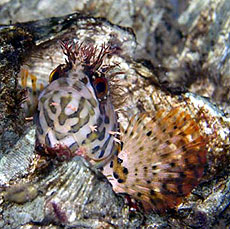 Moss Head Warbonnet
Moss Head Warbonnet:
Mosshead Warbonnets occupy shallow tide pools and often hide inside of empty shells or small crevices. They will even take refuge in glass bottles which have been discarded. They can reach a maximum length of 6 inches.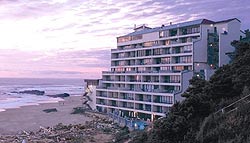 Inn At Spanish Head, Lincoln City. It's Lincoln City's only resort hotel built right on the beach with all oceanfront rooms - nestled against a rugged cliffside overlooking a soft, sandy beach. Enjoy dining in the penthouse restaurant and bar - whether you're in the mood for a casual meal or a candlelight dinner. They offer an array of seafood specialties, juicy steaks and other Northwest favorites, including a decadent Sunday buffet. Rooms range from bedrooms to studios to one-bedroom suites with microwaves and refrigerators to full kitchens. Hotel amenities include wi-fi, spa, saunas, exercise room and a year-round heated swimming pool. Kids will love the game room and easy beach access. Full-service conference and meeting rooms for that inspirational retreat; extensive, gorgeous wedding possibilities. Near the south end of Lincoln City at 4009 SW Highway 101. 1-800-452-8127 or 541-996-2161. www.spanishhead.com
Prow Fish:
A most remarkable specimen, the Prowfish is the only member of the family Zaproridae. Juvenile Prowfish live in the middle levels of the water column (the vicinity of their preferred prey, the jellyfish). They have been observed hiding in the bells of jellyfish if threatened or approached by a predator. As adults, Prowfish spend the majority of their time on or near the bottom of the ocean, in depths of up to 2,000 feet. The white and blue fringes on the head of the Prowfish are sensory pores which help the fish perceive its surroundings.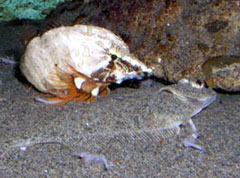 Grunt Sculpin
Grunt Sculpin:
Grunt Sculpins range all along the Pacific Coast, from Alaska to Northern California, and can be found in shallow, intertidal waters to depths of over 500 feet. These fish rarely swim, preferring instead to use their pectoral fins to "hop" around sandy or rocky bottoms, rooting for food with their elongated "snout". If removed from the water, Grunt Sculpins will actually produce grunt-like sounds.
King-of-the-Salmon:
Scientific Name: Trachipterus altivelis Family: Ribbonfish (of the four different species of ribbonfish on our coast, the King-of-the-Salmon is the largest). Size: Up to 6 feet. One of these washed up on Sunset Beach this year, clocking in at exactly six feet.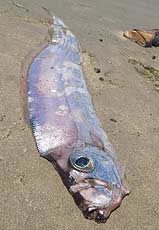 Ribbonfish discovered this summer
The eye is nearly 3 inches across.
Their range is from Alaska to Baja, California and off the coast of Chile, usually living 500 feet to 1,600 feet in depth. Diet: Adults feed on squid and juvenile rockfish.
The common name of this fish was derived from an old Native American legend, in which this fish was referred to as the 'king' who led the Salmon.
See these (and find out more) at the Seaside Aquarium, on the Prom, in Seaside. 503-738-6211.
Freaky Lincoln County History Tidbits
According to the North Lincoln County Historical Museum in Lincoln City, some strange and possibly sinister bits of history are lurking in the area.
A skeleton of an eight-foot African-American man and two other men were found near Three Rox Bay in Lincoln County (near Cascade Head). These bones were believed to be the remains of men who were shipwrecked in the 1700s, and left behind to guard some kind of treasure.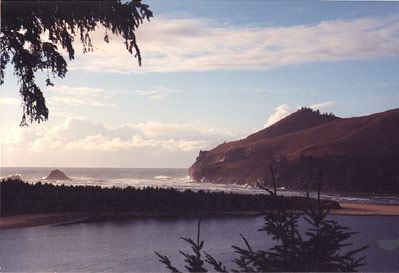 What's odd here, say museum managers, is that while the treasure portion of the tale is a longtime local legend, the bones were found in 1932 – long after the treasure legend is known to have been circulating around the county.
Another freaky bit of geology comes from the museum as well. "About 20,000 years ago, the shoreline was about 25 miles west of where it is today," said the museum's Ann Hall. After the last ice age, when glaciers melted, the sea level rose and the shoreline moved to its present location."
Even stranger still, back around 45 million years ago, our beaches were nearly 100 miles inland, about where Silverton is now. The plate the U.S. sits on is continually crawling westward.
You can see more at the North Lincoln County Historical Museum. 4907 SW Highway 101. Lincoln City, Oregon. 541-996-6614. www.northlincolncountyhistoricalmuseum.org/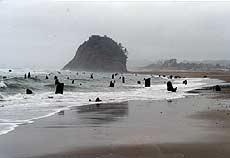 The "Ghost Forest" of Neskowin
In mysterious (and oft-called spiritual spot) Neskowin, just north of Cascade Head and south of Pacific City, there's a weird wonder nicknamed the "ghost forest." This downright spectacular oddity is almost a rare sight in Neskowin, but you may not know just how spectacular it is unless you know what it is you're looking at.

Tradewinds Motel, Rockaway Beach
If expansive ocean views, close proximity to golfing, fishing tours and quick access to seven miles of pristine beaches is your thing, then this quintessential beauty in Rockaway Beach is your ticket to vacation fun for families, couples or large groups. Some rooms are pet friendly. All rooms at the Tradewinds Motel are immaculate and have TV's, VCR's and in-room phones with data ports. The oceanfronts all have a queen bed, a double hide-a-bed, kitchen, cozy firelog fireplace and a private deck. Some oceanfront units come with all those amenities but the kitchens. Both types sleep up to four people. The non-oceanfront rooms are appointed with a queen bed, small fridge, and coffee maker – sizable for a two-person romantic getaway, yet still perfect for those on a budget. There is an elaborate oceanfront Jacuzzi suite that has two bedrooms, coming with a kitchen, double hide-a-bed, fireplace and private deck, sleeping as many as six. For those wanting bigger accommodations for family reunions or large gatherings such as weddings, some rooms can connect to create two-room and three-room suites. 523 N. Pacific St., Rockaway Beach. (503) 355-2112 - 1-800-824-0938. www.tradewinds-motel.com
They look somewhat like old, ragged pilings leftover from something manmade – and a little bit like the ghostly remnants of a woodland. They are, in fact, stumps of a forest some 2,000 years ago or so.
As many as 100 are sometimes visible in various shapes and sizes. Initially, local geologists theorized that around 2,000 years ago a massive, cataclysmic earthquake abruptly dropped this forest possibly more than 25 feet. Then, they were preserved by sand and mud and a no-oxygen environment, rather then being destroyed and scattered, as natural erosion might've done.
But in recent years, scientists have come to believe these and other ghost forests on the Oregon coast were the result of slightly longer geologic processes. For a variety of reasons, the landscape changes in that area, and sand, sea or other elements flood the area over a period of years or decades.
There are similar stumps periodically visible near Newport, although these are quite rare. One, however, is consistently visible sticking out of a cliff in Nye Beach, just beneath the Sylvia Beach Hotel.
The Famous Exploding Whale
In 1970, a whale carcass washed ashore at Florence and caused quite a stir (and a smell).
Back then, the Oregon Highway Division (soon to become Oregon Department of Transportation) decided to stick dynamite next to it and blow it to bits. It was, to say the least, a learning experience.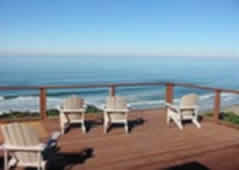 A1 Beach Rentals, Lincoln City. Perfect for large family vacations all the way down to a getaway lodging for two - with over 25 vacation rental homes to choose from. A breathtaking collection of craftsman or traditional beachfront homes, or oceanview houses – from one to seven bedrooms. In various areas of Lincoln City and overlooking the beach, with some in Depoe Bay. All kinds of amenities are available, like hot tubs, decks, BBQ, rock fireplaces, beamed ceilings and more. Some are new, some are historic charmers. Lincoln City, Oregon. 1-(503)-232-5984. www.a1beachrentals.com.
The idea was that if they exploded a device from one side of the whale, in just the right angle and spot, it would blow the whale apart into a myriad of smaller pieces. Those would theoretically be more manageable and could be buried in the sand, while smaller bits would be gobbled up by birds and such.
In one extremely famous film clip, still available on the Net, a very young Paul Linneman from Portland's KATU-2 comments as the whale is blown up. He is suddenly forced to run as it rains various sized chunks of blubber onto a cheering - then panicking - crowd. One flying slab wrecked a car a quarter of a mile away.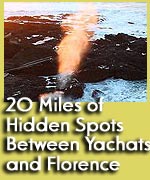 Meanwhile, you could hear chunks making squishing noises in the background as they hit the ground.
Linneman's most famous line: "….blasted blubber beyond all believable bounds."
A man named Thornton, who was the Highway Division's head of the project at the time, will still not speak to the press to this day. Back in 2000, the Eugene Register-Guard did a thirty-year retrospective on the infamous event and he refused comment.
Footage of this is still one of the hottest internet downloads around. Simply do a search on "exploding whale" and you'll find film footage of it and various articles, including one by humorist Dave Berry.

D Sands Condominium Motel, Lincoln City. Getting a free, fresh baked cookie upon check-in is just the beginning. Every room is beachfront, and it's all right up against Lincoln City's most famous stretch of beach, next to the D River. Each room, comes as a suite or mini-suite, and has a kitchen and balcony or patio. Some have gas fireplaces, while all have a DVD Players with movies available for renting (and movie rentals come with free popcorn). There's a heated indoor pool, a spa, and this fabulous beach is lit at night. Rooms sleep anywhere from two, four to six - including a deluxe fireplace suite. Gift certificates are available, and they offer special occasion packages as well. To make a reservation and see a virtual tour of the rooms, visit our website at www.dsandsmotel.com. 171 S.W. Highway 101. 800-527-3925.
Weiss' Paradise Suites & Vacation Rentals - Seaside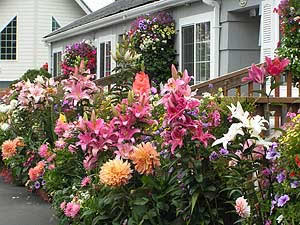 Unique Luxury Accommodations in Seaside. 1BR Suites, 1BR & 2BR Duplex Units and 3BR Houses, units for 2-8 people. Rent our entire property for 20-26. All units close to beach, river and Broadway St.
Suites are designed for two adults; vacation rental units for families. All units have kitchen and many have fireplace, deck and jetted tub. Enjoy comfy robes & slippers, luxury bath amenities, quality linens and more. See us on The Travel Channel's "Great Escapes" show in August 2006. 741 S. Downing St., Seaside. 800-738-6691. www.SeasideSuites.com
RELATED STORIES
OR TAKE THE VIRTUAL TOUR

ASTORIA
Where the Columbia meets the Pacific, Land of Lewis & Clark and loads of atmosphere & history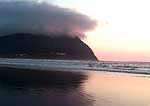 SEASIDE
The Promenade, Tillamook Head, family fun & broad, sandy beaches

CANNON BEACH
A mysterious lighthouse, upscale yet earthy, a huge monolith, fine eateries & an art mecca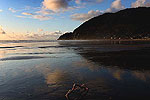 NEHALEM BAY
Manzanita's beaches, Nehalem and Wheeler's quirky beauty; laid back Rockaway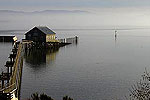 TILLAMOOK BAY
Garibaldi, Barview, Bay City, Tillamook & an oceanfront ghost town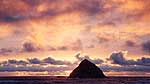 THREE CAPES LOOP
The hidden secret of the coast: Cape Meares, a lighthouse, Oceanside, Netarts and Pacific City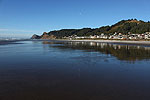 LINCOLN CITY
& THE CORRIDOR OF MYSTERY
Miles & miles of unbroken beaches, Cascade Head, Neskowin and many manmade attractions

DEPOE BAY
A spouting horn downtown, freaky hidden cliffs and whales, whales, whales

NEWPORT
Time-tripping Nye Beach, a bustling bayfront, marine science-central and two lighthouses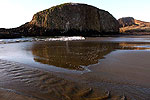 WALDPORT / SEAL ROCK
Pristine, even secretive sands and wild geologic landmarks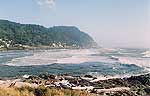 YACHATS
Constantly dramatic wave action, a mix of the rugged & upscale

UPPER LANE COUNTY
25 miles of deserted beaches & oodles of wonders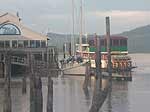 FLORENCE
A lighthouse, ancient bayfront and miles and miles of fluffy dunes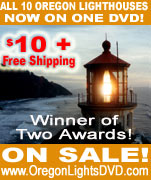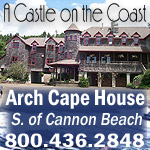 DIVE INTO LUXURY, HISTORY AT THE TIDES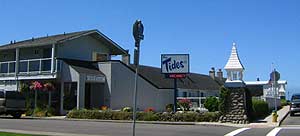 THE TIDES BY THE SEA, Seaside. For over 80 years a favorite of Seaside visitors. 51 oceanfront condos, individually owned and decorated. Suites for couples, small apartments with fireplaces and kitchenettes, one or two bed family units with fireplaces, kitchens and dining rooms. Oceanview cottages sleep anywhere from two to eight, w/ two bedrooms, some with lofts, fireplaces and kitchens.
Heated outdoor pool, enormous grounds w/ picnic tables - all at quiet southern end of Seaside. 2316 Beach Drive. 800-548-2846. www.thetidesbythesea.com.
BREATHTAKING CLIFFTOP IN NEWPORT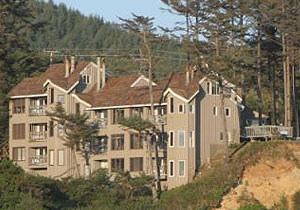 STARFISH POINT Newport - Offers only the finest in luxury condominium lodging. Every unit is focused on the beauty of the sea and the beach.
All units boast two bedrooms, two bathrooms, designer kitchens, wireless broadband Internet, fireplaces, Jacuzzi's and private decks. Friendly staff dedicated to high quality and superb customer service. 140 NW 48th Street, Newport. (541) 265-3751. (800) 870-7795. www.starfishpoint.com