Pictures of Oregon Coast Unusual Moments, Oddities
Published February 2008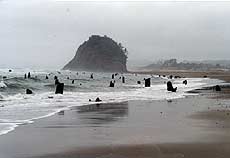 Neskowin's ghost forest
(Oregon Coast) – They are the things rarely seen by tourists, even many locals. Those matchless moments or singular events so off the wall they seem unreal sometimes. Bizarre sunsets, natural phenomenon, freakish instances of nature, weird coincidences, and sights and sites that almost seem supernatural they are so distinctive.
Yet it happens a lot on the Oregon coast. It's such a different, constantly changing environment that things like geology, paleontology, oceanography, biology and weather can intermingle in ways that are impossible to imagine. Still, they're often overlooked, or not even noticed as they occur. This coast is where something weird happens every day, somewhere along the beaches. Sometimes it happens in time, sometimes it's lying about in the space around you, and you haven't bothered to keep your eyes open enough to see it.
Here is a catalog of unusual moments and objects caught by BeachConnection.net over the past ten years – in words and pictures.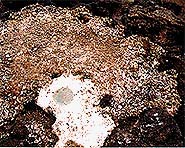 Weird Detail on Neskowin's Proposal Rock. There's plenty about this mysterious structure in Neskowin that's intriguing. But one detail seems to escape the notice of many. A small, round brass plague has been cemented into the rock, near the entrance to a rather puzzling trail that winds up into the forested rocky blob.
It bears the insignia of a local Tillamook County power company, hinting that at one time this mass of rock once had something electrical running to it – or through it. Take a tour of Neskowin here.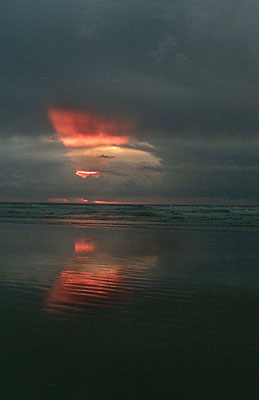 Weird Sunset Seaside. Taken one October in recent years, it's a sunset that seems inspired by Pink Floyd album cover art.
For reasons unknown, the weak, pinkish light of the sunset found its way through a break in the clouds, but was scattered in such a way that it seemed to shoot out in a triangular beam of columns. Odd and delightful on its own. But when also reflected in the surf, its earthbound doppelganger creates a whole new design.
Neskowin's Ghost Forest. One of the most spectacular – albeit hidden – features of the Oregon coast are the "ghost forests" that often appear in winter, when the sand has been washed away quite a bit by storm action. These are remnants of an ancient forest, usually around 4000 years old, according to experts. They pop up periodically near Waldport, Newport, Arch Cape, Cape Lookout State Park and rarer still at Hug Point, just south of Cannon Beach.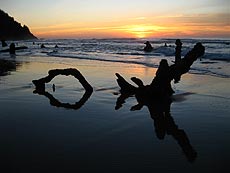 But in Neskowin they seem to have been visible for most of the last decade, unearthed by what appears to be a gradually declining sand level in that area.
According to state geologists like Roger Hart, what probably happened is that an entire chunk of forested was rather quickly – over a period of a few decades – surrounded and swallowed by sand and sea, because of some unknown change in the landscape. This emersion preserved these stumps.
Some theories are more dramatic: perhaps a massive seismic event plunged the landscape here into the ocean, maybe as much as 25 feet. These tree stumps – which look more like ragged leftovers of pilings made by mankind – also appear as if they may have been lopped off by something like a big tsunami. However, state geologists tend to lean towards the slow emersion theory these days.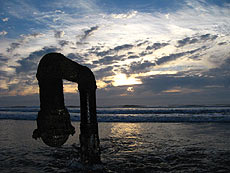 The Pipe at Seaside. This remnant of Seaside's history still haunts the shoreline, creating puzzling looks from tourists for generations.
Back in the 20's, natatoriums were all the rage on this coastline. These were hot saltwater baths, where the ocean was pumped into massive indoor pools and heated. Newport and the doomed resort of Bayocean had them, and so did Seaside.
By the mid-30's, that building was eventually turned into the Seaside Aquarium, which it has been ever since. That pipe is still used to pump water into the structure, although now it's for fish and seals to play in.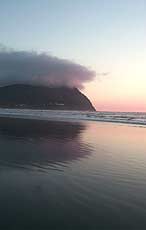 Regulars of the town may wonder why the thing periodically changes shape and direction. Because of sand levels, aquarium staff have to shift it around to keep the intake flow of water in good shape.
Tillamook Head with a Hat On. Keith Chandler, manager of Seaside Aquarium coined that term once, regarding a sight he's completely used to seeing, although most regular tourists maybe catch it once a year – if that.
Clouds have moved in to the Seaside area on an otherwise crystal clear day, with a small insurgent band of the fluffy stuff capping the top of Tillamook Head. Often, this headland is the dividing line between weather conditions on the north coast. It can be one thing just north of Tillamook Head, and be some other weather condition just south, in the Cannon Beach area. It's quite dramatic.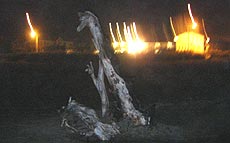 Nocturnal Monster at Manzanita. Nighttime is a wild time on the Oregon coast, and all sorts of wondrous, although sometimes slightly spooky things, emerge. Optical illusions manifest themselves with startling regularity. At night, a simple chunk of driftwood - somehow pointed up in the air in a curious manner by daytime beachgoers – turns into something creepy looking when the delinquent, missing sun has drained the beach of all perspective and detail. That, coupled with the inevitable camera shake resultant from shooting at night, has caused the lights of the motel in the background to be blurred. It now looks like some demonic beast that has brought fire and hell to the north coast beach.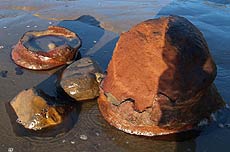 Iron Towers of Hug Point. Last winter, sand levels were extraordinarily low and resulted in a lot of interesting stuff getting unearthed at Hug Point, just south of Cannon Beach. There were what are called "red towers" sticking out of the sand, along with odd shaped sandstone structures that resemble mushrooms a bit.
Seaside geologist Tom Horning said the sand towers – only a couple feet high, if that – are basically beach sand cemented by red iron oxide. They stay strong enough to not be destroyed by the tough objects that batter them if they're kept under the sand most of the time. "Minerals cement the sands together to form reinforced, irregular bodies within and under the beach," Horning said. "Not uncommonly, the tops of the towers are exposed first, and rocks will wear these away, creating little pot-hole craters that make attractive landforms for photographers."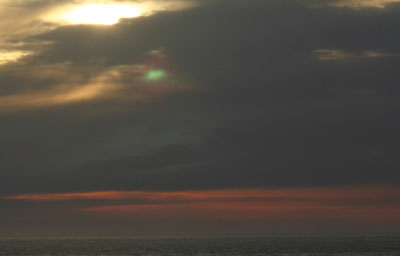 The Green Flash At Sunset. Notice the greenish haze of a blob poking through the cloud layers here at sunset, near the upper left hand corner.
It's so rarely photographed that some science people still don't believe it exists. But it does, and as crowds of strangers gather together at certain vantage points to watch summer sunsets, you now often hear someone else around you talk about hoping to see the famed "green flash."
Newport's Bob Trusty photographed this oddity once – albeit a really strange incarnation of it. The green flash is defined as a small, greenish blob you see just above the setting sun, just a second or so before it dips away below the horizon. Certain conditions must exist for you to see it, mainly that it is clear, with no clouds or fog, between you and the horizon.
Yet somehow, Trusty caught a singular version of this that BeachConnection.net's research has not been able to find. There are certain categories of the green flash, and none of the literature includes this one.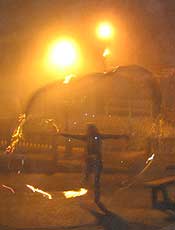 Giant Bubbles in Nye Beach. More wacky stuff out of Newport. One night in the summer of 2006, BeachConnection.net cameras caught something rather spectacular and magical. A man was wandering the Nye Beach Turnaround creating enormous bubbles. It was nothing short of surreal. One woman went bounding after them and sometimes through them, enjoying a particularly wild and inspirational night in this rather distinctive spot by the Pacific.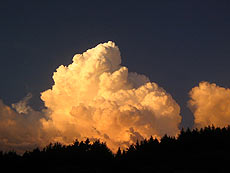 Thunderclouds Approach Cannon Beach. 2007 saw some strange weather on the Oregon coast, and this one was particularly wild. Just south of town, a churning, bulbous mass of strange looking clouds begins to appear over the horizon. These clouds look like they mean business. Odd, they don't head straight out west, but instead seem to follow some invisible barrier of air along the shoreline, head north, and leave the coast clear along Cannon Beach. A little while later, they have enveloped Seaside, and there is massive thunder and lightning just north of town. Also, the entire drive towards Portland finds this weather system hovering above, flashing and pounding left and right the entire way.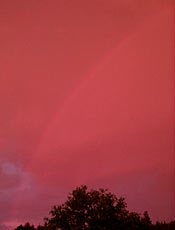 Red Sky, Rainbow and Lightning. The coast can create the strangest weather systems, probably because this is where the inland and the oceanic systems collide. Sometime in spring 2002, this scene presented itself just east of Pacific City. A crazy, angry bank of clouds was moving in from the east, while the coastal sunset hit it with wild colors and tainted it in pinks and reds. Rain was beginning to fall, and lightning could be seen in the distance. For a brief time, this collection of conditions created a rainbow in the midst of this almost sepia-toned moment.
Its blues and greens were largely cut out by the fierce cast of the reds from behind, but it was still visible: a strange and surreal reminder of how dynamic and unique the coastal environment is.
Down the road, in Neskowin, the lightning was directly overhead, and created the most thunderous, cataclysmic noise imaginable.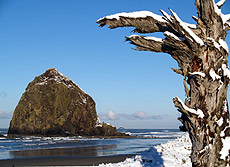 Snow covers Cannon Beach (photo Tiffany Boothe, Seaside Aquarium)
Snowy Visions of the Oregon Coast. Being of a milder temperament, the coast is often warmer than the valley during the winter, especially during big freezes. But in early 2007, who could forget that hugely dreamlike sight of snow on the coast?
It fell in droves on a few days that January, created frozen roads at night, but mostly melted off pretty fast. It was the most snow that region had seen in more than ten years, and locals still hoard large piles of photographs of this event.

| | |
| --- | --- |
| | |
| Extraordinary number of fossils in the rock | Weird geologic structures that defy categorization |
Geologic and Fossil Oddities at Fogarty Creek. This little state park, south of Lincoln City, hides a bundle of wacky objects. Depending on sand levels, you'll find freaky caves, chunks of rocks with tons of ancient creatures still inside, and geologic shapes that defy description. Not to mention, the dark sand grains here are extraordinarily large – enormous by grains of sand standards. They actually hurt to walk on barefoot.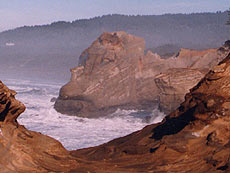 Mysterious Man-Ape Face of Cape Kiwanda. In a highly secret spot along the cape, one that's actually quite dangerous to get to, there is another world. Giant pockmarks line the weird sandstone, looking like the surface of a distant planet. Sweeping curves of the bright yellow cliffs of the cape emerge that are otherwise unseen, including odd mini-bays and towering structures that defy description.
Then there's this freakish sight: something that looks like one of those religious idols in "Planet of the Apes." This shot was taken on New Year's Day 2000, some eight years ago, so this chunk of the cliff may no longer look this way. But then, at least from this angle, it appeared as if the ocean had inadvertently carved out the face of a man-like ape creature.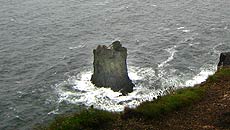 Cube Rock. Like the ape face at Cape Kiwanda, this one too makes you wonder about some ancient civilization having carved fantastic structures in unlikely places. Cube Rock is one of the more unusual rocky chunks of the Oregon coast. It sits just north of Manzanita, around Cape Falcon, and just a ways from Short Sand Beach. In fact, it's only visible from the turnouts where you can see Short Sand from above. It just barely pokes its squarish top above the cliff, looking like a column, from part of a massive ruin that once stood a tad offshore, perhaps from some long lost culture of giants.
But if you walk down the trail leading to that favorite cove of surfers, you'll see more of it, and from another overlook you'll be able to gaze down into the tumultuous, narrow Treasure Cove. Just beyond that cove, Cube Rock juts straight out of the ocean, appearing to be almost completely evenly square.
It already had its name by 1900. Local literature from settlers at the time refer to it by that name, and to nearby Pulpit Rock, which is only visible from the overlook directly above Treasure Cove.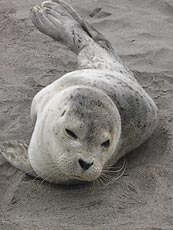 Cute Baby Seal. Who can resist this adorable sight? Unfortunately, you'll have to. It's illegal to come near these baby seals and disturb them. Well-meaning people are often under the wrong impression, and pick them and take them to authorities, thinking they are lost somehow.
They are not. This nearly newborn cutie is only resting on the beach, trying to take a nap as any youngster would. Its mom is not far. And she won't find her little one if you pick it up.
BeachConnection.net was with local authorities when this photo was taken, as they put up signs asking the public to stay away.
Ancient History in the Rocks. In the summer of 2003, BeachConnection.net found this intriguing object embedded in the rock while wandering the hard-to-traverse rocky chunks of a hidden beach spot around Oswald West State Park (at the end of Falcon Cove Road).
Newport fossil and beach expert Guy DiTorrice clued us all in.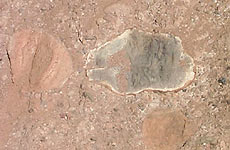 He said it was a "rock scallop, seen from the interior, with the hinge line on the left side. Take a wire brush to it and you'll see the high-sheen polish. The backside (still embedded) will be ruffled design, usually pocked with worm- and clam-drilled holes."
So, what is a "rock scallop?" we asked. It sounded as if it had something to do with that old B-52's song, "Rock Lobster."
He said they are non-swimming scallops that attach themselves to rocks near the shore. He added the scallop is the logo shape used by Shell Oil Co.
The next logical question then is: how old might this fossil be? Guy said the brownish rock color indicates Astoria Sandstone, which "could be as young as 12 million years old, and as old as 17 million."
If that's not cool enough, Guy provided some interesting tips about their modern-day descendants. "They are great eating, have much larger muscles (the meat) than the commercially-harvested swimming scallop cousins."
For a video of unusual Oregon coast moments, click here.