Hundreds of Crab Shells Show Up on North Oregon Coast
Published 04/26/2010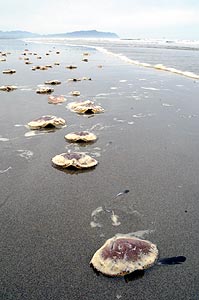 Crabshells in abundance on the north coast (photo Tiffany Boothe, Seaside Aquarium)
(Gearhart, Oregon) – Hundreds of crab shells are hitting the beaches of the north coast, looking like there was some sort of massive die-off of crabs.
In actuality, it's simply crab molting season for the Dungeness crab in Oregon coast waters, where adult crabs are getting bigger and outgrowing their shells.
"Because of the crabs' hard exoskeleton they cannot grow the same as other animals," said Tiffany Boothe of the Seaside Aquarium. "In order to grow they must shed their shell in a process that is called molting. Adult crab populations tend to molt simultaneously, with the females molting in mass during the spring and males in the late summer."
Boothe wandered a stretch of about four miles on the north coast this week, noticing patches of them in great numbers from Sunset Beach down to Gearhart. There is no word if they were also spotted in other places on the north coast or the central coast.
It apparently all started sometime this weekend, Boothe believes.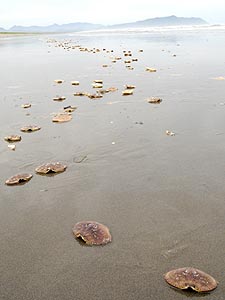 Photo Tiffany Boothe, Seaside Aquarium
"It's because of the currents and the winds that we're seeing so many," Boothe said. "It happens all the time, but we don't always see them wash up."
Seagulls haven't been going bonkers over these potential morsels. Boothe said that's because the shells really don't contain much for the shorebirds to munch on. Sometimes there are bits of skin left over in them, and occasionally a tiny bit of intestines from the crab are left behind. That doesn't make for much of a meal for the birds.
Seaside Aquarium typically gets busier this time of year and into the fall months as nature starts tossing up creatures onto the beaches. As part of the Marine Mammal Stranding Network, it's their job to respond to critters both living and dead.
And the onslaught of reports has begun of things to deal with on the beach.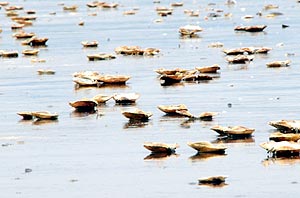 Photo Tiffany Boothe, Seaside Aquarium
Crabs aren't the only thing molting – yearling seals start going through this process as well, where they shed their fur and often show up on the beach to get away from salt water.
Elephant seals especially go through this, and Seaside Aquarium dealt with three of those already – responding to reports in order to make sure the public stays away from them. There were Elephant seals in Rockaway Beach, Hammond and Seaside.
The process is painful, where the seals exhibit visible sores. But the public is urged to stay away, as what the seals require is to be left alone and be able to stay dry and get warmer. Throwing water on them is the last thing they need, which is what some people try to do.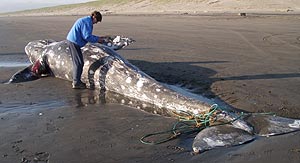 Deceased baby whale on north coast earlier this month. Photo Tiffany Boothe, Seaside Aquarium
Earlier this month a baby whale stranded on the beach near Gearhart, already dead. That creature was finally buried in the sand this week.
Two seal pups were also reported to the aquarium, although one had already gone back into the ocean by the time staff arrived to cordon it off from the public. One was at the cove area of Seaside and the other on a beach on the Columbia River.
More About Oregon Coast lodging.....
| | | |
| --- | --- | --- |
| | | |
LATEST OREGON COAST NEWS STORIES
Summer of Discovering Nature Events at N. Oregon Coast's Alder Creek Farm
Alder Creek Farm near Nehalem is hosting a series of summer events that are unique
Good News for Oregon Coast Razor Clamming, Sunset Bay; Trail Meeting
Another area opens to clamming, Sunset Bay is cleared of a warning, a meeting in Tillamook. Tillamook events
Ban on Fires at Campgrounds, Even Oregon Coast Beaches
A statewide ban on campfires and open flames in any state park has resulted in a ban on beach fires. Sciences, weather
New Fusion Form of Folk Plays Central Oregon Coast This Weekend
The New World String Project comes to Lincoln City with its unique brand of Celtic and Nordic music. Lincoln City events
Skies Above Oregon Filled with Bright Planets; Star Parties in Gorge, Coast R...
You'll get to spot the red planet in particular glory as it closes in on opposition. Science, kids
An Oregon Coast BnB Like a Luxury Hotel: Sandlake Country Inn
In the midst of a bucolic, rather backwoodsy section of the Three Capes Tour near Pacific City
Talk on Mysterious 1700s Oregon Coast Shipwreck Happens in Tillamook
Tillamook County Pioneer Museum features a talk from an expert on the subject on Aug 4. History, Tillamook events
Razor Clamming N. Oregon Coast Closed Until Sept 30
Razor clamming will close on almost all Clatsop County beaches starting July 15. Seaside, Gearhart, Warrenton