Unusual Tourist to North Oregon Coast
Published 05/31/2012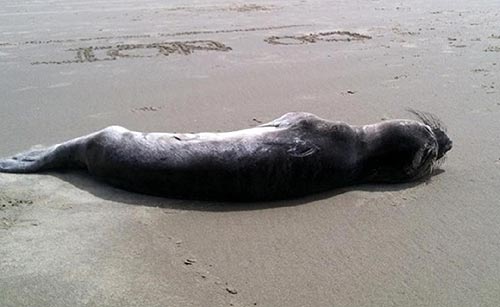 (Cannon Beach, Oregon) – Last weekend saw a slightly unusual form of tourist to the north Oregon coast. This one came to spend the night – but spend no money, and it would pay no room tax. This was a baby elephant seal that came to enjoy Oregon coast beaches this time.
Tiffany Boothe of Seaside Aquarium passed on photos and information from Haystack Awareness Program staff, which spotted the little one resting in the southern area of the Tolovana district, near Silver Point.
This one was out of the ordinary because of its age – and because it was here to simply rest.
"Though young Elephant Seals frequent the area they are usually older, only coming on shore to molt," Boothe said.
Like any baby of any species, these need to rest, and they plop up onshore to take naps. Mother is usually quite near, often hunting for food.
It is illegal to harass or pick up young wildlife resting on the shore. Well-meaning people often do the wrong things and try to "help" in some way, when all these creatures need is to be left alone. You can see the "do not disturb" etched in the sand near the baby in these photos.
Seaside Aquarium manager Keith Chandler said the seal pup was spotted in this place near Silver Point on one day, and was again sighted on the Washington coast at Long Beach the next day.
"In 2009, the first elephant seal births were recorded in British Columbia at Race Rocks," Boothe said. "Until then the farthest north Elephant Seals had been recorded pupping was at Shell Island off of the Southern Oregon coast."
She added that elephant seals are typically born in February and January.
"They nurse for about four weeks before being weaned and then stay on the beach for another 12 weeks before starting their sea ward journey," Boothe said.
All photos courtesy Nala Cardillo, Haystack Rock Awarness Program.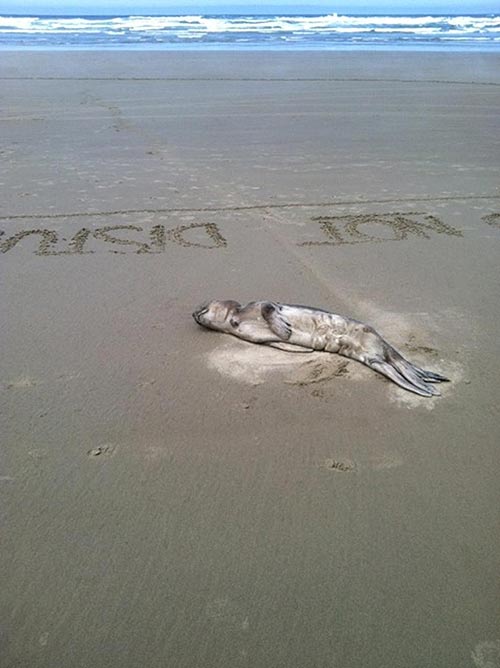 More About Cannon Beach Lodging.....
More About Cannon Beach Dining.....
LATEST OREGON COAST NEWS STORIES