Two Turtles a Rare Discovery on Oregon Coast
Published 12/18/2012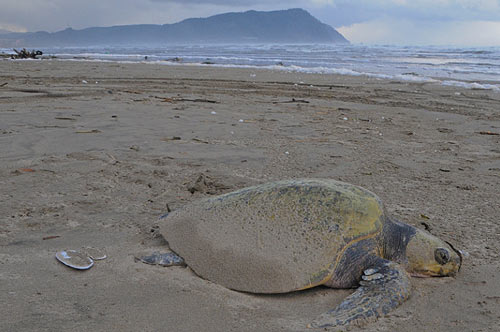 (Seaside, Oregon) – More interesting stuff washed up onshore this as two turtles of different species showed up on the north Oregon coast on Monday, and crews are attempting to rehabilitate them. One of them was quite a rare find. (Photos courtesy Tiffany Boothe, Seaside Aquarium)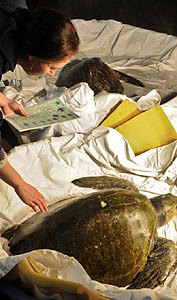 Seaside Aquarium responded to a call about the first turtle around 9:30 a.m., found near 6th Avenue in Seaside. It was a 21-inch Green Sea Turtle, cold and lethargic and not well off.
"Once protected from the wind the turtle started to slowly warm up and began moving its head and flippers." said Tiffany Boothe of the aquarium.
The second call came in shortly after, yet another sea turtle, this time in Gearhart. This one was larger and was partially buried in the sand.
"It looked like it had taken quite a beating," Boothe said. "Upon closer examination we discovered that the second turtle was a different species of sea turtle: it was a Loggerhead. The Loggerhead had been on the beach for quite some time and was much more lethargic than the Green Turtle. In fact, for a while we did not think that it was alive."
Crews took the Loggerhead back to the aquarium where it eventually began to show signs of resuscitation.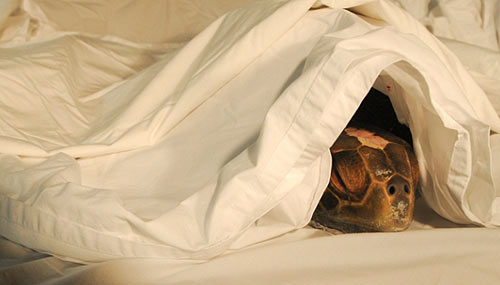 Turtle being revived beneath a blanket.
Both turtles will be taken to the Oregon Coast Aquarium for further care and rehabilitation.
Boothe noted that if you looked closely at the photo of the Green Sea Turtle you'll see its left front flipper is missing yet completely healed. (below)
"This animal had been surviving just fine with one front flipper for quite a while," Boothe said. "Just goes to show you how resilient marine animals are."
All species of sea turtles are protected under the Endangered Species Act.
The Green sea turtle (Chelonia mydas), is a large sea turtle belonging to the family Cheloniidae. Their common name derives from the green fat underneath their shell.
Both of these turtles come from a natural habitat with a temperature of about 70-85 degrees, but they wound up in water less than 50 degrees.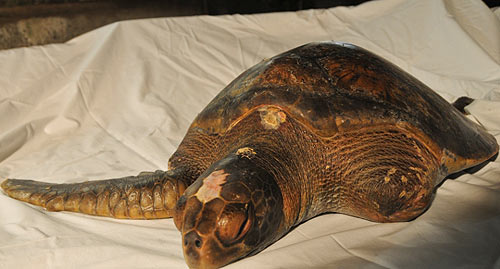 Green Sea Turtle with the missing flipper.
Though loggerheads have been spotted as far north as Alaska they only come ashore in this region when distressed.
Boothe said it's likely both turtles were affected by recent storms and the large waves they create. The waters off the Oregon coast get enormous waves before a storm, and it's likely they followed a warm water current that dissipated and they soon got hypothermia.
Loggerheads are extremely rare finds on the Northwest coast and almost always show up deceased when they land on these beaches. The last loggerhead spotted in this area was five years ago, and then five years before that, according to the Seaside Aquarium. Manager Keith Chandler told Oregon Coast Beach Connection at the last find in 2007 that he had recently talked to Seattle Aquarium at that time, and they said they had not seen one in 20 years.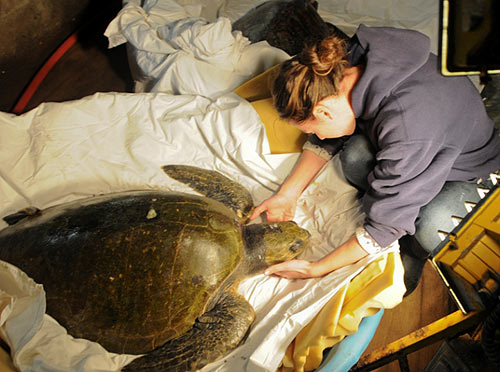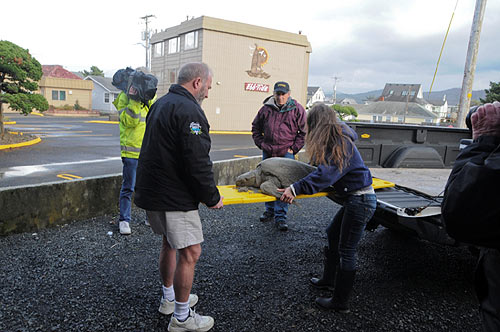 More About Oregon Coast hotels, lodging.....
More About Oregon Coast Restaurants, Dining.....
| | | |
| --- | --- | --- |
| | | |
LATEST OREGON COAST NEWS STORIES