Dock on Oregon Coast is from Japanese Tsunami: Dangers Exist
Published 06/06/2012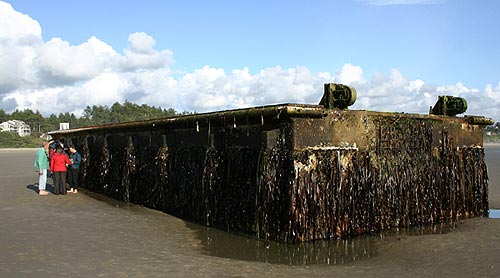 (Newport, Oregon) – A derelict dock found washed ashore on the central Oregon coast has been determined to be from Japan, and part of the debris field on its way to the U.S. after the 2011 tsunami. (Dock photos courtesy Oregon State Parks and Recreation).
There are numerous questions about how it will be disposed of, whether this means the floodgate has opened up on more debris, and numerous other possible issues. One thing is certain, however: the public needs to stay off of the dock for a variety of safety reasons.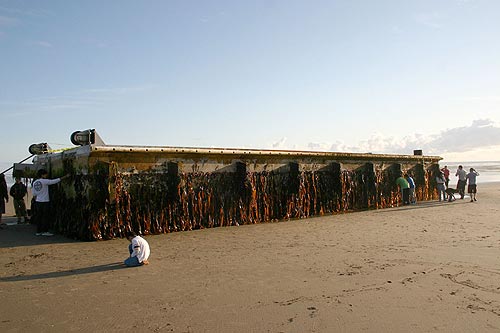 The dock was spotted moving offshore from Newport on Monday, and later on Tuesday it had come ashore at Agate Beach, just on the southern side of Yaquina Head.
Earlier today, state officials discovered through the Japanese consulate that the metal plaque on the dock shows it was owned by Aomori Prefecture in the northern Japanese port town of Misawa. The object was torn loose from there by the tsunami in March of 2011. The Japanese consulate in Portland also confirmed it was one of four docks in that town that were torn loose, and there now exists the distinct possibility more could wash up on the Oregon coast or elsewhere in the western U.S.
"The dock itself is very large and heavy: 7 feet tall, 19 feet wide and 66 feet long," said Oregon State Parks (OPRD) in a press release. "It is made primarily of concrete and metal, but is clearly designed to float. Because of its size and the chance it could continue to settle or be moved by wave action, state park staff are posting warning tape and signs instructing the public to stay off the structure."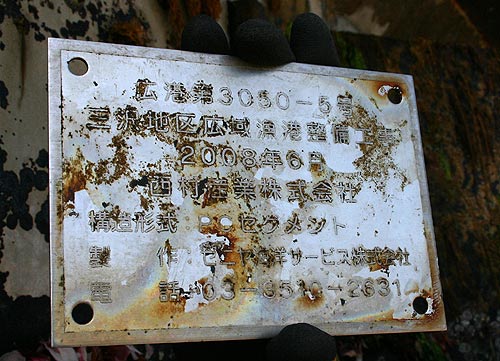 Now the biggest immediate concerns are the dangers it poses. Although Agate Beach is completely open to the public, OPRD is urging people to stay off the dock. Many photographs of the object have shown it clear of the surf and open to up-close examination. However, aerial footage from TV stations shows how dangerous this structure can really be after the tides have enveloped it once again.
Chris Havel, spokesman for OPRD, said the safest viewing is at low tide. He offered other warnings.
"Please don't climb on, or try to dig beneath, the dock," Havel said. "Just not safe to do that. Keep on eye on your kids anytime you're near the ocean."
Oregon Department of Fish and Wildlife (ODFW) and other state agencies are also concerned about the possibility of invasive species, as plenty of sea life native to Japan was discovered on the object.
State officials also initially tested the dock for radiation but turned up no evidence.
Havel pointed out traffic congestion is likely in the area, although that hasn't been a major factor yet.
"Rather than park along the road, use the paved parking on the east side of the road," Havel said. "There's a tunnel beneath the road. Use it, then turn left to walk to the beach access trailhead, and then head north 1/4 mile to the site."
Look for the signs to Agate Beach State Park near the entrance to Yaquina Head.
Locals are expecting a deluge of visitors, however, with national and international coverage literally exploding today.
So far today that hasn't occurred, according to Sandy Sprinkle, manager of Starfish Point in Newport. Her building overlooks the dock.
"Just a few people here and there," Sprinkle said. "Nothing major yet."
Disposing of the dock will also be a major issue. Demolishing or dismantling the dock is one idea, but one expert pointed out that could take thousands of dollars. Other possibilities include towing it back out to sea and sinking it somehow.
Oregon Coast Beach Connection will feature another story on the implications of this dock washing ashore, including possible costs and other impact of tsunami debris.
More photos of Agate Beach below: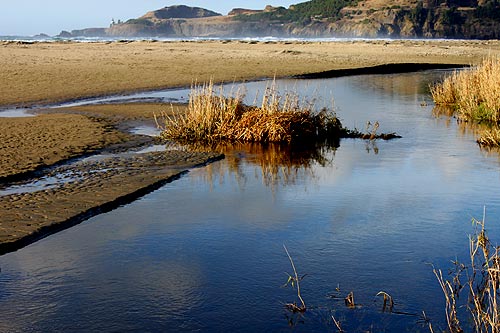 Keywords: tsunami, Japan, Pacific City, Cannon Beach, Yachats, Depoe Bay, Newport, Lincoln City, Oceanside, Astoria, Oregon coast, science.
More About Oregon Coast hotels, lodging.....
More About Oregon Coast Restaurants, Dining.....
LATEST OREGON COAST NEWS STORIES