Removal of Oregon Coast Tsunami Dock Remains Steady
Published 08/02/2012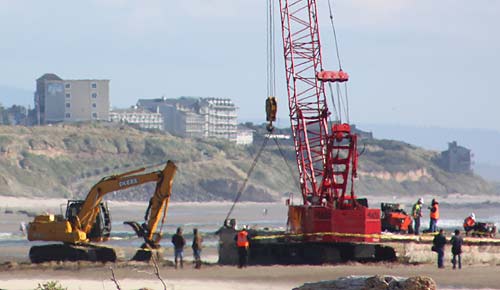 (Newport, Oregon) – Workers from Ballard Diving and Salvage made considerable progress on their first day of removing the tsunami dock from a central Oregon coast beach. Contractors spent Tuesday preparing for the dismantling of the derelict dock, which washed ashore here on June 5 after being torn loose in the devastating tsunami in Japan in March, 2011.
Wednesday, work officially began on the project, which included assembling a 100-ton lift capacity crane and excavating sand from around the site. Some hitches occurred Wednesday, but Oregon state officials said the work continued to stay on track, and the dock may even be removed by the end of the day on Thursday.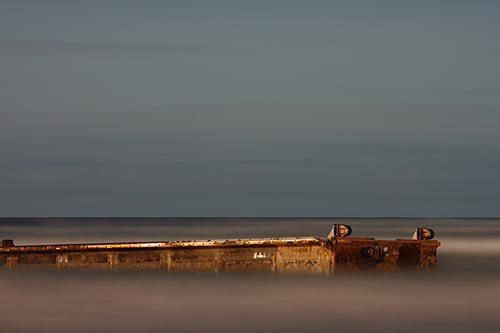 Excavation of sand around the dock allowed workers to insert thin plastic pipe beneath the dock. A diamond-coated cable was threaded through the pipe Wednesday afternoon, then attached to a motorized wire which was installed on top of the dock. The wire saw was used to cut into the dock sections and the crane then began placing the pieces onto flatbed trucks for transport back to Portland for final destruction and recycling.
Then a few problems arose later in the day.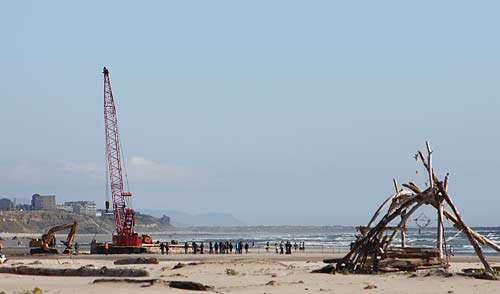 "Work stopped momentarily during to free up a stuck wire saw cable, and to address small particles of rigid foam which emerged from the dock during cutting," said Oregon Parks and Recreation Department (OPRD) in a press release. "Large blocks of foam sit inside the dock and provide it with flotation. Contractor crews raked and shoveled the beach to collect the material."
That problem was eventually taken care of and OPRD reports crews finished actually cutting through the dock pieces. Working until dark, crews were not able to finish hauling the pieces off the beach because they were still not completely disconnected from each other in some spots.
"Suction from the water-soaked beach, or some leftover internal structural connection (or both factors), prevented the crane from lifting the dock section," OPRD said. "At daybreak Thursday morning, one crew will begin the second cut, while another works simultaneously to loosen the first section."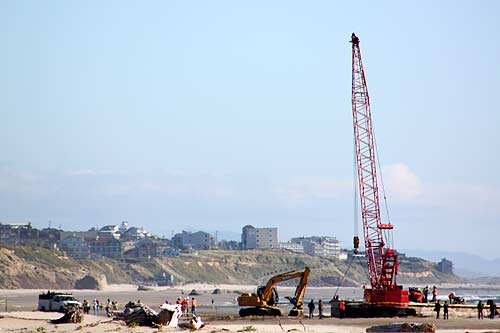 Since both groups will be working at the same time, it is possible the delay in moving the first dock section will not have a significant effect on the overall project schedule. OPRD believes it is still possible the work can be finished ahead of schedule later on Thursday.
Work may last until Friday, which was the original projected date of completion.
Part of the dock will be saved for a memorial in Newport.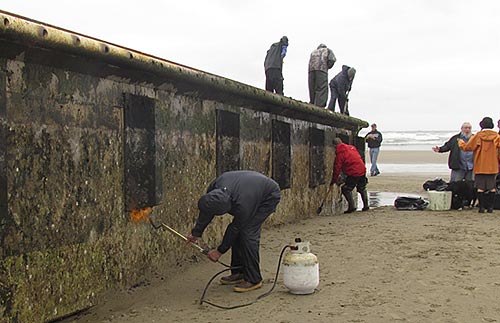 Photo: Terry Morse
More About Oregon Coast hotels, lodging.....
More About Oregon Coast Restaurants, Dining.....
LATEST OREGON COAST NEWS STORIES