Crazed Oregon Coast Travelogue Part 2: Funky Finds, Weird Rocks
Published 05/29/2015 at 5:15 PM PDT
By Oregon Coast Beach Connection staff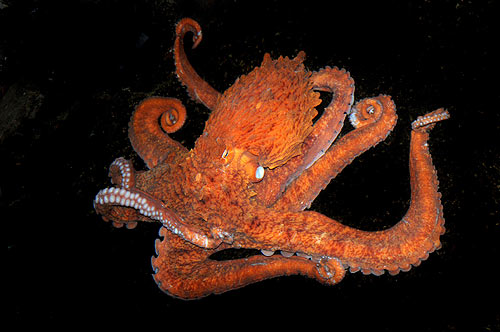 (Oregon Coast) – The following is part two if a rather wacky travelogue I wrote back in April of 2007, chronicling the wild adventures and fascinating sights I encountered while spending nearly a week wandering some 150 miles of coastline. It's also a bit of a tribute to some of the businesses and people mentioned here which are no longer around. Some folks have moved on to something different. Others, like Valerie in Manzanita – who played the chicken prank on me – have passed away. (Above: crazy tales of the Seaside Aquarium octopus, photo courtesy Tiffany Boothe, Seaside Aquarium). See part one here.
Part two picks up on a Monday, on the north coast, some three days after I started this journey of discovery down in Newport.
Mon. 4 p.m. I've gotten little done today, thanks to this cold, aside from dropping in on the Seaside Aquarium, where manager Keith is playing chef for the day. It's another one of those kooky, laidback, surprise moments you live for by living on the edge of the continent.
He's in the back of the facility, in the middle of a kind of impromptu seafood barbecue. He wants to show off his culinary skills and has breaded about a dozen chunks of clams, and will soon deep-fry them in a small fryer he has set up. At first I thought he was holding some sort of science experiment on a tray. But it turned out to be real food.
And delicious too. Keith has quite the secret recipe for breaded clam fritters. Wow.
Moments later, he and other employees show me how they feed their octopus. As we approach the tank, one employee has her hand in the water and appears to be shaking hands with the freaky beast. It has a tentacle tentatively wrapped around her hand, as if in a greeting rather than a "I think you're food" stance.
A funny story: apparently, the big guy has tried to climb out several times. Keith explains he finally stopped pushing him back in and just let him fall on the floor. After a while, he picked him back up and returned him to his watery home. The octopus never did it again. "Sometimes you just have to let that toddler put his hand on the hot stove to teach him not to do it," he joked.
I figure I can cheer myself up with a fat (or phat) dinner at The Bistro in Cannon Beach. Their spaghetti and meatballs (not officially on the menu, but available for the asking), is a hidden wonder that must be experienced to explain.
It works. I'm happier – for a while. I spend the remainder of the night glued to the Sci Fi Channel, working on my computer, and feeling sorry for myself I have a cold.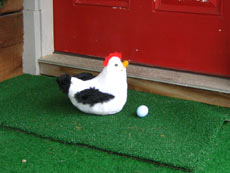 Kooky chicken prank outside my motel door
Tues. 11 a.m. Yet another goofy prank by one of the San Dune employees is sitting outside my door. It's a long story why, but some there have nicknamed me "chicken man," and this has become a running joke for the last year. The morning before, Valerie left a small, stuffed chicken, with an Easter egg, outside my door (the same chicken, it must be noted, that she left in my room in a previous stay back in January). This morning, there's a sign on the door that reads "Fresh Eggs Inside – Please Knock." I didn't know whether to laugh hard or strangle her.
Around 1 p.m., it's a meeting with Kim Bosse, the head of the Cannon Beach Chamber. Her dog, Emma, is one of my favorite attractions on the coast. This bundle of fun, in the form of a large, black lab, actually has a fan club: I'm not the only two-legger who comes in off the street to regularly visit this canine ambassador for the city. They've actually nicknamed me "Emma's boyfriend."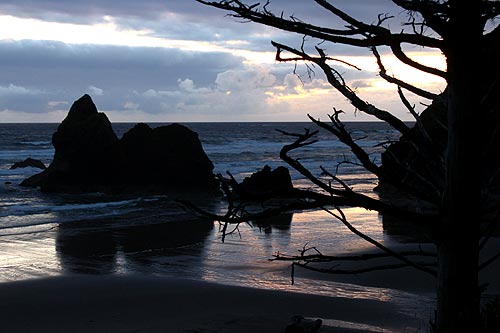 (Above: Arcadia Beach, near Cannon Beach). The rest of the day is spent on business errands, driving back and forth between Manzanita and Seaside. The clouds remain, making the day kind of dreary. Moments of heavy to moderate rain punctuate the pleasant temperatures. I'm in a great mood in spite of it. After all, I got to play with my favorite north coast dog today.
Dinnertime arrives, and I venture into the new Guido's in Wheeler, unsure of what I'll find. This place was a wondrous haven of culinary inventiveness back before it shut down last June. Now, with new owners, I've heard good things, but was so spoiled by the brilliant pizza wizardry of former manager Phil Kaufman, I've never thought of pizza the same.
So I decide to have the calzone, which should show me what both the pizza and the pasta are like. Indeed, it is delicious. Everything has a homemade sense about it, as if made by someone's grandma. Owners Bud and Louise are about grandparent age, and obviously put a lot of care into their work. The crust was magnificent, and the sauce: hearty, thick and rich in taste.
The same stunning view is there, of course, with the bay spread out in all its glory.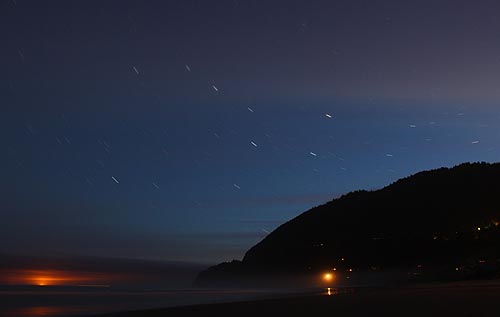 Tues. Midnight. I get antsy after working all night on the computer. I drive down a half-mile to Manzanita's beach and peer into the darkness a little while. The ocean roars softly in the distance. It's almost a low tide, so it's practically a quarter mile away. The cloud cover has numerous holes in it, and I can see stars twinkling brightly in the cold night air. With part of a moon somewhere beyond those clouds, they allow some soft light to hit the waves. It's calming and captivating.
Wed. 11 a.m. Breakfast is lunch for me, obtained at the outstanding Sea Shack in Wheeler. I've heard exceptional things about the food there these days, with the most recent owners having infused a new energy into the place. Indeed, the deep fried halibut sandwich was by far and away the best fish I've ever had. I was literally blown away.
The sun has returned to the coast – most of the time, anyway. There are dozens of people at the Neahkahnie overlook, above Manzanita, gathered to badger the Whale Watch Spoken Here volunteer with questions, all hopeful to spot a great cetacean on its trek.
The pullout here is bordered by a large, rock wall, the kind of stony creation that always reminds me of a castle. Just beyond that wall, I spot something unusual. It looks as if there was once an old trail that wandered around the cliffs, with a small stairway leading down to it. The stairway is blocked off by the wall now, but the trail looks as if it's still being used occasionally.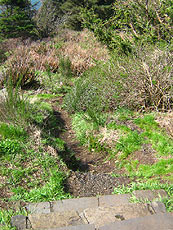 Secret steps in front of hidden trail
The cliffs of Cape Falcon, just to the south, take on a new vibrancy in the sun. The field of long grass is an intense yellow. A hiker wearing red in the distance is a conspicuous red dot in the middle. I see some craggy rock structure jutting up from the sea, a single column that looks like something out of a fantasy book cover.
I've never noticed this oddity before. Again, no matter how times I wander some of Oregon coast's myriad of beaches and features, I can still spot something new.
The rest of the day is spent running a couple sporadic errands, but mostly just screwing off. I run into old friends in Manzanita, chatting with them at their shops or at the San Dune Pub (not to be confused with my motel for this fortnight).
By early evening, the clouds have stayed away but the air is becoming chilly. I saunter into the Terra Cotta Café in Manzanita. Heaven doth await here. The breadsticks are a fabulous creation: moist, tender and full of life. The artichoke and tomato soup, a personal recipe of co-owner Sandy, is a cup full of some higher existence. The New York steak is probably the best specimen of steak I've ever come across: a perfect blend of charred tastes on the outside and rich, juicy meat on the inside.
The romantic interior here is also not to be missed.
The next step, unfortunately, is to head to our Portland office for a while. I have car repairs to attend to, and various other business concerns, before returning to Newport. While it is cold, it is clear. The drive over Hwy. 26 is smooth and beautiful, with the forests illuminated in the faint, last rays of the day.
Below: the mysterious rock structure I discovered that day, which I later learned was called Cube Rock.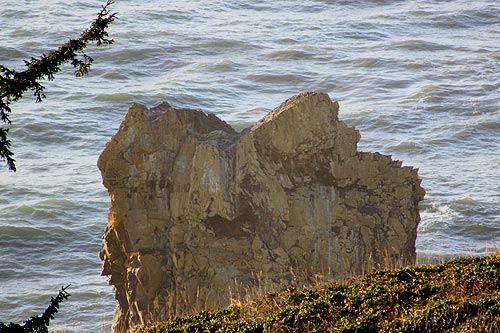 More About Oregon Coast hotels, lodging.....
More About Oregon Coast Restaurants, Dining.....
LATEST Related Oregon Coast Articles
Gemind Meteors Brightest of Year: Will Oregon, Washington Coast See Them?
Portland, Pendleton, Seattle and Eugene and along the beaches it will peak on December 13 and 14. Weather, science, South coast
New Oregon Coast Tradition Lights Up a Lincoln City Dock
The renovated dock at Taft is lit up by a festive display and aglow. Travel tips, kids
Manzanita, Garibaldi, Rockaway Beach, Pacific City: N. Oregon Coast Winter Fun
Manzanita events, Nehalem, Wheeler, Rockaway Beach events, Tillamook events and Pacific City events
Winter Events of Lincoln City: Central Oregon Coast Preview
Glass floats, lots of music, food and theater. Lincoln City events
Depoe Bay Celebrates Filming of One Flew Over the Cuckoo's Nest on Oregon Coast
Oregon Film will commemorate the town's contribution to the quirky flick on December 19. Depoe Bay events
Lincoln City's Whistling Winds - Wacky Oregon Coast History of a Quaint Motel
Like all of Whistling Winds, my room is a gloriously all Earth tones, covered in that fine polished wood that makes it feel like a fancy hotel
Oregon Coast Cyber Monday: Unique Beachy Finds Online
Stay out of the weather: Gifts from the coast to your loved ones, many possibilities you probably didn't know. Travel tips, south coast, wine
Little Log Museum in Yachats Hosts Benefit Concerts: Central Oregon Coast
The concerts to help raise funds toward the rebuilding of the historical and iconic structure. Yachats events

Back to Oregon Coast
Contact Advertise on BeachConnection.net
All Content, unless otherwise attributed, copyright BeachConnection.net Unauthorized use or publication is not permitted