SuperMoon Over Oregon and Coast - Maybe Aurora Borealis
Published 06/23/2013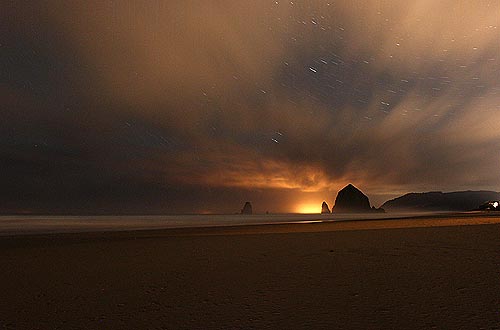 (Oregon Coast) – More astronomy fun and awe is headed for Oregon and the Oregon coast, as upcoming this weekend is the Super Full Moon – and the Northern Lights may appear. (Above: Cannon Beach).
A major solar flare erupted yesterday on the Sun, and that brings a 30 percent chance the Aurora Borealis will be seen in the northwest. Chances are better east of the Cascades and in Washington rather than the Oregon coast, but plenty of lunar spectacle is on its way.
According to OMSI planetarium manager Jim Todd, June's full Moon happens at 4:32 a.m this Sunday morning. This will be a super full moon – for real. The Moon will be at its closest to the Earth all year.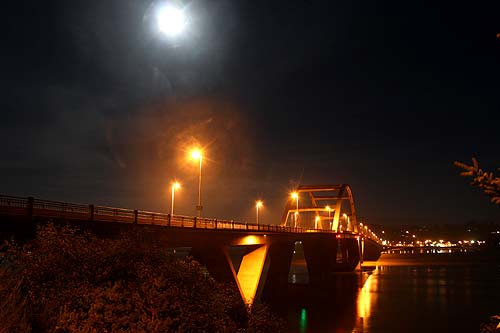 Harvest Moon over Waldport last year
"When we look at the full moon on Sunday, it will be just 221, 824 miles away making it the Moon's closest approach to Earth in 2013," Todd said.
What you'll see is a Moon a bit bigger than the usual full moon. Todd said it will be 14 percent bigger and 30 percent brighter than a full moon at its farthest point.
"It's not really all that much more dramatic than a regular full moon," Todd said.
However, you can see a fairly sizable full moon right now, on Friday night. This bodes well for what may appear on Saturday and Sunday night.
The size of a full moon varies because of the oval shape of its orbit around the Earth. What's happening this weekend is called the Perigee, the closest approach of this orbit. Todd said right now the Moon is about 31,068 miles closer to Earth than its apogee – or its farthest distance.
Todd said June's full moon is called the Strawberry Moon; but it can also be called the Rose Moon or Honey Moon.
Coming down the line: on August 2014, the full moon and perigee will be just three miles closer to Earth.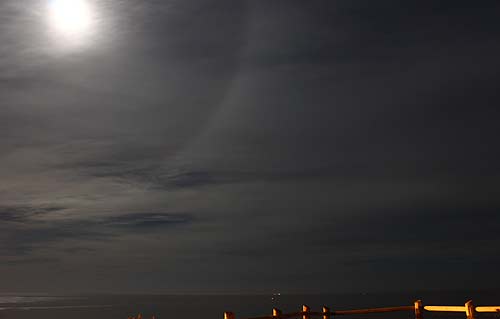 Moon Halos over Depoe Bay
Before 2011, the comparable biggest/closest full Moon was March of 1993, and presumably the next comparably large full Moon will be 18.6 years from then sometime in late 2029.
There are massive minus tides happening right now on the Oregon coast, which coincides with the Moon's phases. Some places will see as much as minus two or minus three feet tides in the morning, granting extraordinary access to some rocky areas and opening up many more tide pool viewing opportunities than usual.
The Super Full Moon also gets blamed for dramatic land and ocean tides which some theorize cause more earthquakes. Todd said to be careful of these leaps in logic, however.
"The tides are greatest during full and new moons, when the sun and moon are aligned either on the same or opposite sides of the Earth," Todd said. "A very small correlation exists between full or new moons and seismic activity, because the stronger tidal forces caused by the alignment of the sun and moon puts added stress on tectonic plates. However, seismologists have found no evidence connecting lunar perigees to heightened seismic activity. Instead, the Earth constantly stores up energy and releases it any time the built-up energy becomes too great."
Conditions may not be ideal on the Oregon coast for seeing any Aurora Borealis that may happen, however, but inland Oregon and Portland looks to have better weather on Saturday through the early morning of Sunday. The moon will likely poke through the cloud cover in coastal towns like Seaside, Yachats, Cannon Beach, Manzanita, Lincoln City, Depoe Bay, Tillamook or Pacific City.
The forecast calls for partly cloudy skies on Saturday turning cloudier as the day turns over to Sunday. To see the Aurora Borealis, look to the north, in an area with no little light interference from a nearby large town, which would theoretically make the coast a better bet to see it, if cloud conditions permit.
More Oregon coast below: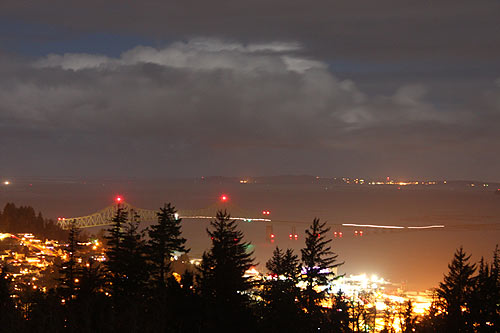 Nocturnal Astoria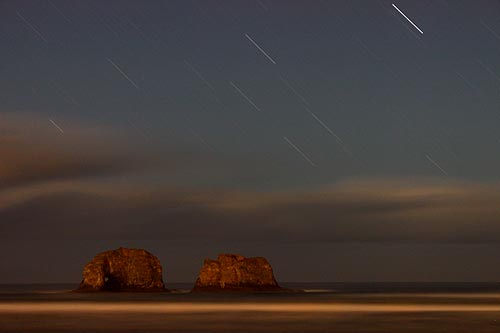 Rockaway Beach under the stars,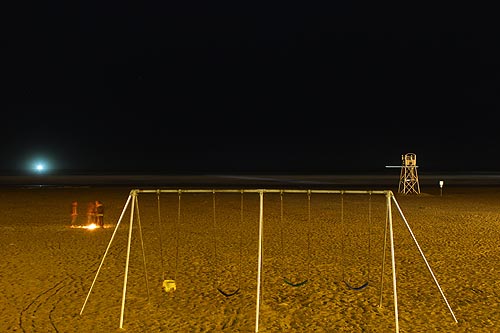 Nighttime at Seaside
More About Oregon Coast hotels, lodging.....
More About Oregon Coast Restaurants, Dining.....
LATEST Related Oregon Coast Articles