Romantic Walks and Great Makeout Spots on the Oregon Coast
Published 08/21/2012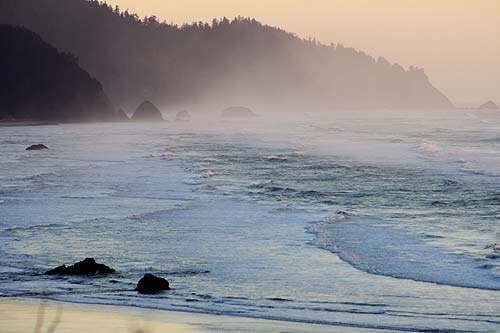 (Oregon Coast) – It's almost cliché: hit the beach with the object of your affection with intent to woo. Extreme intent to woo and to seduce. That is indeed packing the big guns for initiating a coupling between you and your intended. You can't surpass the Oregon coast for the cuddle factor.
Or if the two have you have been an item for awhile, it's hard to beat the soft sands, vibrant colors of sunset and the lulling sounds of the waves for a few days of hand-in-hand beach-bounding in between the fancy and wholly satisfying wining and dining.
Who needs love potions when we have the Oregon coast, n'est pas?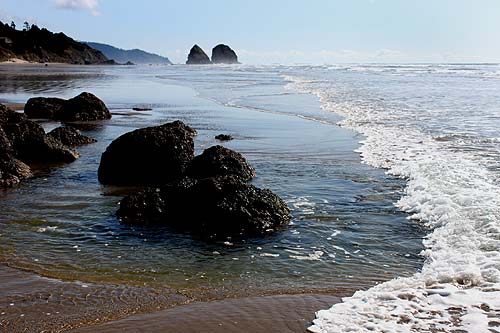 Cannon Beach
This charmer of a town is home to many artists on the coast, and a few national rock stars and other high-profile figures have cabins here as well – at least in recent years. This artiness shows, partially in the city council's rule that most buildings be dressed up in cedar shingles, giving the whole town a sense of the rustic yet refined.
This delicate aesthetic is also obvious in the abundance of quaint businesses around town, from whimsical shops selling kites, clothes and gifts, to its galleries, fine cuisine in a variety of price ranges and the many flower pots hanging everywhere. Some of the restaurants and bars even have outdoor seating – a daring, if not very urban-thinking move on the coast. Some of the restaurants are by far the most romantic on the entire coast.
Sure, it's touristy in some ways and certainly packed with tourists most of the time. But there's a coziness and beauty to this place that's hard to resist.
For other major cozy, intimate moments, especially if they involve some good alone time on a deserted beach, head to the extreme north and southern ends of the sands. You're almost sure to be by yourselves on most days. (Find Cannon Beach lodging and Cannon Beach restaurant listings at the bottom)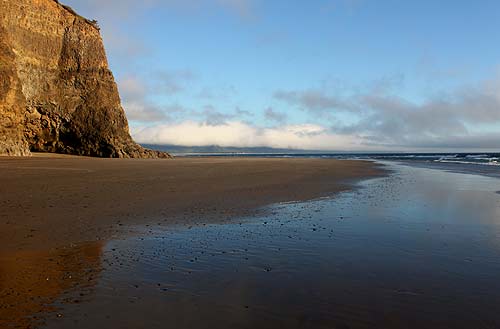 Oceanside
At first glance, Oceanside appears to be just another wayside with a collection of homes clustered around it. But this out of the way spot, nestled up against the hills of the Tillamook Forest, is one hidden gem on the Oregon coast, filled with a myriad of obvious and secret delights. It's an old, rustic hamlet that smacks of another time, dripping with weather-beaten cuteness and charm – and it hides a major culinary wonder in the form of the upscale Roseanna's Café.
The beaches here are often shielded from the wind by the headland called Maxwell Point - about 100 yards north of the parking lot - looming above like a tall, dark, watchful god. To the south, it's about three miles of sandy beach leading straight to Netarts Bay, with not much else other than rocks, boulders and driftwood piled up next to the vegetation line. About a mile down, you'll find some minor trails meandering through the brush underneath the Three Capes residential development, and if you're lucky, oddly colored slabs of rock become visible if the tide is low enough.
Because of its relative protection from northwest coastal winds, the beach at Oceanside is often a great spot for sunbathing or for any activity which requires getting away from the cold (of which a good make out session definitely counts as).
The real fun of Oceanside's beach lies inside Maxwell Point, however. The concrete tunnel here is a gateway to a stunning, secret world. Entrance into the tunnel can be somewhat inadvisable at times because of falling rocks from the cliffs.
But if conditions are calm, on the other side sits a stunning beach where enormous boulders and weirdly shaped sea stacks give the entire area a feel like something out of the old ``Star Trek'' series.
The entire area is cluttered with stuff to play on as well as a sense of the serene and the surreal. (Find Oceanside lodging and Oceanside restaurant listings at the bottom)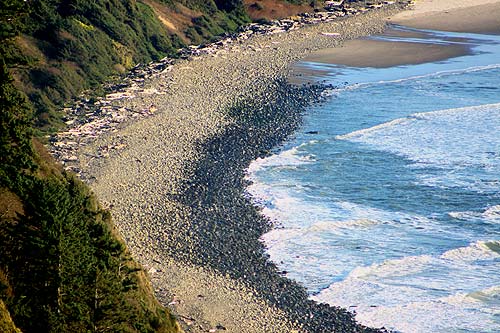 Manzanita and Its Breathtaking Beauty
Just to the north of Nehalem Bay sits the stunning town of Manzanita, which seems almost hypnotic in its intriguing mix of class, ruggedness and mystery. Ancient legends of crashed sailing ships and rumors of hidden treasure mix with murky fir trees, a somewhat hip, almost urban sense of architectural aesthetics and a backwoodsy sense of sorts, making this burgh a place you don't want to leave.
A wide variety of restaurants for all kinds of tastes inhabit the tiny town, and for extra shot of that nocturnal glow there's a lovely little wine bar, or the Nehalem Bay Winery during the day.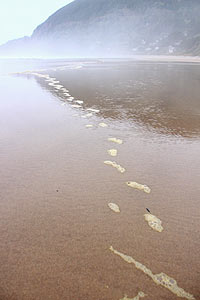 Often, you'll first glimpse this jaw-dropping little burgh from above, from the unforgettable panoramic viewpoints just below the mountain. There's little else that screams make out spot like these handhold-inducing views.
At the beaches of Manzanita, there's nothing like standing here and having to strain your neck to look up at Neahkahnie Mountain looming above you. At night, this place becomes absolutely ethereal, as the mountain walls become illuminated by lights and wind up looking like part of a ghostly chunk of rock just hovering in the night sky.
A wide and beautiful sandy beach fills the eye here. Although at the beach's northernmost access – near Neahkahnie Rd. – it quickly becomes large cobblestones until it ends at the base of Neahkahnie Mt. some 200 feet down.
The most obvious beach accesses lie past its downtown and at the bottom of the main road, Laneda Rd. But there are numerous hidden ones south of there, between the homes, along the beachside roads. These eventually dead-end at a back entrance to Nehalem Bay State Park. (Find Manzanita lodging and Manzanita restaurant listings at the bottom)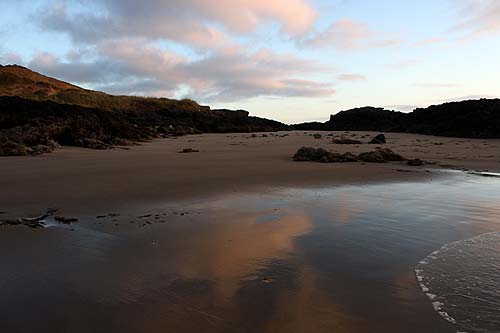 The Wilderness of Upper Lane County
It's a place where tide pools reign supreme, humans are rare, where hobbits and rabbits dwell, where a lighthouse shines and where life is truly rugged. It's the biggest collection of non-stop hidden spots along the coast, with about 25 miles of delicious secrets between Yachats and Florence.
Start your romantic, isolated journey at Strawberry Hill (sure, you can insert the pun here "found your thrill…"), which is just south of the Lane County line. First, you step out on a rather stately bluff with breathtaking views all around you. To the south, there's a long stretch of cobblestone beach with towering cliffs directly behind you. West and north allows you access to a favorite spot of tide pool hunters, with large and small rocky blobs creating a labyrinth in the sand and providing plenty of places for starfish, mussels and other tide line dwellers to live.
It's as much fun for climbing and tide pool hunting as it is for a simple, hand-in-hand walk on the beach.
Just down the road is Bob Creek Wayside, where more tide pools than humans populate this obscure but fascinating place. They really emerge at lower tides, clinging to odd, mushroom-shaped rocky blobs at the southern end. At this end, there's also a small sea cave and a huge boulder that creates a sort of arch by leaning up against the cliffs here.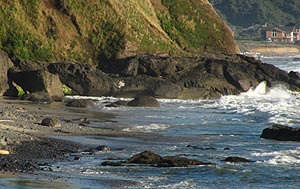 At the north end, you'll find plenty of mussels – but you'll have to cross the creek to do so. During the winter that's difficult, if not impossible and certainly unwise. During the summer months it's much easier.
Just stone's throw north of Stonefield Beach and the small bridge over Ten Mile Creek you'll find a tiny, unmarked beach access lying behind a patch of gravel on the side of the road. Take this, then wander down a long path through the grass, past some idyllic stream scenes, to find a small hidden beach featuring all sorts of bubble-like and craggy basalt shapes lying in the water and on the shore.
One of the coast's biggest and most deliriously romantic secrets lies between Washburne State Park and the Heceta Head Lighthouse. It's called the Hobbit Trail – and don't tell anybody.
It's so named because the eerie tunnel-like earthen walls that surround you at certain points upon your descent. But it's a place sometimes favored by creative-types from the Eugene area who often construct wildly imaginative structures from the natural objects lying around, like amazing gardens of rocks, things you might find in Japanese gardens, strange rune-like figures from stones or whimsical carvings in the sandstone.
Or maybe it is occupied by gnomes who scurry away from their constructions upon the approach of any human being? (Find Yachats-area lodging and Yachats-area restaurant listings at the bottom)
More About Oregon Coast hotels, lodging.....
More About Oregon Coast Restaurants, Dining.....
LATEST OREGON COAST NEWS STORIES
Oregon Coast Blog: Adventures, Beach Whimsy, Shopping and Real Estate
Travel Adventures, Shopping on the Oregon Coast, Nature, Beach Whimsy and Oregon Coast Real Estate Advice

Vote for Your Favorite Oregon Coast Lodging - Or Favorite Lodging Photo Here
Yachats lodging, Newport lodging, Lincoln City lodging, Seaside lodging, Cannon Beach lodging, Oceanside lodging, Pacific City lodging, Manzanita lodging, Rockaway Beach lodging, Wheeler lodging, Depoe Bay lodging
Beach Travel Tips: Inspired and Distinctive Places to Stay on Oregon Coast
Yachats lodging, Newport lodging, Lincoln City lodging, Seaside lodging, Cannon Beach lodging, Oceanside lodging, Pacific City lodging, Manzanita lodging, Rockaway Beach lodging, Wheeler lodging, Depoe Bay lodging
Latest Manzanita, Oregon News - Updates, Local and Travel News
Latest local and travel news from Manzanita, Oregon coast: Manzanita, Wheeler, Nehalem, Nehalem Bay. Updates, alerts, weather, travel info
Cannon Beach, N. Oregon Coast - Latest Local News, Updates
The latest local news out of Cannon Beach on the north Oregon coast, including travel news as well
Lincoln City, Oregon Coast Lodging, Hotel, Motel, Rental News
Now with news updates for Lincoln City lodging, on the central Oregon coast. Lincoln City vacation rentals news, kids, Lincoln City places to stay articles
See the Latest Cannon Beach Lodging Deals, Specials, Discounts
The latest discounts and deals out of Cannon Beach, on the N. Oregon coast. Check back frequently
Lincoln City, Central Oregon Coast - Latest Local News, Updates
Lincoln City, Central Oregon Coast - Latest Local News, Updates, Lincoln City Travel news, various news from around the Lincoln City area
Oregon Coast Fall, Autumn Preview
A look at fall, autumn fun for kids, families and college students, and couples and singles
Oregon Coast Whales - Guide to Whale Watching; Whale News
Whale Sighting numbers, whale news from the Oregon coast
Oregon Coast Lodging, Hotels Listings for Mobile: IPhones, Android, Smartphones
Astoria, Seaside, Cannon Beach, Manzanita, Garibaldi, Tillamook Bay, Rockaway Beach, Wheeler, Oceanside, Pacific City, Lincoln City, Depoe Bay, Newport, Waldport, Yachats, Florence.
Manzanita Blog: Stunning Sights of Manzanita, a N. Oregon Coast Oasis (Photo ...
This little north Oregon coast village is a kind of forested wonder and oasis of breathtaking sights and attractions tucked away a bit from the masses of traffic zipping along Highway 101
Lincoln City Blog Photo Essay: Delicious Little Secrets of Lincoln City, Oreg...
It's difficult to find yourself completely alone - but some places are a bit out of the way and increase your chances of being the sole soul taking a stroll.
Beaches Gone Digital: List of Oregon Coast Travel Guide Blogs
Blogs of the Oregon coast also provide plenty of news, often from a very home-grown and insider perspective
Romance on the Oregon Coast 2014
Lodging, Restaurants, Hand-Holding Walks, Cuddle-Inducing Sunsets and Fun for Beach Lovers and Lovers on the Beach
Oregon Coast Complete Guides
Find every single beach access in an area, thousands of Oregon coast photos, or take the virtual tours

Back to Oregon Coast
Contact Advertise on BeachConnection.net
All Content, unless otherwise attributed, copyright BeachConnection.net Unauthorized use or publication is not permitted
Follow us on


OREGON COAST VIRTUAL TOURS
Explore Every Beach Spot