Mysterious Rocky Steps Along Oregon Coast Explained by Geology
Published 04/30/2011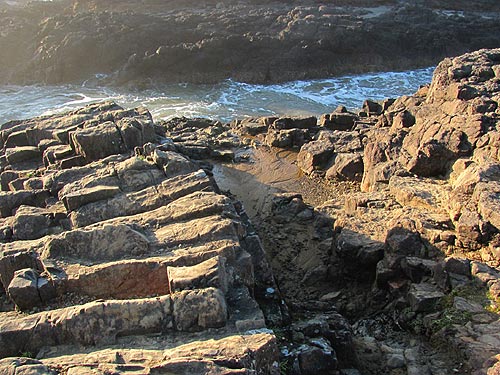 (Oregon Coast) - They sometimes look like steps embedded in the rock, along one of those dramatic, platform-like shorelines that typify many spots along the Oregon coast. It's almost as if Mother Nature planted some comfortable seats at certain points so you could watch the waves. Other times they are enormous grooves in the basalt rocks that look like big tire tracks. Or maybe they resemble stacks of cordwood (above: Strawbery Hill Wayside near Yachats).
In fact, geologists sometimes call them "cordwood joints," in reference to their appearance and their origin – which it turns out, coincidentally, was quite a fiery one.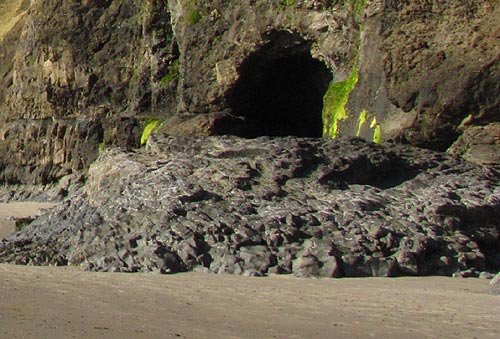 You find them in spots around Oceanside (above), maybe the little beach just beyond Pacific City, in several places around Depoe Bay - and they seem to almost litter the landscape around Yachats and the beaches just south of there, like around Cape Perpetua and Cook's Chasm. You may even find some if you poke around the basalt rocks around Cannon Beach or Cape Lookout.
Tom Horning, a geologist living in Seaside, says they come from those periods millions of years ago when the area was formed by big lava flows – often which seared across hundreds of miles to get to this spot. These kinds of eruptions continued over and over again, which meant sometimes one lava flow would interact with or cover over another previous one, already a cooled basalt structure by that time.
These unusual step-like structures happen because lava injects itself into already pre-existing faults or cracks in basalt that's already there. It's a little like pushing its way into a molding – except it knocks around the pre-existing structure inside to some degree. Once it cools, it shrinks, and these odd formations are left inside.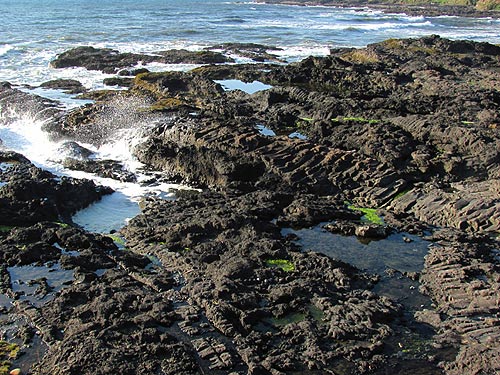 Marine gardens near Cook's Chasm
"Those are columnar joints in dikes," Horning said. "Dikes are cooled lavas that formed where lavas injected up joints or faults in pre-existing rock. As the lava cooled, it shrank and developed cracks and cooling joints that started at the edge of the dike and propagated inward to the heart of the dike. Some geologists call these 'cordwood' joints, because they look like someone stacked firewood on the hillside. They are common wherever lavas were being erupted. They can form within erupted material of the volcano or in rock that pre-existed the eruption entirely.
Eventually, for whatever reason, these get exposed by erosion. They are then flattened and beveled by the sea many times.
Horning said the areas they inject into and where they form are not flat.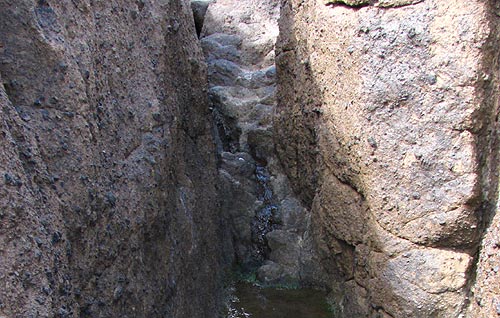 The "basement room" area at Depoe Bay's north point, with the step-like structure
"They can wander and wobble some, so they form bulges and depressions," Horning said. "Further, their edges can be beveled by storm waves or chemical weathering, depending on where the dike is located. The lavas don't flow into a void, as in a molding- they shove aside the rocks and squeeze in."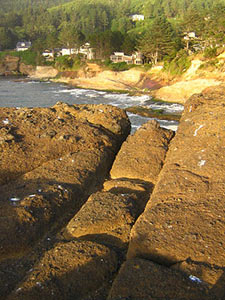 Strange groove at Depoe Bay's North Point.
At Depoe Bay, you'll find them at the rather secretive "north point," including a large crevice in the rocks that feels like a little basement area, and the step-like structures are upright so they act a bit as a stairway going up and down. At the extreme northern end of this hidden rocky cliff, there is a large groove structure that slightly resembles train tracks.
Just north of Depoe Bay, these step-like structures get particularly fascinating at a very secret beach just off Otter Crest Road. Just as the road stops being a two-way and turns into a one-way, there is a gravel parking lot. Below that is a rather steep trail heading down to those grand rocky cliffs you see below. There, numerous spots have flattened areas like these cordwood joints that are perfect little seats to the oceanic drama.
Beyond the tunnel at Oceanside, there are hints of them in the rock walls, and the column-like structures at the beach on the north face of Pacific City's Cape Kiwanda that resemble Roman architecture are examples of this as well.
There are tons of them all over the marine garden areas surrounding Cook's Chasm near Yachats.
Below, another example of the "cordwood" or step-like structure, at an unnamed beach access near the Lane County/Lincoln County line.
More About Oregon Coast hotels, lodging.....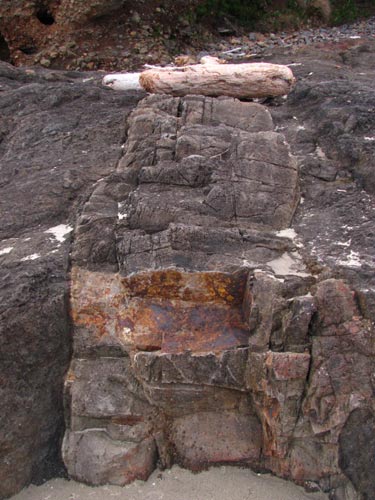 More About Oregon Coast hotels, lodging.....
More About Oregon Coast Restaurants, Dining.....
LATEST Related Oregon Coast Articles
Back to Oregon Coast
Contact Advertise on BeachConnection.net
All Content, unless otherwise attributed, copyright BeachConnection.net Unauthorized use or publication is not permitted