Fun and Odd Coastal Science: Phenomenon of Ocean Burps - Cannon Beach Nature Tips
Published 11/18/2012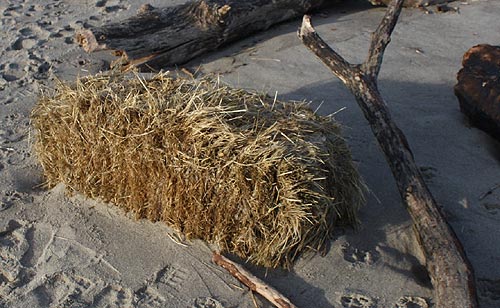 (Oregon Coast) - The north Oregon coast towns of Seaside and Cannon Beach are often the center of some interesting developments in the world of coastal science, with one group always in the middle of some unusual sighting or another. (Above: condensed beach grass known as a "whale burp")
As members of the Marine Mammal Stranding Network, it's their job to be on the scene when something interesting washes up along the Oregon coast. For staff at the Seaside Aquarium, sometimes it's something small and insignificant, like the carcass of a sea mammal that's been long expired, and it's more of a cleanup job for public safety. Other times, it's a miraculous find, like a freaky fish that normally lives 1600 feet under the ocean, an adorable baby seal resting or even a live shark. Sometimes it's gargantuan: like the rare whale carcass that stranded on the southern Washington coast in late 2006.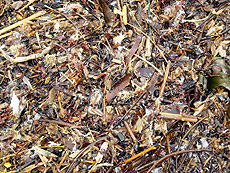 Close-up of the mish-mash of an ocean burp (photo Seaside Aquarium)
There's an insatiable curiosity that runs amok through two members especially: manager Keith Chandler and education specialist Tiffany Boothe. Luckily, it's their trained eyes that are constantly pointed at the sand. They don't just stumble upon interesting things, nor are they simply tipped off: they're constantly on the lookout.
They are why 2006 turned out to be such a fascinating year for sightings of oddities on the beaches, and why this often made the news. They're also good at getting the word out.
Boothe and Chandler are urging beachcombers and tourists to keep their eyes peeled on the beaches they're walking on this season as more engaging stuff is bound to be discovered.
Boothe and Chandler explain how you can be a hero on the sand, and what to look for. It's something you can do on any beach on Oregon's coast, they say: in Cannon Beach, Oceanside, Neskowin, Lincoln City, Newport or Florence. But they admit less populated beaches will likely yield more interesting stuff as they're less picked over.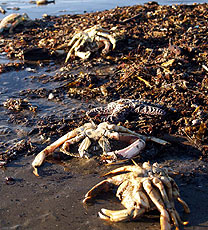 Sometimes crabs are part of the find (photo Seaside Aquarium)
Periodically, for example, the north Oregon coast is the recipient of a somewhat unusual sight, what is sometimes referred to as "ocean burps." The technical term is detritus, and it means the ocean is casting some interesting objects from the depths onto the shores – things you don't normally find on the beaches.
Chandler said these ocean burps happen under some very exact conditions, when the right mix of storms happen along with the right kind of ocean currents.
"It's an upwelling of stuff from the ocean floor," Chandler said.
Beachcombers will spot a brownish mass of wood and grassy matter from afar, but up close is a small treasure chest of natural oddities like cockleshells, hermit crabs, squid eggs, casings from other eggs, moon snail shells and somewhat rare rock finds.
"If you see a patch of dark brown on the beach, go look through it because you'll find some cool stuff," Chandler said.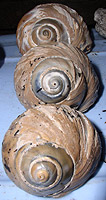 Moon snail shells found in 2006 (photo Seaside Aquarium)
One episode of this detritus occurred in February 2006, where Chandler found 30 live cockleshells – a form of clam. He also found numerous squid egg casings and some live squid eggs, which were incubated at the aquarium and hatched after six months.
Another detritus happened about a month later, yielding more oddities.
Moon snail shells are rare, Chandler said, and quite attractive, with their intricate, swirling designs. "They can be about the size of a baseball," he said.
That last episode of detritus provided other goodies, such as the lightweight volcanic rock pumice, a sea sponge and more egg casings and live eggs. Sometimes, species of starfish rarely seen out of the ocean get chucked up onto the beaches with these episodes.
Chandler said seagulls love these, and make a feast on them. "One minute they're happy and safe on the bottom of the ocean, and then all of a sudden they're staring into the eye of a seagull," Chandler said.
It's not possible to predict these events, Chandler said, but if two happen in close succession, there's a good chance another one or two upwellings of these objects will happen again. The conditions that create them are somewhat of a mystery – or at least very unpredictable, Chandler said.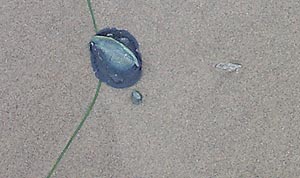 Velella velella
In late spring and early summer, also in the realm of beach wonders, velella velella will start to show up on the beach, said Boothe. These small, purplish, slimy things wash up in great numbers and create quite a spectacle. Nicknamed "purple sails," this form of jellyfish brings out the seagulls to feed on them when they wash up, and they start to smell rather pungently after a while.
Once they dry, they lose their purple color and become translucent.
"Walking along the beach, you may have noticed slimy, iridescent blue discs," Boothe said. "Purple Sails have clear a 'sail' that helps them catch the wind. However, when the wind blows out of the northwest, these little guys get stranded on the beach. Unlike the more common jellies, the purple sails do not sting. They capture their food while drifting on the surface of the ocean with small, sticky tentacles. They feed on fish eggs and small planktonic copepods."
Boothe talks with glee about this colorful find. "I found small itsy bitsy tiny purple sails," Boothe said. "They are so small."
Purple sails also create quite a stink after a while, especially in early summer. After a while, they begin to decay on the beach and create a nasty, fishy odor, especially when the sun is out for a few days.
It's all part of the endless wonders to be found, say Boothe and Chandler. They emphasize that there's more than meets the eye on the coast.
"It's a beachcomber's cornucopia," Chandler said. "You have to keep your eyes open. You never know what you'll find."
Take the Cannon Beach Virtual Tour to see more. Below: velella velella photo by Tiffany Boothe, Seaside Aquarium.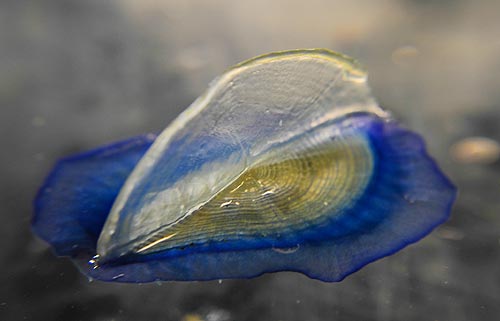 More About Cannon Beach Lodging.....
More About Cannon Beach Dining.....
LATEST Related Oregon Coast Articles
Back to Oregon Coast
Contact Advertise on BeachConnection.net
All Content, unless otherwise attributed, copyright BeachConnection.net Unauthorized use or publication is not permitted