Weird Week of Weather Presents A Moody Central Oregon Coast
Published 05/21/2010
By Andre Hagestedt
(Depoe Bay, Oregon) – Three and a half days and some 1,000 photographs later (that's right, I said one thousand), I've learned that not only is the Oregon coast a very dramatic place, but Mother Nature herself is a drama queen of the first order here.
I believe this constitutes some six gigabytes of photo data - some of it is video, actually. I am the progenitor of a kind of digital overpopulation, it seems, at least inside my computer.
This was the week Nature decided to throw a winter storm at us in the midst of late spring, with winds shooting up to 70 mph at some spots on one of these days.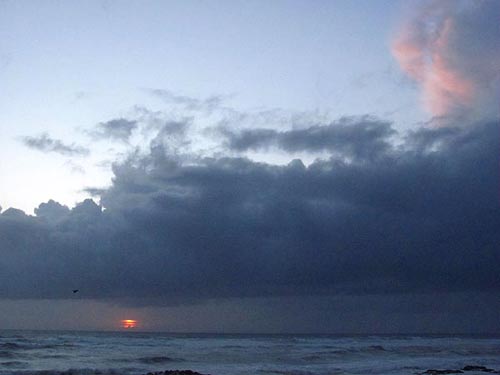 The day of the big storm, Yachats was actually fairly calm – at least by 8:30 p.m., as the sun went down. Winds were still higher than normal, but nothing like the sustained 60 mph we'd been seeing. That didn't keep the sunset from becoming a little off-kilter, as the orb itself became a bright, strange shade of orange from behind claustrophobic clouds and yet a portion of clear sky had various tints reflected in it.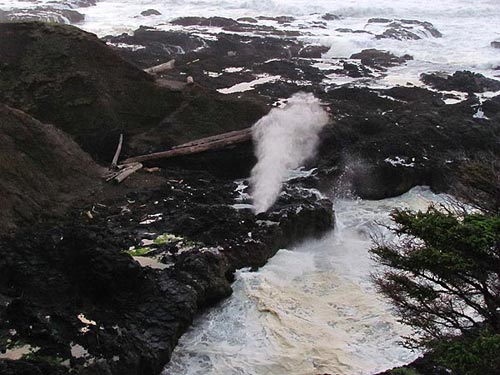 Down near Florence, Cook's Chasm and one of the spouting horns just below the shadow of Cape Perpetua was going distinctly bonkers on this windy, blustery day. Waves crashed madly through the rocky channels here, but this meant the spouting horn would go off with maniacal intensity. I believe I discovered something on the Oregon coast that looked a lot like the Smoke Monster on LOST, albeit a white version.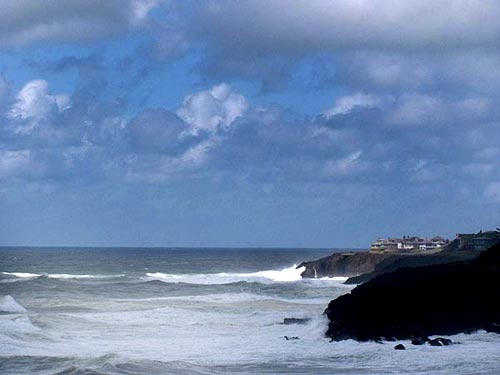 On another, quieter day, the sun peeked in and out with frustrating rapidity amidst fairly windy conditions. Here, near Depoe Bay, it created dramatic patches of sun that drifted hurriedly between the darker chunks of sea and clouds.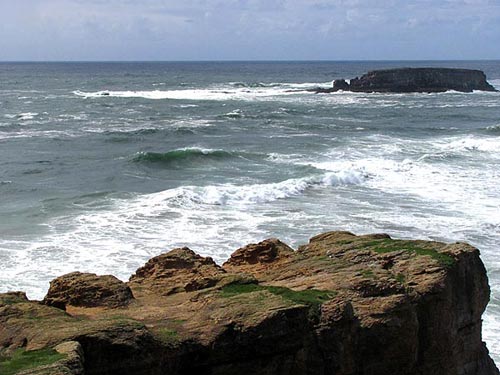 Otter Rock and the Devil's Punchbowl, between Newport and Depoe Bay, revealed bright colors when the sun managed to grace the rock formations of the area, as well as lit up the manic ocean.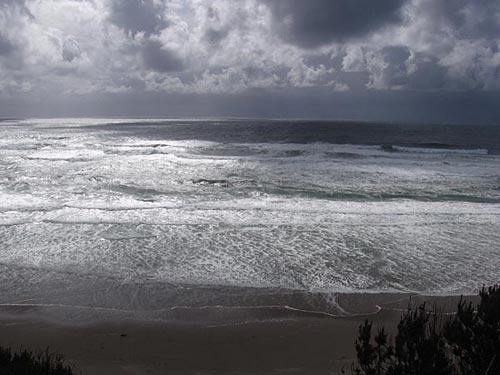 Lincoln City showed off its distinctly moody side, with part of the ocean dark and brooding, and yet another section showing off a – well, sunny – disposition.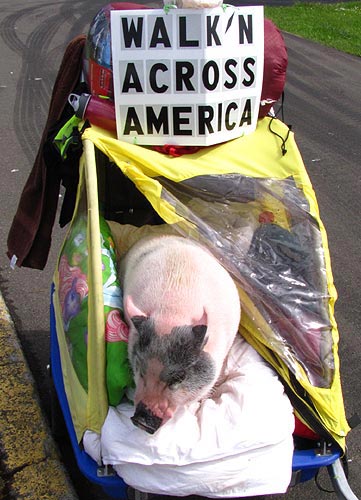 You never who you might meet on the beaches – like this pig named Petunia. She belonged to a Florida man named Jason who was wheeling her and his belongings in this child's stroller-like thingy, along with signs declaring he was "walking across America."
It turns out I'd seen Jason a couple of weeks before walking slowly from Cannon Beach down to Manzanita, although I didn't notice the cute little piggy. He actually had begun his walk in Cannon Beach, and said the walk through Arch Cape Tunnel was the most harrowing part of his journey so far. It took him a half hour to get through there, because the sidewalk inside wasn't accommodating to the carrier.
Jason is also walking for cancer awareness, and his southernmost stop would be San Francisco. He wasn't sure exactly where he'd go from there en route to the east coast, but would know more when he got weather reports from possible routes.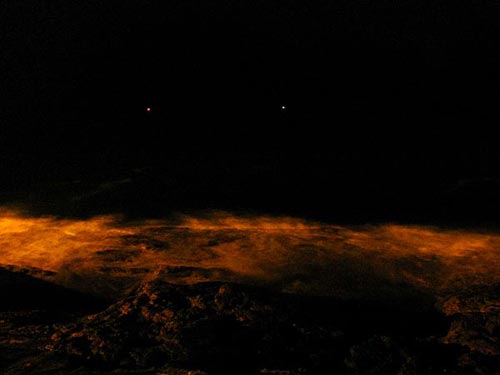 The craziness actually all started with a host of night photography experimentations, the first of which is a series in Depoe Bay. Here, just above the lighted surf next to the Whale Watch Center, the two buoys are the colored dots in the distance, making for a host of delightfully odd sights.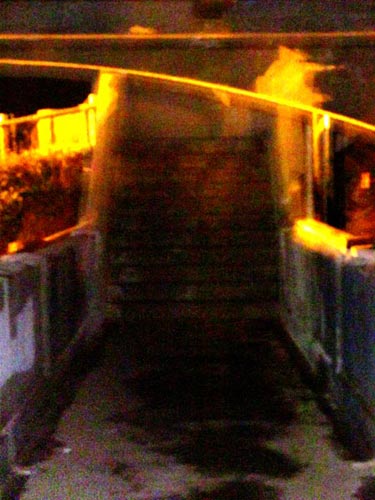 Beneath the bridge, things took on a serious paranormal vibe, as the walkway was lit up in strange and unexpected ways by ambient light from various sources. It didn't hurt that my friend from the Depoe Bay Winery was moving around in the semi-dark, creating a sort of fake ghost scene.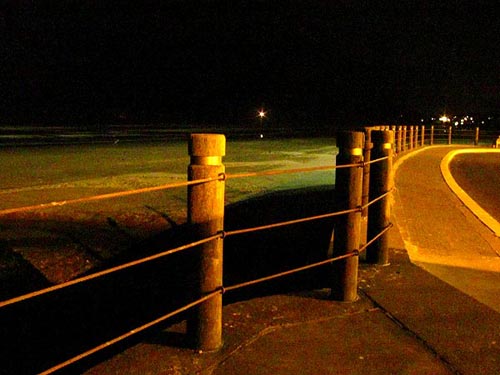 More esoteric fun was to be had in Newport's Nye Beach, where the Turnaround and the beach become like an alternate reality of sorts. The bright light in the middle is the lamp from the Yaquina Head lighthouse – just to keep us grounded in this universe.