Published 07/10/09
Impress Your Date with These Oregon Coast Spots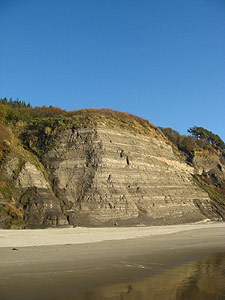 Secret sights south of Cannon Beach
(Oregon Coast) – When it comes to dating advice, the Oregon coast just seems to speak for itself. It screams things like "take her here for the first date...", what to do for things like anniversary celebrations, general romantic getaways or even proposing to someone.
It seems like a no-brainer. Still, many travelers within the state and from elsewhere seem to get confused about where to go and what to do to fan those flames – what the best options are.
Well, in general, just close your eyes, point your finger on a map and pick a beach to go to intuitively. Or be aware of the kind of criteria you'd be looking for in a beach area, like places to be alone, a town with the amenities you favor, etc. There are many folks who wind up unimpressed with some beach towns for various reasons, and go away grumpy. But you have to remember if you stick to the beaches, you're not going to care about what the town is like.
If you're looking to be alone and away from crowds, a good rule of thumb is stick to the extreme northern or southern ends of many beach towns, or simply explore the beach access between towns.
Finally, hit the beaches at night. There are few things more romantic than a nocturnal walk on just about any sandy beach. And even the busiest of in-town strands becomes desolate after dark, so no one can see what you're up to.
For those still stumped, here are a few beach spots that are begging for the hand-holding set.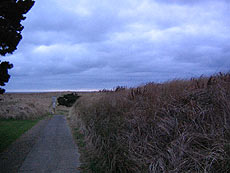 Gearhart
Seaside's Northern Tip
At the 12th Ave. access, all sorts of delicious possibilities await. From here northward, it's calm, unpopulated sandy beach where few seem to tread. It's a quarter mile from here to the Necanicum River mouth, which makes up the border between Seaside and Gearhart.
Along the way, find hundreds of sand dollars – many whole and unbroken. Yup, that's romance-inducing, if anything ever was. It's a secret about Seaside no one ever talks about.
On the other side of the river sits the southern side of Gearhart, which is equally clandestine and full of sand dollars. You have to cruise down the streets of the village's southernmost end to find these beach accesses, but they're worth it. Stay at this area, however, as cars are allowed to drive on the northern part of Gearhart, which ruins the deserted vibe.
Southern End of Cannon Beach
Immediately south of the Tolovana area, a series of neighborhood streets end in beach accesses. One of the final ones attract few visitors, and even if there are a handful, keep walking a ways to the south where you soon begin walking underneath the massive overlooks just south of Cannon Beach.
Here, almost no one treads, and you'll find some wild and weird tracts in the cliff face that will tickle your inner geologist.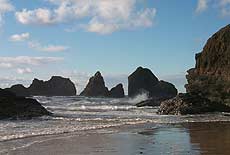 Funky sights on the other side of the tunnel at Oceanside
Oceanside
Oceanside itself is rather well known, in spite of its out of the way location about ten miles west of Tillamook.
The real romantic opps occur in the tunnel that goes through Maxwell Point, which gets dark and spooky enough to cause a kind of "haunted house at Halloween" effect: the lady in your life may get scared and demand to hold your hand. What a sure-fire ice breaker on a first date.
Then, on the other side, it's an unusually unspoiled beach with funky features left and right, often with few other people meandering around.
Some nearby hidden spots, like Short Beach, make for some lasting impressions as well.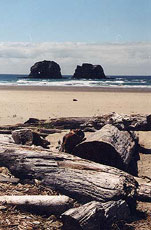 Rockaway
Manzanita to Rockaway Beach
Ease of access and the cliché of long, hand-holding walks on a sandy beach are the main operatives in Manzanita and the seven-mile stretch of Rockaway Beach (some 12 miles south of Manzanita). This makes these quite inviting after dark or at sunset, when lit accesses help keep you two from taking a tumble.
To find yourself alone, hit the less populated beaches of Rockaway (you can usually see at a glance which accesses are bereft of other folk), or hit the main access at Manzanita and keep walking south.
In Rockaway, the very northernmost access by the jetty, is also a good place to find yourself hidden and far from the maddening crowds. Plus, the jetty allows some climbing fun.
Pier at South Beach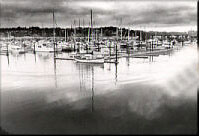 View from the pier at South Beach
Newport has tons of lovely beach area, but not a lot that's unpopulated unless you're wandering at night. One spot, however, is a manmade beauty by day or night, sitting on the other side of the bay from Newport.
Park in or around the marina, close to the south jetty, and you'll find a pier stretching out a hundred feet or so into Yaquina Bay. Mostly, you'll find crabbers and their crab pots – if anyone. But at night there's usually not a soul here. The lights of the bayfront shimmer and twinkle on the water, and the sound of the waves in the distance is quite lulling. Cuddling together to keep warm in this somewhat exposed spot is another kiss-inducing plus.
15th Street Beach Ramp, Lincoln City
It's not that this spot in Lincoln City stands out for natural beauty or the possibility of being really alone. In fact, it's sort of the opposite: there's a lot of people on this one, with their cars, and it's fairly on the greasy side because of the oil from the auto traffic.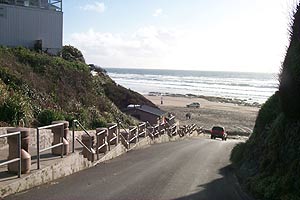 The ramp at the 15th St. access
However, the fact it allows cars on the beach offers some unique opportunities for interesting romantic moments. Hit this beach later at night, preferably after sundown, and you'll likely find yourselves alone. Slip in your sweetheart's favorite romantic, slow dance tune into your vehicle's CD player or I-pod port. Then engage in a gushy slow dance on the sand with the surf nearby.
You'll be the hero for what appears to be a spontaneous tender moment and for thinking outside the box.
After dark, the ramp is lit up in an especially lovely way, and either the sloped pavement or the stairway will make for a nicely atmospheric stroll down to the beach should you decide to not take your vehicle down there.
If you do take a rig that's not well equipped for driving on the sand, be careful to stay on the wet and hard parts, and watch for the mushy sections. It's quite easy to get stuck here.
During the day, this spot does provide some fascinating rocky areas at the tide line, which can yield engaging tide pool life.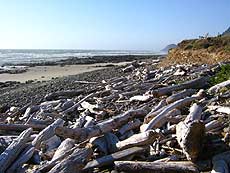 A hidden beach near Ten Mile Creek
Intoxicating Lane County
There's so much along the 25-mile stretch between Yachats and Florence that's perfect for finding yourself cloistered away it'll leave your head and heart spinning. Even on the busiest of weekends, it's not hard to find a chunk of sand to yourselves. It's a smorgasbord of kissy-kissy possibilities.
Various hidden accesses lay next to better-known spots like Ocean Beach Picnic Area, Ten Mile Creek or Neptune State Park. These are all hidden enough and even rough enough in landscape as to make them largely unusable at night, unless you've got a really good flashlight. But even then they're dark enough to make things a little too spooky for total romance. It all depends on how adventurous you are.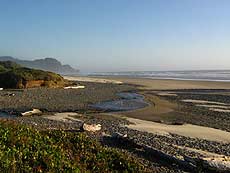 Fun beachy secrets just south of Roosevelt Beach
On the southern side of the little blob-like hill of Ocean Beach Picnic Area sits Rock Creek Campground and Roosevelt Beach. Just south of the campground and the bridge over the creek you'll find some hidden accesses trailing off through the shrubbery. These lead to parts of Roosevelt Beach, which is one enchanting tract of sand mixed with rocky structures. You'll pretty much never find anyone here.
This beach, like many along this area, is not wide. So these are big no-no's during high tide events or stormy conditions. But the big plus is that they're surrounded by high bluffs from which to watch the tidal melee while smooching - or whatever. Along this part of 101 sit many little overlooks, which make this an awesome spot for wintry dates as well, especially if you want to remain hidden from the elements in your car. And what can be more perfect than making out in your car with a wild beach view, as the wind and rain batter your rig.
Famous Viewpoints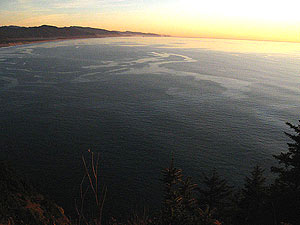 Above Manzanita
Few things can beat a stunning, nearly aerial view for a romantic moment on the coast, even if the weather isn't totally cooperating.
One of the best spots where couples love to cuddle together for photos is the Manzanita overlook, just a couple miles north of the town. There, you can see about 40 miles to the south on good days, all the way to Oceanside. The dramatic vistas here are one of the most stunning on the entire Oregon coast.
Near Depoe Bay, Cape Foulweather is quite unlike its name, with north and south views that are quite unobstructed. At night, this place is seriously mystical, especially if a moon is reflecting in the water.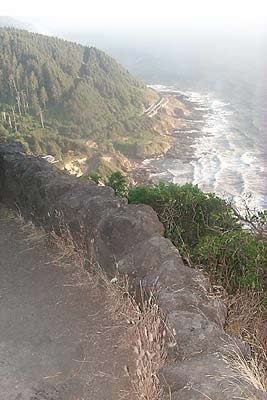 Cape Perpetua
Cape Perpetua sits a few miles south of Yachats and is one of the most awe-inspiring views on the coast because of its sheer height. The drive to the top is winding and a bit white-knuckled, but the scenery will be serious eye candy for your passenger.
One viewpoint that's hard to beat for its up close and personal vibe is Jump-Off Joe in Newport. Take NW 11th Street to its dead end, and there's a parking lot nearby that allows access to this unusual spot that is now mostly the skeleton of a condo. It's a bit like the ruins of a castle.
Just below it sits what is left of the sandstone structure known as Jump-Off Joe, where a small chunk of rock juts out over the beach. It's a beautiful perch from which to sit and observe the tide – and maybe get in a little face time.
More About Oregon Coast hotels, lodging.....
More About Oregon Coast Restaurants, Dining.....
LATEST Related Oregon Coast Articles
Depoe Bay's Inn at Arch Rock Blends Old, New: Oregon Coast Travel Tips
Sleek chic with a touch of maritime themes and post-mod. Reviews, Depoe Bay lodging
Seaside Oregon Virtual Tour - All Beaches, Attractions, Maps
Deep details of Seaside, Oregon Coast: nearly 100 photos, video, details
Oregon Coast Organizations Win Prestigious Awards
Lincoln City's visitor center and Newport's Oregon Coast Aquarium made the grade
How Lincoln City Will Rock You in May, April: Oregon Coast Events Preview
Spring heats up to the climactic opening of the summer season, throughout April and May
Extraordinary Encounters: Shark Off Oregon Coast, Dolphin on Washington Coast
A charter boat from Newport got into a bit of a fight with a shark. Sciences
Debris Art Project Tours Oregon Coast; Free Fishing Day in Hebo
Fishing fun near Pacific City; an intriguing way of dealing with marine garbage
Five Extravagant Digs to Watch Whales: Oregon Coast Travel Tips
Sometimes, staying the night in some lovely surroundings near the water helps
Weekend Gets Sunny for Oregon Coast; Whale Sightings; Warmest Day for Portland
Just in time for Easter, a lot of sun moves in for the weekend, however briefly