Oregon Coast Landmarks: Walking Newport's Historic Bayfront
Published 12/05/2011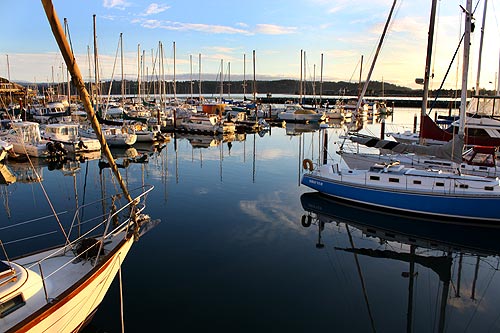 (Newport, Oregon) – It's paradoxically both bustling and laidback: a place of almost frenetic industrial activity mixed with a variety of means of relaxation and repose. Upscale restaurants and indie fast food joints sit side by side, as great, behemoth ships lumber past, in and out of Yaquina Bay to catch fish or deliver large bundles to port.
This is Newport's Historic Bayfront, a chunk of the central Oregon coast town that is away from the beach itself, but has much of the vibe and aroma.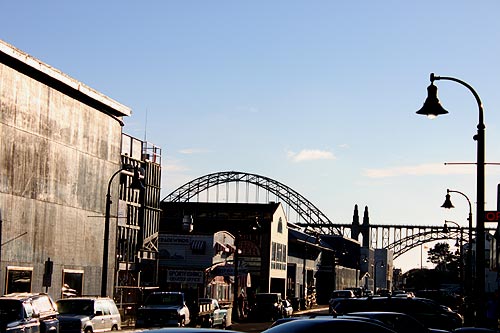 Bay Boulevard is the main thoroughfare through the active madness, as the concept of a "working bayfront" - which officials use to coax visitors in – comes into serious play here. There's no doubt those forklifts and chugging ships wandering this way and that are truly engaged in earning their wages for the day.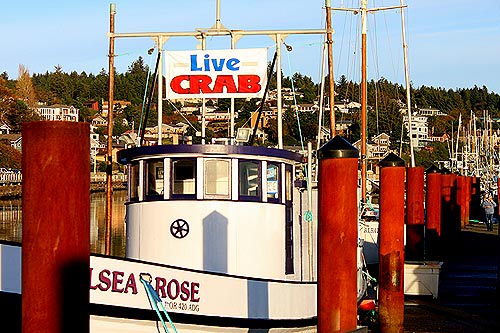 There are times you can reap this benefit. That old cliché of "walking right up to the docks and buying fish from fishermen" comes true right here. In some spots, you can literally do that.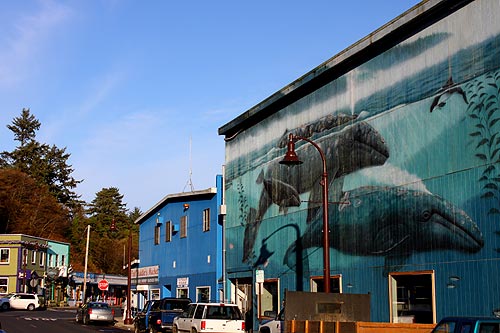 The fish processing plants, often the source of a nasty but necessary fishy smell – which seems to have disappeared in recent years – are gussied up in colorful murals of giant aquatic beasts floating above you. There's an almost Terry Gilliam-esque industrial look to the plants, a fascinating complexity of utilitarian functions bundled together along picturesque docks. But those murals soften that, and help create a kind of mystical atmosphere.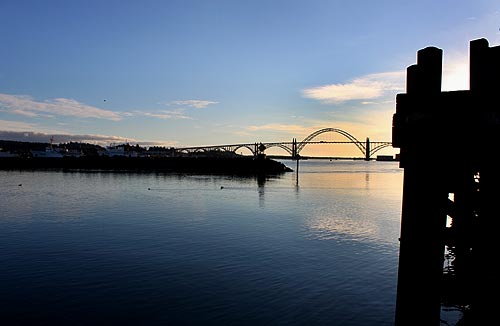 Wander these docks even just a tad and you'll come to a variety of spots where crab pots get chucked into the salt water. There are numerous places to rent these along the docks – but you'll need to get a state license for crabbing first.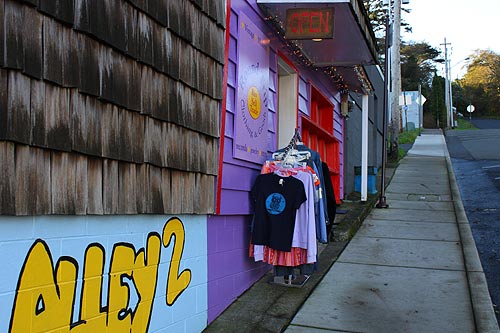 If small business is the engine of the economy, than Newport's Bayfront is also going to be historical for adding a quirky side to the national exchange of goods and services. The idea of "funky little shops" gets a whole new meaning in spots along here, whether or not they are gaudy and touristy. It can, at times, be an eye-opening experience, full of varying degrees of wonder.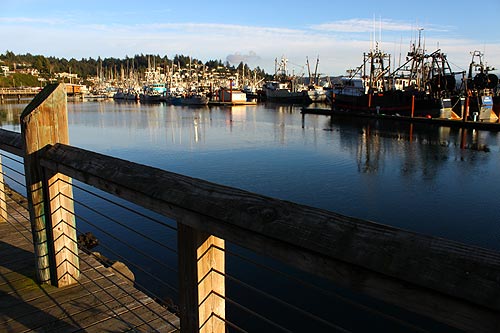 All this crabbing, wandering and walking is done to the constant presence of the famed Yaquina Bay Bridge, which seems to keep watch over everything.
One of the other big attractions along the Historic Bayfront is the constant presence of big, wet barking residents. Sea lions populate many docks and landings here, and their noisy carousing never ceases. There are times when it rises to a fever pitch as bunches of them get worked up over something. It's also fascinating to watch them interact, often bickering for a spot as they nip at each other. At other times, it's a full-on brawl worthy of an episode of "COPS."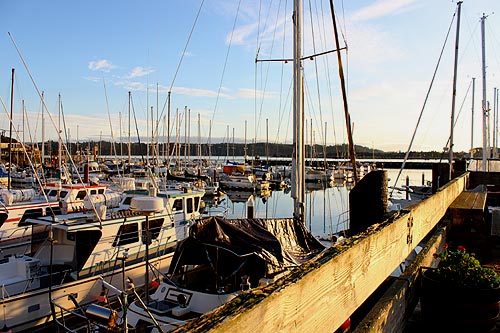 All this bayside fun and frivolity started as early 1856, with an initial visit by a sailing vessel called the Calumet bringing military supplies to troops in Oregon. A few years later, huge oyster beds were discovered in what became Yaquina Bay, as new settlers began shipping lots of them to California and other places with great profit.
In 1864, white Europeans began settling in large numbers, and Newport itself was incorporated in 1882 along the Bayfront, while the area of Nye Beach was still just a village a ways away.
Over the decades, as Newport grew to encompass two lighthouses, the bay became home to a huge fishing fleet and fish processing plants sprung up left and right. The tourist biz kicked into life, and then into high gear in the 1930's when the big Yaquina Bay bridge was finished, and Highway 101 really started to connect. Tourism then became another mainstay of the local economy.
In the 70's and 80's, the Bayfront became a combination of fascinating place of industry, barking wildlife, funky tourist traps, unusual dive bars and a kind of renaissance in new, innovative business models. It was an interesting mix of crusty and creative.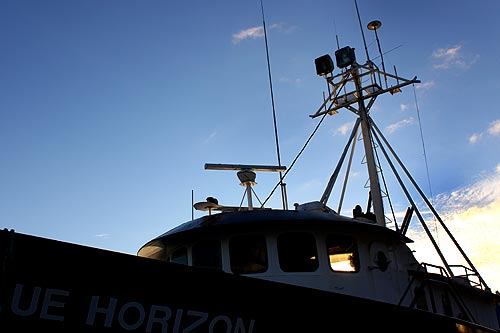 By the 90's, the more innovative side began to take over, although the wacky bars still held court at night. New blood in terms of culinary surprises, a smattering of art galleries and a huge influx of funky shops blended right in with the touristy stuff, like water rides or kitschy museums. Small, indie coffee shops opened up along with some interesting restaurants. A more seedy element took over after dark, but that didn't stop the crowds from flooding these wooden walkways during the day. A fast food fish n chips stand here, a microbrewery there: all stood amidst the rampant fishy smell, the scary wateringholes and the sometimes rundown buildings.
Renovations came and went over the decades, but all the while crabpots were dropped into the bay with gleeful regularity, along with the huge variety of other activities that made memories of people's vacations. That probably began when the bayfront did – long before it was called a "historic" bayfront.
More About Newport Lodging.....
More About Newport Restaurants, Dining.....