Pelicans on Oregon Coast Face Threat of Human Food
Published 11/18/2011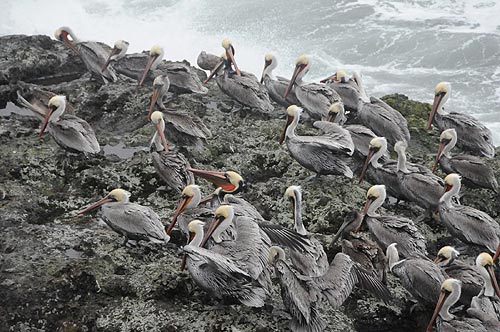 (Oregon Coast) – It's not as well publicized as it should be, but you are not supposed to feed the seagulls along the beaches for a variety of reasons, including the hazards it creates for them, such as losing their fear of humans and traffic, and they are actually harmed by the human food that is given them (above: brown pelicans at Depoe Bay, courtesy Whale Watch Center)..
Officials at Oregon Fish and Wildlife (ODFW) recently issued a warning that feeding human food to brown pelicans is causing some serious problems for that somewhat endangered species. Brown pelicans are among the most distinctive and fascinating birds on the Oregon coast, with their large throat pouches and outgoing personalites. But now, after starting to make a comeback since nearly being driven to extinction by the effects of DDT, the species faces the challenge of junk food.
"Pelicans are used to feeding on live fish in estuaries and the ocean, not potato chips" said Herman Biederbeck, wildlife biologist for the Oregon Department of Fish and Wildlife's North Coast District.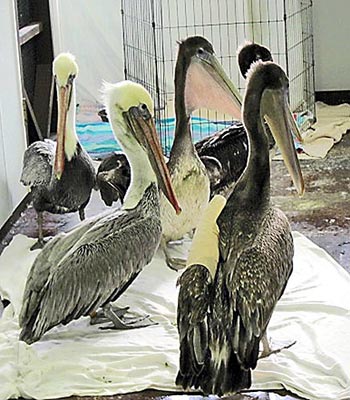 Brown pelicans migrate from California to Oregon's northern coast in the summer and now typically stay longer into the fall and winter – something scientists don't really understand. They now get impacted by winter weather more often and are getting more handouts from people – who mistakenly think they're doing the animals good.
"People are increasingly feeding these pelicans, almost always to the birds' detriment," said Biederbeck. "We want to discourage people from feeding them."
ODFW said feeding any wildlife of any kind is a bad idea, but especially so for brown pelicans. These animals normally scoop up fish in their large bills, diving into and around the ocean. They spend considerable time swimming in the sea. But since the brown pelican now sticks around this area longer into the fall and winter, they get batted around by big storms that hit the coast.
They get injured more often now because of this, and as a result tend to beg for food from humans.
"Anytime we have big winds or big surf the pelicans start getting hurt," said Sharnelle Fee, director of the Wildlife Center of the North Coast, a nonprofit wildlife rehabilitation facility in Astoria that cares for injured pelicans. "If they get caught in that big surf they can get pummeled and washed to shore. When they do they have a tendency to beg for food from humans."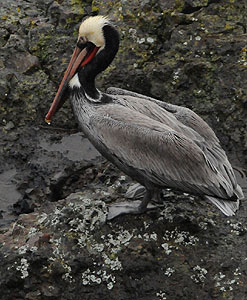 Brown pelican photo courtesy Whale Watch Center, Depoe Bay
ODFW said that human food causes numerous problems with brown pelicans. It often makes them sick. Fee has treated pelicans that have consumed chicken bones, hotdogs, donuts and potato chips, for example.
When they're hungry, they'll eat anything put in front of them, Fee warned.
"These kinds of foods can actually kill them," she said.
The other issue here is that handouts encourage them to stick around the north coast more when they should be heading south with the rest of the flocks.
"If people hold them up here by feeding them, the cold will kill them," Fee said.
While ducks and geese stay in the water during cold spells, pelicans come onto the land at night where they are vulnerable to colder nighttime temps and wind-chill factors. The feet of pelicans are more easily injured by frostbite, and this can mean euthanization if they lose more than half their feet webbing.
"Pelicans are aquatic birds," said Fee. "They need their webbing to swim and walk."
Like the seagull issue, where many coastal motels have become more proactive in discouraging the feeding of gulls, Fee said she hoped they and other tourism entities would also start getting the word out about brown pelicans. Cannon Beach is especially proactive about discouraging the feeding of gulls for a variety of reasons, but largely because this causes them to mass together in sensitive areas and their waste contaminates local streams and beaches.
A recent survey conducted by federal wildlife officials counted 7,495 brown pelicans on the Pacific coast from Smith River, California., to Tunnel Island, Washington. Most of them were situated at the mouth of the Columbia River.
Brown pelicans were taken off the endangered species list in 2009, but they are still protected under federal law. People who see an injured pelican on the Oregon coast are encouraged to call the Wildlife Center at 503-338-0331.
More About Oregon Coast hotels, lodging.....
More About Oregon Coast Restaurants, Dining.....
LATEST OREGON COAST NEWS STORIES
Back to Oregon Coast
Contact Advertise on BeachConnection.net