Published 11/04/09
Oregon Coast Prepares for Crazed Surf, Winds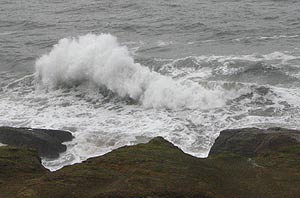 Big waves were prominent already this week on the central coast, such as at the Devil's Punchbowl in Otter Rock.
(Oregon Coast) – Big winds are ready to stir up the Oregon coast, along with massive surf conditions and what is likely to be some tremendous storm watching. But it's causing some local businesses to batten down the hatches, and many more are hoping the public will find another reason to head to the beaches.
The National Weather Service (NWS) has issued a high wind watch for the Oregon coast, effective Thursday morning through the evening – but many forecasters are predicting this will end up in a high wind warning.
"An incoming Pacific frontal system has the potential to bring very windy conditions to the north coast on Thursday," the NWS said in a bulletin. "SW winds will begin increasing tonight, reaching 20 to 30 mph around midnight as the front approaches the coastal waters. By Thursday morning, winds will shift to the south with sustained winds increasing to around 35 mph and gusts up to 50 mph."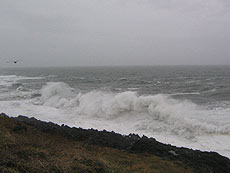 Big waves smash into the area near Depoe Bay.
Gusts to 60 mph are possible on beaches and headlands until the evening, the NWS said.
Along with the big winds, up to three inches of rain are possible that day. This, in turn, will accentuate an already large surf, creating swells that could be as big as 30 feet.
The NWS said these swells will create chaotic surf conditions from Thursday night through to Saturday, among other possibilities.
"The possibility for minor coastal flooding during high tide and the large breakers may produce hazardous conditions along the beaches," the NWS said.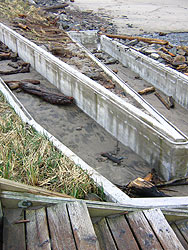 Look for oodles of storm debris afterwards, such as this access in Cannon Beach.
Windy conditions of varying degrees – although not quite as dramatic – are expected through Saturday, as is plenty of rain. Still, temperatures will remain quite mild, with lows in the 40's and highs in the 50's.
There's a lot many coastal lodgings are doing to ready themselves for the storm – a little more than usual.
They're hoping the storm generates interest among tourists, and they're offering tips for fabulous storm watching spots in their areas.
In Manzanita, the San Dune Inn's Brian Hines is taking no chances.
"Not much you can do except stack beach chairs and store and take down umbrellas, etc.," Hines said. "Tried to start our apartment generator, but of course no luck. Need to find a sturdier soul than I to get it started - just in case."
No one has cancelled at his little lodging just off the main drag of Manzanita, but no one has begun reserving yet either.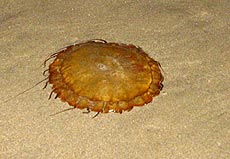 Look for tons of oddities on the beach this weekend after the storm.
"If it sticks around for the weekend, will make an appropriate backdrop for the Manzanita 'Dark and Stormy Book Weekend,' " Hines said. "Figure most people will watch the updated forecast tonight and then we will see what happens."
Hines warned beach watchers to stay off the beach and be aware of places where sneaker waves could get you.
Danielle Emerick of Starfish Point in Newport said they're bringing in deck chairs and yanking the hanging baskets.
"Would love to have people come down for the first storm," Emerick said. "It's always the best and you never know what will wash up on shore. Great times for beachcombers."
Emerick noted the Starfish Point sits on a viewpoint, but there are other spots in Newport she said would be awesome to catch wave sights.
"I might suggest Yaquina Head Recreational area or the Seal Rock area," she said. "I would also tell them to be prepared for higher than normal tides, logs and other debris - and sneaker waves."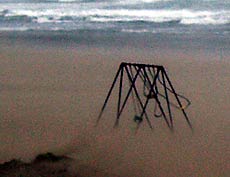 Winds may really tear things up on the beaches Thursday (photo Seaside Aquarium)
The Inn at Cannon Beach has flashlights in every room, said marketing director Kristine Gottsch. But the storm hits on an especially appropriate weekend for the town.
"No cancellations so far," she said. "Stormy Weather Arts Festival this weekend in Cannon Beach, so we're very excited."
Megan Gilmore with the Coho Oceanfront Lodge in Lincoln City said they're inspecting the property quite a bit: making sure windows are locked, screens are secured, all garbage and recycling receptacles properly secure, parking lot and other drains clear for easy water outflow.
"Inform all guests of the upcoming storm: we're answering any questions or concerns they may have," Gilmore said.
There have been a few cancellations because of weather this weekend, Gilmore said, in spite of the prime, storm watching cliff location of the Coho.
Bob Blessinger at the Depoe Bay Inn (formerly Harbor Lights Inn) in Depoe Bay said there isn't much they need to do as they're inside the harbor.
"We are more sheltered from the ocean storms," Blessinger said. "We will however be going to the sea wall for some great storm watching. The Spouting Horn at the Depoe Bay sea wall is the best experience on the coast for storm watching."
The Dublin House in Yachats said they're simply making sure everything is tied down or put in the building. No one has canceled, but neither has anyone inquired yet about booking for the storm, even though many of their rooms have good views of the drama.
Patt Dardis, of Depoe Bay's FRS Vacation Rentals, said she's recieved a few calls, but only a couple inquiring about storm watching.
"Since the resort is high on a cliff, it is not necessary to do anything special," Dardis said.
Because of that, she said the views for storms and big waves are prime at their properties.
Karen Scrutton at A1 Beach Rentals in Lincoln City said her team will be patrolling the sea walls where surf and wind pound the beach stairways during high tides. "It's wild to watch from your own living room and kitchen table."
More About Oregon Coast lodging.....