Adventures in Oregon Coast Star Gazing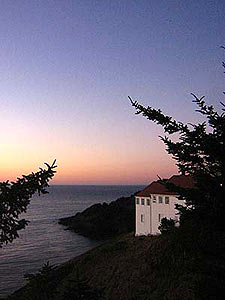 Cape Foulweather, near Depoe Bay
By Andre' Hagestedt
(Oregon Coast) - It's almost 3 a.m., on September 10, 2008, in the tiny north coast town of Manzanita. Old habits die hard from my days as a music journalist, and I'm still a nighthawk, regularly up until what most people consider ungodly hours.
On this particular middle of the night, I spend most of the evening curled up with my laptop and the Sci-Fi channel. No longer the hipster I once was, constantly floating around Portland-area clubs in search of the next coolest band, I'm happy to be a beach and science geek these days. But my nighthawk itch takes over and I feel the sudden need to indulge both major parts of my geek self: the astronomer wanna-be and the professional beach bum. So I head out for a late night walk beneath the stars.
On this night, the pleasures of stargazing on the Oregon coast become especially pointed. This is, afterall, still the "second summer" on the coast, when conditions are at their most sunny and warm for the year. It also means the skies can be among their clearest at night, allowing for incredible views of the stars and whatever awe-inspiring phenomenon they want to show off.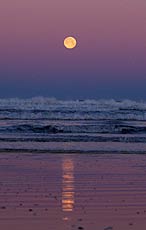 Moonset at Seaside at dawn (photo Seaside Aquarium)
Things get spectacular quickly. I take a little walk on the street that skirts the edge of the beach, wandering into a dark patch, away from the street lamps. It's like moving through some mystical barrier: the stars immediately become clearer overhead. The Milky Way runs perpendicular to me, and it almost seems to mark this boundary I walk through. It, too, comes more prominently into view.
The Milky Way stretches far across the sky, from behind the hill to the east of this road to a point not far from the horizon. It's a comforting, magnificent sight - one I remember distinctly from being a kid.
It reminded me of the days when I could still fit in the back window of our 1960-something Dodge Cornet, somewhere just before 1970. I distinctly remember one fascinating summer eve, crammed in that small space, watching the trees whiz past the long, faint whitish mass, and completely fascinated by the fact it never really moved. We were coming back to Salem from a visit to Florence, stopping in Eugene in the deep night. I think I spent the bulk of the drive up I-5 in that spot too. The Milky Way was quite bright and intense then. From what I understand, it's largely disappeared from view in the years since, because of pollution in valley cities like Salem and Portland.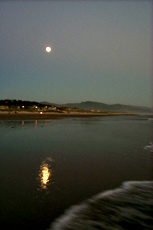 Dusk in Manzanita
But here in Manzanita, in early September, it was an old friend returned. Brighter still were a myriad of other stars all over the sky. And periodically, the faint streak of shooting stars could be seen in the bits of black, darting between the points of light. I saw about three of them in a five-minute period. It's something I often catch sight of in the Manzanita area, especially on top of the overlooks. It's something I go on about quite a bit and tout frequently in this website.
It's hard to not let the imagination flow with insane abandon while staring up into the massive sea of stars that hovers about the sea crashing in the distance. That combination of soothing sights and sounds is positively intoxicating.
Lunar eclipse of 2007 (photo Seaside Aquarium)
My mind drifts to the scary possibilities of gamma ray bursts that could come from somewhere out there in the big universe. Apparently, scientists think one hit our planet sometime in the last one billion years and caused a lot of damage. If I remember correctly, we'd have little or no warning. Those of us on the wrong side of the planet would see a blue flash, and that would blind everyone who saw it. The actual radiation itself would be a burst of up to 10 seconds, and depending on how far away it was, it could blast away our ozone layer and set off other biosphere changes that would eventually leave this planet able to support only 10 percent of the life on it right now.
Sounds particularly cheery, doesn't it? Don't get me wrong. I didn't dwell on these dark thoughts. In fact I rather chuckled at the possibility. But looking into all those specks of light makes my mind go over a list of things I know about in the greater universe, as if I may actually be able to make a great scientific discovery myself if I stared into it long enough.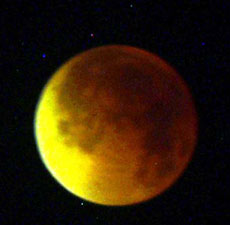 Lunar eclipse (photo Seaside Aquarium)
I did stand on this beach a year ago in the summer and stared at the gradual changes of the lunar eclipse in the middle of the night. I felt like I was making some contribution by simply witnessing it.
I've never tried the telescope approach to all this. I'm sure that will happen someday. But of course avoiding a windy night will be necessary for that. Tonight was just that kind of night, however. No wind, either. Not a hint.
In the meantime, for those wanting to try a bit of stargazing a la Oregon coast, the dark beaches and dark spots won't be hard to find. You may want to arm yourself with a flashlight in many cases, as you'll be treading beaches with various obstacles in the dark, and likely walking along increasingly dim pathways towards that beach.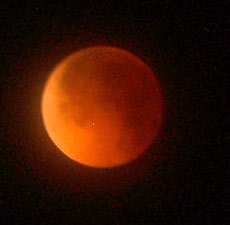 Lunar eclipse (photo Seaside Aquarium)
I would highly suggest the lookouts above Manzanita for any stargazing episode, such as the big one (there are several). That one is far from the streetlights on the highway. Perhaps it's the fact it's much higher than sea level, and thus away from the misty ocean air, but it often seems much clearer here. I spot shooting stars in this spot almost every time I find a cloud-free night, no matter what time of year. So you know the viewing of stars in general will be fantastic.
Other spots to look for:
Try Gearhart, or the very northern end of Seaside, where no streetlights are found at all.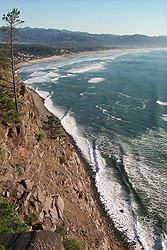 The overlooks above Manzanita
There are a few completely dark spots between Cannon Beach and Oswald West State Park, including some beach accesses at Arch Cape. You'll definitely need a flashlight there as the stones littering that beach are sizable and easy to trip on. There's at least one completely dark gravel patch overlooking the beach near the Hug Point entrance, but the paved overlooks have street lamps that will interfere with viewing.
Some beach accesses at Rockaway Beach will also provide sufficient dark cover, as will chunks of Bayocean, 25 miles to the south. Oceanside may or may not be suitable, depending on the massive light someone installed on their oceanfront home to illuminate the surf. If it's turned on, forget it, or walk quite a ways to the south to get out of the glare.
Places like Cape Meares will be closed at night, and Cape Lookout will only be accessible if you're already there camping.
Tierra Del Mar, just a tad north of Pacific City, may have some dark spots, depending on how far you're willing to walk to get away from the streetlamps.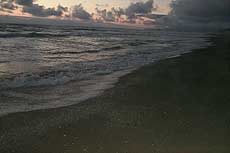 Neskowin, at its quiet and dark northern end.
The northern accesses at Neskowin will be excellent for checking out the dark skies.
Lincoln City will be very hit and miss, and most beach accesses and stretches between them have homes with lights that often interfere. The plus here, however, is that it's mostly empty sand and rather safe for walking at night. You'll still want to bring a flashlight, however.
Gleneden Beach, just south of town, will also provide excellent stargazing conditions, as will the accesses around Lincoln Beach.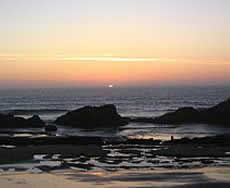 Seal Rock
Depoe Bay has no real beaches, but parks like Rocky Creek or the Otter Crest Loop road sit a couple dozen feet above the tideline and have no lighting whatsoever. These can be prime.
Cape Foulweather, with its enormous height and dark parking lot with a solid concrete beneath, makes for a spectacular place to catch astronomical sights as well as a safe one.
In Newport, get out onto Agate Beach or the access by the northern jetty. The latter involves a long, winding and pitch black walkway to the beach, so flashlights are again needed.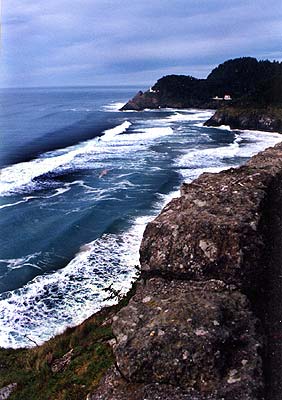 The stone overlooks just north of Florence
Just south of town, some accesses between Seal Rock and Waldport will be fantastic, but access is again via pitch-black pathways. Parts of Yachats will be excellent viewing, if you can stay on the 804 Trail. Even with a flashlight, the rocky labyrinths here will be problematic and dangerous.
Between Yachats and Florence will be nothing but completely unlit beaches, but some of your best spots will be the overlooks near Sea Lion Caves. Florence has a few beaches perfect for star watchers, including the southernmost access by the north jetty.
More About Oregon Coast hotels, lodging.....
More About Oregon Coast Restaurants, Dining.....
LATEST Related Oregon Coast Articles
Officials Seek Public Input on N. Oregon Coast Fish Passage Issues
Three culverts that failed on the northern half of the Oregon coast have triggered emergency conditions. Lincoln City, Tillamook, Manzanita, Nehalem
Pandemic Shutdowns Deal Hardest Blow to Travel Industry, Oregon Coast
Oregon had its tenth consecutive year of travel industry growth in 2019. Sciences
Almost Haunted Oregon Coast: Yaquina Bay Lighthouse Lore and Legends, Part 2
The town with two lighthouses has a rich history, and one of those lighthouses has quite the storied past. Newport, Yachats, Lincoln City, Depoe Bay
Landmarks and Legends of an Oregon Coast Lighthouse, Newport's Yaquina Bay, P...
A meandering history of the public struggles that took it from dilapidated to lauded. Depoe Bay, Waldport, Yachats, Lincoln City
Last of Oregon Coast Towns Set Reopen Date; Beaches Update
Astoria, Gearhart and Warrenton to resume operations June 5. News on state parks. South coast, weather
Oregon Coast Opens Up Crabbing to Everyone, Clamming Not Yet
Previously it had been restricted to only Oregonians. Sciences, South Coast, kids
Washington Coast Waters Open to Crabbing, Fishing May 26
Waters will reopen for fishing with crabbing on the Washington side of the Columbia River restarting that day as well
Oregon Officials: Stay Home for Holiday and Away from Coast; Camping Announce...
Stay close to home is the message, and this means keeping clear of other major attractions such as the Columbia River Gorge. Weather

Back to Oregon Coast
Contact Advertise on BeachConnection.net
All Content, unless otherwise attributed, copyright BeachConnection.net Unauthorized use or publication is not permitted