Oregon Coast Photos of the Week: Seriously Cute, Surreal, Spooky and Serene
Published 06/18/2010
(Oregon Coast) – A quick trip backward in time and up and down various areas of the Oregon coast reveals some fun and funky secrets about the region – starting with a startlingly endearing shot of a baby seal.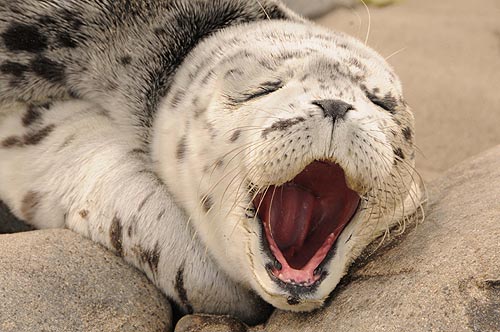 Tiffany Boothe of Seaside Aquarium snapped this adorable pose this week from a seal pup in the Seaside area. The little one got even cuter when he (or she) let out a big yawn.
It was part of a story to illustrate that no matter how cute these things are, and no matter how helpless they look on the sand – you should leave them alone. They're not lost. They're not in trouble. They're simply resting, as all little babies need to do a lot of. Their mothers are usually right nearby, in the water.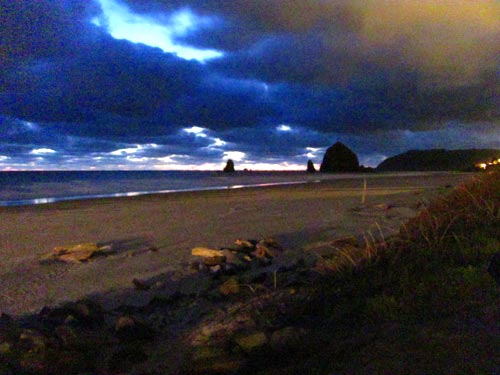 Going back in time a few weeks, Cannon Beach gets especially surreal at night, even more so in the layered cloud conditions of spring. If you catch the southern end of town at just the right time, with a long exposure shot of around 15 seconds, things look a bit like another world – or perhaps a shot taken with color infrared film. In fact, it's a mix of the last remnants of sunlight and various ambient manmade light sources, which are responsible for much of the yellow casts you see throughout the shot.
The various colors reflect strangely in the water: bits of blue, violet, whites and pinks are meandering at the tide line. City lights in the distance are a streak of blurred yellows and whites. The town's famed Haystack Rock and its Needles are silhouetted against a strange backdrop of sky and clouds, while a weird, ghost-like blob of yellow hovers in the corner.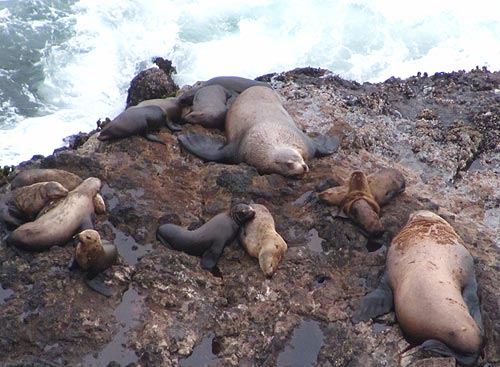 Skip nearly 160 miles down to near Florence, and you'll find large, flabby sea lions lounging on the rocks below the sudden cliffs of the area.
Gigantic rock structures jut out from these basalt cliffs, which then soar some 100 to 200 feet up to where Highway 101 is. Near the Sea Lion Caves attraction, these structures are littered with these creatures, lying around in various states of attentiveness. Some are smaller and verge on cute – obviously younger ones. Others are monstrous, and resemble some sort of aquatic version of Jabba the Hut.
We had to fully utilize the zoom features on our cameras to get these shots. Seen with the naked eye from the highway, these are distant shapes down by the raging surf.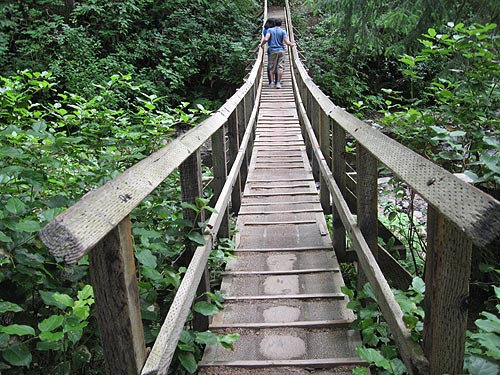 Near Manzanita, Oswald State Park is the typical rainforest atmosphere of much of the coast. Along the trail between the parking lot on 101 and the famed beach for surfers, this bouncy bridge sits. If you want a slightly scary experience (akin to a state fair's cheapo thrills at one of their low budget haunted house attractions), this wooden suspension bridge gives an unsettling sensation of movement as you walk along it.
For a time, along this half-mile trail to the beach, you're passing through thick forest and entrancing babbling streams. It's easy to forget you're on the coastline, actually. There's something even slightly primeval about it all, and it's not impossible to find yourself imagining a saber-toothed tiger jumping out at you.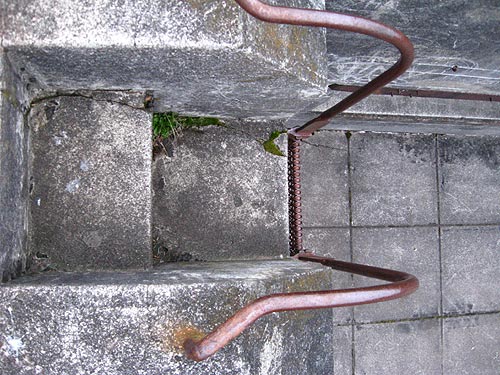 Near the very northwestern edge of Oregon, close to Astoria, Fort Stevens is a very real remnant of the Civil War Days, where this battlement was one of a handful that guarded the Mouth of the Columbia River from approaching enemies. Starting with the worry of rebel forces from the South, its concrete bulkiness eventually stood watch for Japanese and German invaders in the 1940's as well.
Now, like some sort of castle ruin, Fort Stevens sits silent, with great holes where massive guns were once in place, pointed out towards the sea.
This section of the fort, called Battery Russell, is the only one open to the public year round. There are loads of mysterious and serious-looking parts to this structure, such as this ladder pictured here.
Various concrete rooms lay beneath this behemoth, hinting at their original purpose with faded signs like "officer's quarters" or "latrines." Some of the spooky rooms have no signs at all.
And, as if to add to the castle ruins vibe of it all, there are a couple of stone spiral staircases that wind up and down between floors.
Fort Stevens is in Warrenton, just south of Astoria. It includes a massive campground.
More About Oregon Coast hotels, lodging.....
LATEST OREGON COAST NEWS STORIES
Back to Oregon Coast
Contact Advertise on BeachConnection.net