One Oregon Coast Town - Two Engaging Features
Published 10/20/2010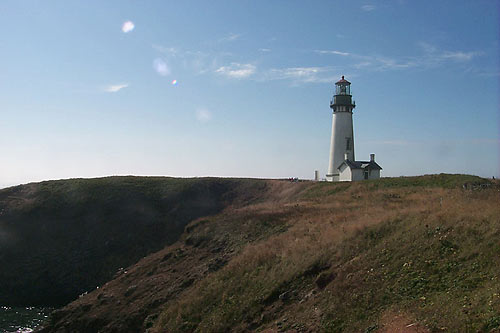 (Newport, Oregon) - It's part touristy, part party town, a slightly upscale resort, a sometimes surreal bit of small town Americana and a treasure trove all in one, filled with an enormous array of natural delights and stunning beauty. It's easy to get lost in the crowds and the tourist spots, but it's not too difficult to find solace on a deserted section of beach or pier somewhere.
Newport is rich in history, and it continues to be committed to keeping its past alive as it constantly expands and changes with modern times. There are restaurants and attractions for every budget and taste, and an often-freakish nightlife that may leave you laughing until you cry. It's an unusual combination of manmade and natural recreation and of varied, even contradictory means of repose.
Add to that the fact there are two lighthouses within city limits. One is the tallest on the coast, and it sits on a headland that's chock full of distinctive aspects - and even a touch of the paranormal.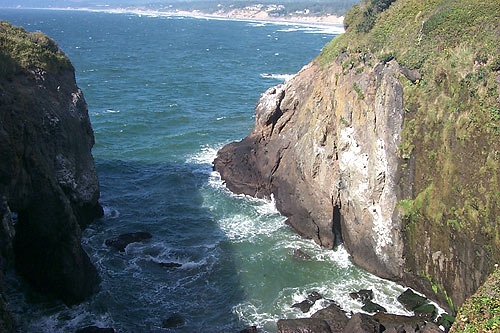 Yaquina Head Outstanding Natural Area. If you can't find anything to do here, you're probably dead and no one told you. A gigantic manmade tide pool experiment, hidden rocks and boulders to climb on, a mysterious hill encircling the headland from overhead, a strange, noisy beach made of polished stones and one major lighthouse provide more than you could do in a day.
These days, one of its more popular features is the intertidal area, carved out of an old rock quarry (below). These wheelchair-accessible paved paths weave in and out of rocky tide pool areas that were created to see what happens when rocky shelves are left alone to become colonies of marine life.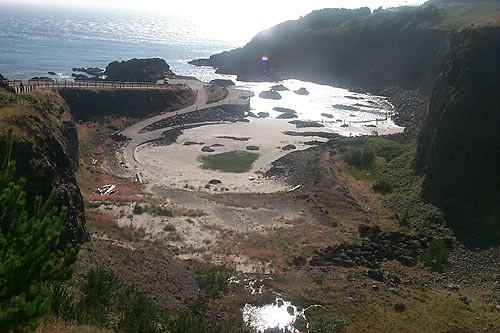 There's also an interpretive center here, as well as access to the noisy beach via a long staircase. This one's a bear coming back up, but it's worth it. The large cobblestones make quite a rattling noise when attacked by the tide – which tends to hit here with sizable force because the tide line is at a fairly steep incline.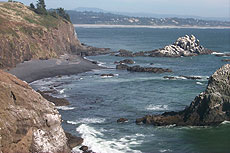 Black sand beach, in the distance
Not far east of the intertidal area's parking lot lay some interesting boulder-filled areas, perfect for climbing on and exploring.
Above the lighthouse parking lot lies Salal Hill, which is accessible by a meandering, quarter-mile walk to the top. From there, amazing views burst out (so amazing, there's a web cam planted here). Another awe-inspiring route can be found near the intertidal parking area, which wanders up on a one-mile roundtrip to more magnificent views atop yet another hill.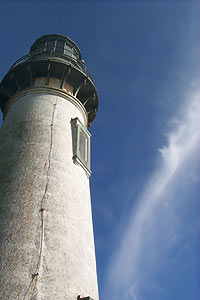 Yaquina Head Lighthouse. At the end of the headland sits the Yaquina Head Lighthouse, one of two in Newport. Standing at 93 feet, the lighthouse has been around since 1873, with its light still showing the way today and visible for miles in any direction. The lighthouse is open year-round.
There have been some ghost stories surrounding this one, although they were recently debunked by the Bureau of Land Management – which runs the Yaquina Head area. They found out the purported ghost, a lighthouse keeper named Higgins, never died in the lighthouse at all, as the tale maintained. Instead, he eventually moved to Portland and died of old age there.
The scariest story involving the lighthouse centers around a Hollywood movie crew filming a horror flick there. Apparently, they left it such a mess – smothered in cobwebs and other spooky fixings – that the BLM had to threaten a lawsuit to get them to come and clean it up.
More About Newport Lodging.....
More About Newport Restaurants, Dining.....
| | | |
| --- | --- | --- |
| | | |
LATEST OREGON COAST NEWS STORIES
Back to Oregon Coast
Contact Advertise on BeachConnection.net