Officials Warn of Molting Seals on Oregon Coast
Published 04/04/2010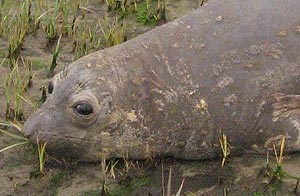 The seal in Hammond looked lethargic, but was obviously keeping an eye on the intruders (photo Seaside Aquarium)
(Seaside, Oregon) – The season of seals on the beach is upon us, and that brings up more warnings to the public to stay away from any creature stranded on the beach.
Last week, an elephant seal hopped up onto the beach at Hammond, near Astoria, in the painful process of molting. Since then, two more have appeared on the north coast, and crews from Seaside Aquarium and the Marine Mammal Stranding Network are keeping an eye on them.
It's an unpleasant state they're in, but officials say you must keep away from them and let nature take its course.
"When seals and sea lions molt - a process in which they shed their old coat of fur for a new one - large patches of skin will often come off with the fur, leaving sores on the animal," said Tiffany Boothe, with the Seaside Aquarium. "Coming up onto to beach raises the body temperature of the molting seal helping the molting process go by more quickly."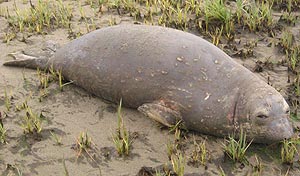 Sores are part of the painful process of molting (photo Seaside Aquarium)
The process takes weeks for the elephant seal.
Spring is when these things begin happening, and more will be appearing until the end of summer all over the Oregon coast.
Chandler urged to keep away from any of these creatures, and said there are various reasons for concern in a situation involving people and animals washing up.
"We're always concerned for their safety," Chandler said. "They may be slow, not feeling well and lethargic, but they can still deliver a powerful bite and injure a person. There's also the worry about dogs. They can get sick from coming into contact with an elephant seal."
Well-meaning people try to help, but if they don't know what to do, they can be hurting more than ever. Unless you have some training in this field, it's best to assume you won't know what to do.
Chandler said people often make things worse when doing anything at all.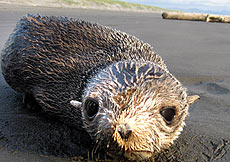 Cute baby seal pups will be the next thing you'll see on Oregon beaches, but officials warn to keep away from these as well.
"They tend to bring buckets of water and pour it on the seal, thinking that will help," Chandler said. "But that's exactly the opposite of what you're supposed to do. They come to the beach to get away from the saltwater, as that hurts them while they're molting. If they stay on the beach, their body temperature will rise, and that helps them through the molting. People mean well, but they don't know they're just making it a lot worse."
Aquarium manager Keith Chandler said the first one in Hammond has since gone back to the sea, as has another in Rockaway Beach this week. Another hit the beach at Seaside on Sunday, causing Chandler to joke it was "our Easter seal."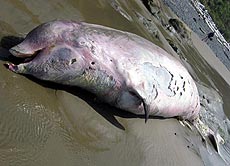 A dolphin on the beach: stay away from all creatures, dead or alive, as they can also pose health problems for humans and even pets (photo Seaside Aquarium).
The first one in Hammond appeared extremely still at first, but came to life when Chandler got near.
"He looked close to death when I came up on him, but he started to bark at me to let me know he was alive," Chandler said.
Baby Harbor seals will start appearing on Oregon beaches around June as well, and those should also be left alone as their mothers are nearby.
If you spot any creature on an Oregon beach, call the local police. On the north coast, you can also call Seaside Aquarium at 503-738-6211.
More About Oregon Coast .....
| | | |
| --- | --- | --- |
| | | |
LATEST OREGON COAST NEWS STORIES
Oregon Coast Geologist Weighs In on Kiwanda Sinkhole: Why, How and Its Future
A large sinkhole opened up, and that is likely to get bigger. Sciences, geology, Pacific City
Quirky Oregon Coast History Embedded in Seaside: Mystery Wall, Fishing Pier
Two mysteries on the Prom: one hinted at, the other hidden.
Hatfield Marine Science Center Brings Famed Fossil Fest Back to Central Orego...
February 11 in Newport: learn about fossils or get your own ID'd. Newport events
Oregon Coast Scenic Railroad Announces Surprises, Including Cab Rides in Engine
More ride slots, dinner excursions, a moonlight ride, more. WEather
N. Oregon Coast's Cape Kiwanda Develops Dangerous Sinkhole - Video
Why the geology here means this could get worse. Sciences
Fourth Whale Carcass on Oregon Coast in Two Weeks, This Time Cannon Beach, Video
It seems unusual - but is it? Experts explain it's not. Marince sciences
Oregon Coast Spot That Hisses, Explodes, Drops Away and Launches in the Air -...
Cook's Chasm near Yachats: Plenty of atmosphere and action
Three Whales Hit Oregon Coast Sands: Causes of Death Released
One near Winchester Bay, two at Fort Stevens. Marine sciences

Back to Oregon Coast Beach Connection