Oregon Coast Labor Day Weekend Advice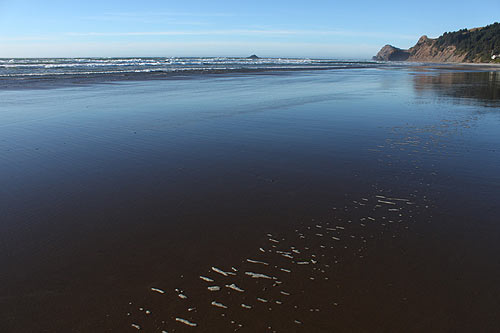 (Oregon Coast) - Labor Day weekend is a crazed time on the coast: a flurry of frenzied activity on what is normally Oregon's favorite laid back region. Things still move more slowly out here on this weekend. The reason, however, is that there are so many people. With everyone getting away from it all, they manage to bring it all with them.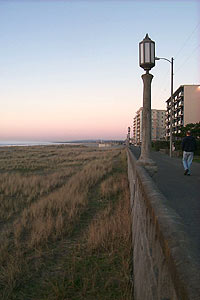 Lodging in Seaside can spike especially high during this weekend.
So, for those who haven't experienced the weekend before - or those who could use a few useful tips - here's a guide to various aspects of this busy, busy weekend. From practical tips, warnings and big events to some nuggets of knowledge you probably aren't aware of, hold on to this article and you'll find yourself enjoying the weekend more than ever.

Lodging Caveat
When it comes to finding a place to stay, it's imperative to make reservations well ahead of time - probably a good week or two in advance. Otherwise it's highly unlikely you'll find anything. And don't expect normal prices, either. Even least expensive dive lodgings in the $40 - $50 range can go for close to $100 on this weekend. Many places are $200 to $400 a night – especially if you haven't reserved ahead of time. (Find your labor day lodging now by clicking here)
Camping, too, is a serious issue. Most campsites have been reserved months in advance. Some city and county parks are first-come, first-serve, so you could have a chance with those.
Traffic and Road Warnings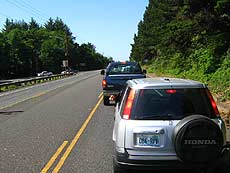 A traffic jam hits Newport
There's plenty to be wary of on the road during Labor Day Weekend. With many more on the highways, you'll need to leave earlier and give yourself more time to get there. The roads to the region, like Highway 22, Highway 18 and Highway 26, will be packed with other cars and more heavily patrolled by police.
BeachConnection.net columnist Guy DiTorrice described traffic as being a bit like "the Terwilliger Curves of the Portland area on a typical business day," with plenty of cars packing the roads and creating more dangerous conditions. Be very cautious of your speed – not just because it's the smart thing to do in such traffic, but police saturation is heavy and sometimes sneaky. It's doubtful you'll see them in time to slow down.
There are numerous sting spots to look out for: Highway 26, at the big rest stop halfway between Hillsboro and the coast, in the coast range; various gravel pull-offs along Highway 26 and Highway 18 in the coast range; the double-laned areas along Highway 26 in the Saddle Mountain area; Highway 18, between Newberg and McMinnville.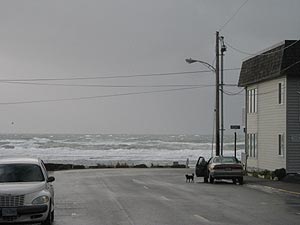 Beware traffic signs in Manzanita.
On the coast, police can be found either watching for speeders or keeping a close eye on certain stop signs at: the stop sign at Sand Lake Road junction a mile north of Pacific City; the pull-offs just north of Newport, around Moolack Beach; the southern end of Rockaway Beach (as you come in from Garibaldi); the town of Wheeler is more heavily patrolled on Sundays, just as the tourists begin leaving the coast; and the southern entrance to Seaside. Lincoln City often has heavy patrols in both directions of traffic all day and all over town. Cops frequently wait at the big curve by the gravel pit, just north of the Nelscott area (start really watching yourself after the Outlet Mall).
It's simply safer to stay the speed limit during your entire journey, not just for the sake of your driving record but for the safety of all around you. If you have a notoriously lead foot you can't control, you may consider staying home.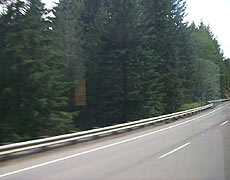 Highway 6, between Portland and Tillamook.
Beware the Traffic Jam Zones
Usually, the Sunday or Monday of the weekend means a staggeringly huge exodus from the coast, with everyone leaving the same time. Traffic can be backed up for miles. Folks often leave in the late afternoon, just before sunset. It's advisable to leave right after sunset, or even wait a bit, and drive home in the dark. While it's harder to see and less relaxing than the daylight trip back, it's sizably less stressful than sitting in traffic an extra hour.
Tips for Your Coastal Jaunt
The big rule for the coast almost any time of year: take along a change of clothes or two.
The biggest problem will be the difference in temperatures between the valley and the coast, and those who forget to bring something other than shorts. Many a coastal jaunt has been ruined by someone in your party who was all dressed down for summer in shorts and a t-shirt when they left the sweltering valley, only to hit the cooled down coast with no jacket or change of clothes at hand. Then they've complained or suffered through their chills the whole time. Make sure you're prepared for drastic changes in weather - especially if you're on the Oregon coast for more than a day trip.
The weather can go up and down within minutes, but it's a pain in the butt if you're on a long beach walk during a spell of sunny weather and you find yourself soaked by a sudden spot of rain, largely because you've neglected to bring your coat. Ick.
Or, if you're goofing around the sand and fall in a tide pool or a creek, you're going to wish you'd brought along an extra pair of pants or something. This happens a lot easier than you think. Make sure you bring a coat if you're going to wander too far from your car.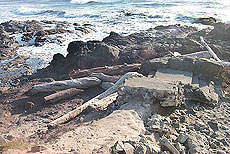 Exploring rocky areas near the sea (like here in Yachats) will require better shoes and more caution.
And whatever you do, make sure you bring along more than one pair of shoes and socks. It's way too easy to get these wet - and they usually stay that way for a whole day. You'll most certainly want to wear sandals or flip-flops while bouncing around the sand.

If you're going to explore rocky tidal areas, bring shoes that stick well and don't slip too easy. It's likely what you'll be doing is some kind of climbing, at least in a minor way. Sneakers or hiking boots are best for these areas. Always be careful of extremely slippery areas on the rocks, usually found on green spots near the tide. These green areas should be a red alert for you: it's extremely treacherous while wet. Falling on your back or head here is especially risky business, especially if you're close to the water.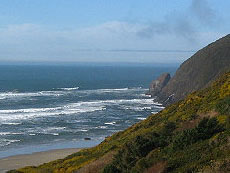 Looking for hidden beaches on this busy weekend? Search for this clandestine wonder just north of Florence

.
Far from the Crazed Crowds
If you really want to just get away from it all, try the stretch between Yachats and Florence, about 25 miles of incredibly hidden spots. Although even the most tucked away of Oregon coast beaches has a sizable flood of people on these high-density weekends. There, you will likely find less people than the other traditionally crowded beaches at this time. There's camping at Rock Creek, and the beaches along this chunk of coastline are some of the more untouched wonders on the coast.
Also, look to smaller towns like Wheeler, the Arch Cape area, Waldport and parts of the Three Capes Tour. These are typically less crammed full of folk.
For more about Oregon Coast lodging....
More About Oregon Coast hotels, lodging.....
More About Oregon Coast Restaurants, Dining.....
LATEST Related Oregon Coast Articles
Back to Oregon Coast
Contact Advertise on BeachConnection.net
All Content, unless otherwise attributed, copyright BeachConnection.net Unauthorized use or publication is not permitted