Full Oregon coast lodging reviews at the Oregon Coast Lodging Reviews - www.beachconnection.net/oregoncoastlodging
Oregon Coast Lodging Reviews: A Whale of a Resort in Depoe Bay
Published 02/21/2010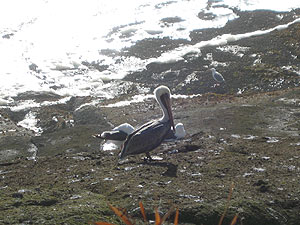 Pelicans outside the window at Whale Pointe Resort, Depoe Bay.
(Depoe Bay, Oregon) - At our recent visit to the Whale Pointe Resort in Depoe Bay, my wife Nancy and I experience what it's like to be part of this private elite "oceanfront condo" community. While I use the word "community" in a literal sense, something makes the whole experience feel a lot more "neighborly." In many ways our stay reminds me of a big neighborhood block party.
This huge, privately owned 171 unit resort complex, offers both two-bedroom and three-bedroom condos for rent through Fractional Resort Services (FRS) Vacation Rentals. This deluxe spot offers three swimming pools and spas – the outdoor pool and spa behind the office, indoor pool and spa and a third pool which is an indoor/outdoor pool with an outdoor spa.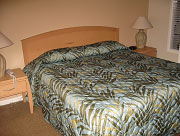 The bedroom at Whale Pointe.
The front office reflects more of a "meeting place" atmosphere rather than a "reservation desk", and we were warmly greeted by the front desk manager. Many of the "guests" as well as staff are actually owners and know each other on a first-name basis thus we feel "invited in" rather than "checked in" as she explains the list of resort amenities.
A coupon for a complimentary dozen eggs from nearby Sentry Market is presented to each guest. It's a nice touch, as many guests use the complete kitchens to cook their meals in their unit.
In the front office you'll find two internet stations available 24/7, a well-stocked brochure rack of local attractions, volumes of local dining establishments, a neat collection of Depoe Bay clothing and memorabilia, snacks and an extensive coupon rack where one can find local deals on anything from "a dollar off your first pound of fudge" to "free booties with rental of a wetsuit."
When we swing open the door of our first floor suite, yes, we find ourselves "at home." It is one of the 1,100 sq/ft. two-bedroom condos (also available 1,300 sq/ft. three-bedroom). To my left is a spare bedroom that is fitted with two twin beds (king size can be substituted). It has in it a separate mini-refrigerator, television w/DVD deck, roomy closet and full bathroom.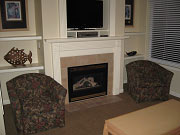 Next we enter the kitchen area. We were told it would be fully-equipped, but after opening a few kitchen drawers and cabinets we realize this kitchen is nothing short of being capable of producing a Thanksgiving dinner. We even find an assortment of complimentary packeted spices dishwasher soap and laundry soap. Full frig, dishwasher, range, huge microwave. All appliances are like-new and impeccably clean, which really pleases my impeccably clean wife.
In an interview with managing member Michael Rudarmel of FRS Vacation Rentals, I'm told that these stoves are actually taken apart when they're cleaned, not just given the "once-over" with the Spray'n'Wipe. Examining the appliances, I have absolutely no reason to question that.
We're so hungry at this point, once we spot the dual-burner "Broil King" gas barbeque on the patio, it unanimously becomes "grillin' by the sea" tonight. We find a full set of BBQ tools in the kitchen, nice patio set in the "backyard" which is actually a 15' to 20' deep piece of lush manicured lawn, decoratively roped-off at the seawall's edge.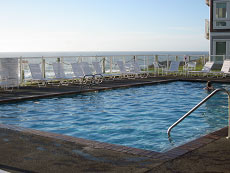 Yes, that's ocean behind the pool.
The condo throughout is decorated contemporary to modern, without being space-agey. Furnishing are quality, comfy and fully-functional. We have a full-size sleeper sofa in the front room, and sleep like babies in our king bed with down pillows in the master bedroom. Dining room seats six with counter seating for two right off the kitchen. Bathrooms are squeaky-clean, and the master tub is jetted. There's also a washer/dryer combo tucked away in a separate laundry room.
The entire seaward-facing wall of the unit is windowed, large sliding-glass doors making easy access to the patio, yard and sounds of the surf. Since Depoe Bay is mostly seawall not beach, the surf crashes, rather than laps the shore. That thunderous surf, mixed with the cries of the seagulls, although loud, quickly becomes hypnotic and even addictive.
One of the three swimming pools just outside the office provides a liquid light show toward evening, cascading the sunset off the pool's surface through the windowed west-side of the office. Nice. And yes, that's ocean behind the pool.
Checking in on Tuesday, we catch the tail-end of a packed-out lecture on the much-loved resident gray whales, presented by locally renowned professor of marine biology Carrie Newell. Depoe Bay is commonly known as "the whale-watching capital of the Oregon coast." For the two days of our stay the view from our condo provided never ending spouting, rolling and tailing of these great gray giants.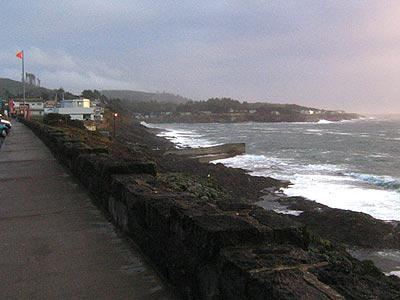 Depoe Bay
The conference center and two "Resource Centers" on the resort property certainly don't gather any dust, and upon check-in, each guest is given an activities bulletin which outlines the various non-stop community events scheduled for the given week. Activities for the week are also posted in the elevators.
A recap of the food activities during our stay: two days of continental breakfast at 8 a.m. – 11 a.m. is offered featuring a fresh assortment of Danish, muffins, bagels, doughnuts, croissants, assorted fruit cups, juices, coffee & tea. On two of the days, Nancy and I enjoyed good 'ol-fashioned root beer floats served up in the afternoon, hand-scooped and poured by resident "I do a little bit of everything" guy, Thad Lawson. Thad transforms the Resource Center from a breakfast club, to a day spa, to an arts, crafts and scrapbooking workshop, to a soda fountain, to a bingo parlor. On Saturday, a BBQ of hot dogs, hamburgers and cheeseburgers with all the fixin's is served from 4 p.m. – 6:30 p.m.
Following in the "something for everybody" spirit, other activities offered were coloring pages and crafting for the kids, a "scavenger hunt", bingo for all ages and 15-minute chair massages. Although massages were scheduled in the Resource Center, appointments for in-room massages were also accepted by request.
Licensed massage therapists offer their services several hours each week. Nancy missed getting on the roster, but during the time I'm checking out the weight room facility, I hear several refreshed recipients thanking the massage therapists for that 15 minutes of heaven.
I get a huge, refreshing sense of camaraderie among the condo owners. They own the places they're staying in, so they take care of them. They treat each other like neighbors, in contrast to "tourists." Children and adults alike, act like they're at home because essentially, that's what these units are. Although Nancy and I aren't owners, we still feel wrapped in that homey atmosphere.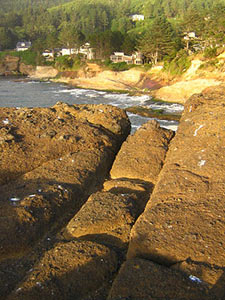 A secret spot in Depoe Bay.
Strolling the grounds, we find Pirates Cove to the south, a nestled area which is playground for numerous sea lions, pelicans and other aquatic life. Boiler Bay State Scenic Viewpoint is to the north, another beautiful exhibit of some pretty wild, crashing surf, and whale and aquatic bird watching. Boiler Bay actually gets its identity from a boiler (visible at minus tide) which washed ashore from a sunken freighter in 1910.
Downtown Depoe Bay is just minutes away. One afternoon we stop for a bite at the Chowder Bowl (40 S. Hwy 101). Service is polite and friendly, atmosphere is fun, and the food comes fast and hits the spot. Good stuff.
The best way I can describe it, the Whale Pointe Resort is a way to experience the Oregon Coast "right from your home." It's peaceful and serene, yet offers an abundance of activities. The Resort is located at 939 N.W. Hwy 101, Depoe Bay, OR 97341
For more details, or to make a reservation contact: Patt Dardis at FRS Vacation Rentals. 1-866-997-7224 or 503-697-7224 or visit their website at: www.frsvacationrentals.com
More About Oregon Coast lodging.....
LATEST OREGON COAST STORIES
.