Bull Kelp and Their Holdfasts: Wacky World of Upside Down Forests on Oregon Coast
Published 11/30/2017 at 4:35 PM PDT
By Oregon Coast Beach Connection staff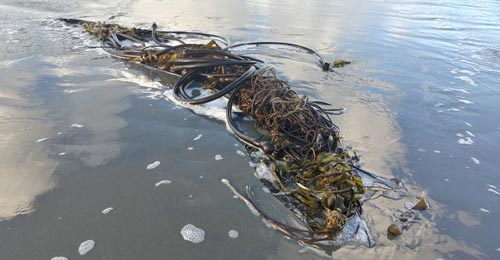 (Oregon Coast) – A fact largely unknown to Oregon coast visitors is that there is a huge underwater forest just out of sight everywhere they go. Moreover, it's an upside down forest. (Photos courtesy Tiffany Boothe, Seaside Aquarium).
They're comprised of what is called bull kelp, and travelers here do bump into them in two interesting ways. One: their brown bulbs are often mistaken for seals bobbing in the water, just offshore. Two: sometimes you find huge piles of them in puzzling, mysterious masses on the beach.
Tiffany Boothe of Seaside Aquarium recently went on a "bull kelp adventure" as she termed it, searching out the wacky weed-like plants on the beaches, and discovering a lot of their holdfasts - the parts of the giant algae that hold it to the ocean floor.
"During storms, high winds and violent currents may cause kelp to be ripped up from the sea floor," Boothe said. "Strong wave action tangles the kelp, which eventually washes up on the beach in enormous knots."
Bull kelp are a form of gigantic algae – generally known as a seaweed, in vernacular terms. Most of the ones you see on the Oregon coast are a few feet long to maybe 20 or 30 feet long, but they can grow up to about 100 feet in length. They are the fastest growing kelp in the world, Boothe said, able to grow their full length one season. They start out as small spores in the spring, but can get close to full length by mid-summer. A bull kelp's life cycle is about a year: they generally die in the winter when waves rip them out of their growth spot.
Even more astounding are the numbers of their growth rate. According to Seal Rock science expert Fawn Custer, they can grow as fast as a few inches per day, but sometimes as quickly as two feet per day, depending on the kinds of nutrients they're getting.
"When kelp washes ashore we often try to collect some," Boothe said. "We use it throughout the year to feed to our sea urchins. We also like to collect some of the holdfasts while we're out there, just to see what is living on them. A lot of times we find juveniles sea creatures that we can grow like sea stars, sea urchins, crabs and sea cucumbers."
Bull kelp grow in massive fields a little ways offshore, in areas too deep to be affected by tides. You can see them much easier next to rocky cliff areas that run deep, like around Depoe Bay and its coves. Here, and at around Cape Foulweather, is where you most often see the little brown/green bald heads bobbing in the ocean – and that's when people think there are seals watching them.
Those bulbs are filled with carbon monoxide, which makes the rest of the stalk float. Along the stalk come a lot of leaf-like structures, and below all that are the holdfasts which stick to reefs or rocky spots.
Oregon Coast Hotels to find this - Where to eat - Maps - Virtual Tours
Boothe said these are root-like structures, but they're different from roots in that they don't absorb nutrients. In fact, it's the leaves (more like blades, really) that absorb the nutrients by photosynthesis.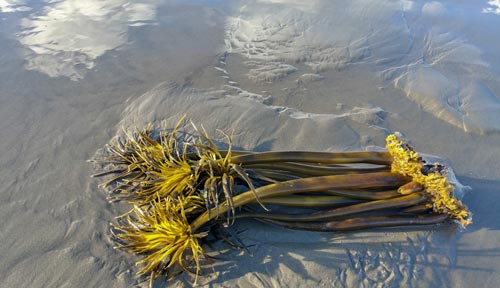 If you head to the famed 80-year-old attraction you'll often be able to see the results of adventures like these.
"Holdfasts are an ideal home for many small invertebrates," Boothe said. "The inside of the holdfast provides protection from predators and strong ocean currents. Animals you might find inhabiting a holdfast include brittle stars, juvenile cancer and decorator crabs, sea squirts, sea anemones, sea urchins, skeleton shrimp, worms, nudibranchs, sponges, and many more."
Even more surprising: if it weren't for bull kelp in this area, there wouldn't be many whales. They are integral to the ocean's ecosystem as one of the favorite foods of gray whales – mysid shrimp – like to hide there. There are lots of these hiding places close to shore around Depoe Bay, and that's why that area sees so many whales so close.
Also see: Odd Oregon Coast Facts: Have Your Bull Kelp - and Eat it Too ....and ....Oregon Coast Answers: What Are Those Snake-like Tubes or Whips? More on these organisms below: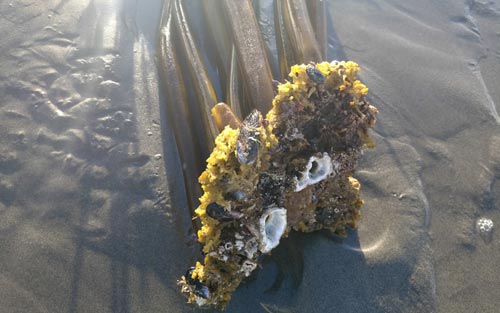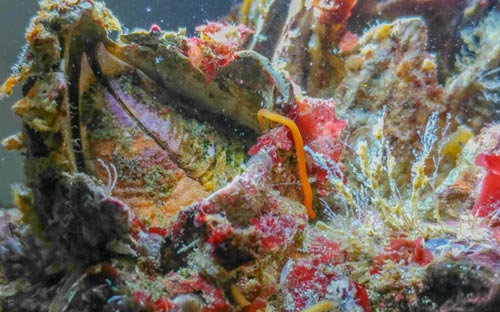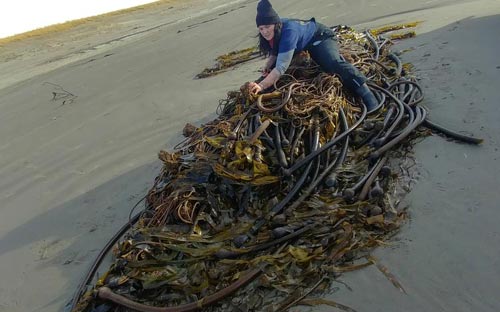 More About Oregon Coast hotels, lodging.....
More About Oregon Coast Restaurants, Dining.....
LATEST Related Oregon Coast Articles
Back to Oregon Coast
Contact Advertise on BeachConnection.net
All Content, unless otherwise attributed, copyright BeachConnection.net Unauthorized use or publication is not permitted