Oregon Coast Tsunami Scare from a Personal Perspective
Published 03/17/2011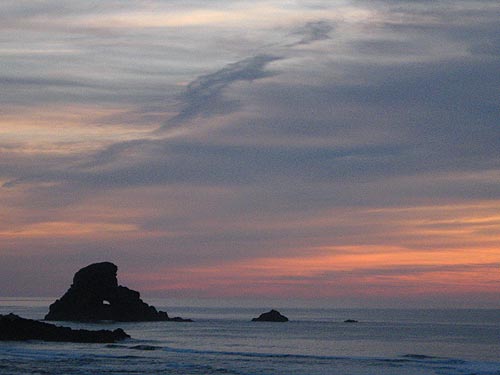 By Andre Hagestedt
(Portland, Oregon) – Say what you will about the faults and the mishaps with the tsunami warnings and protocols along the coast, but one thing was for sure: people knew what to do. There was no panic. The word got out fairly quickly in most places, in spite of it being the middle of the night. The traffic eastward and away from the coast was quite orderly, and even the gas lines didn't create traffic problems that were unmanageable.
Then again, we had several hours notice on what might happen, and plenty of time to prepare and run for the hills. It does make you wonder if this was the much bigger one we're all expecting, and with a mere 10 to 30 minutes notice, what would've happened?
The one thing that haunts me now, looking at all the footage of Japan and the horrific scenes there, is that someday this will be western Washington and Oregon – from the coast to Portland, Eugene and all the way up to Seattle and beyond. Those scenes will be us someday. It's not a matter of if – but of when.
I was one of the lucky ones, and in a unique position to help out. I was still in Portland – I only live in Manzanita part time. I was goofing around all night and didn't have the news on at the ten o'clock hour as I usually do, and turned on the 11 o'clock news a few minutes late. The broadcasts were crammed with what had happened in Japan, and immediately I knew there may be a watery bullseye on the Oregon coast.
I began to get a creepier and creepier feeling about this, especially as newscasts stayed on the air past 11:30 p.m. to cover not just Japan but what the USGS would say about a tsunami here.
Even here on the border of Beaverton and Portland, I had my own tsunami adventures.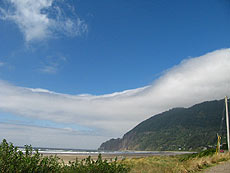 I immediately tweaked this website so that it displayed live feeds from USGS about any possible tsunami watches or warnings. Eventually, I added live feeds from our Twitter account so my tweets would be displayed as well.
For a long time I was able to relay to the public via social media and our site that there was no tsunami warning or watch for the coast. Somewhere around midnight, things got ominous and I started seeing my financial life flash before my eyes: authorities made a tsunami watch. I make my living via this site. I'm a small business owner, and I pictured that we were about to go down as our advertisers and chunks of the coastal economy would get leveled by a tsunami event that some pundits were predicting could be as high as nine feet.
Then around 1 a.m., watching KGW channel 8, I was hit by the stunned silence of newscasters on live TV as they were interviewing a project head from USGS who announced it was now a tsunami warning, and that waves could be as high as five feet – which would easily damage places like Cannon Beach and Seaside.
It was about then that our website started crashing from all the traffic. It crashed frequently over the next few hours. I even called the company that owned our servers to see if we could increase bandwidth or something. Bandwidth wasn't the problem, apparently. It was some other technical issue I didn't enjoy hearing about.
I called a handful of friends on the coast, in the middle of the night, to make sure they knew. To my surprise, everyone was up and knew about it. No evacuations had begun yet and I don't even believe reverse 9-1-1's had fired off as yet. It was simply a kind of well-oiled "gossip phone tree" on the coast, as one interviewee on TV put it.
This in itself was an awesome testament as to how well prepared coastal residents are. It was 1 a.m., even 3 a.m., and everyone I called knew about the impending evacuations. They sounded groggy, like I had awakened some, but they knew. I actually gave up calling on them to warn them.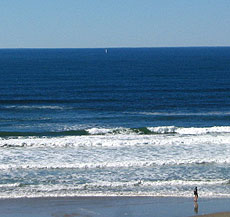 Meanwhile, I not only shot out important information for evacuees on social media and our site, but I was emailing Portland media with any major updates I got hold of that they weren't already covering, like the fact gas lines were starting by 2:30 a.m. and traffic was getting nutty around Seaside.
I couldn't be on the coast helping – but I could help with information through a variety of means. By 8 a.m., about half a dozen media outlets had interviewed me on the air about what I knew. I was receiving reports from Lincoln City, Pacific City, Depoe Bay, Nehalem, Florence, Yachats, Seaside and Cannon Beach on my own. I could do a lot more good by receiving and relaying information.
5 a.m. rolled by and little happened in Hawaii, giving us a lot of hope. 7:15 came and only some surges hit the beaches – and I'm still not sure reporters on the scene knew winter wave action enough to understand that correctly. It was Keith Chandler from Seaside Aquarium who convinced me some wave surges happened.
I breathed a major sigh of relief. I wasn't going to lose my business, and neither was anyone else I knew. A friend who had evacuated Cannon Beach in the middle of the night texted me at 8 a.m.: "I think we'll still both have our livelihoods."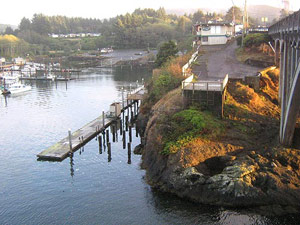 Then, however, watching people goof around the beaches on live TV just before and after the surges hit really disgusted me. Some had their small children with them on the beach. What happened to the man in Newport who got hit by a massive sneaker wave-like portion of the tsunami could've easily happened to anyone else who didn't evacuate the beaches. A certain derogatory catch phrase used by Red Foreman in "That 70's Show" came to mind.
Now comes the time to look forward and to preparedness for our real one, what scientists are calling a "twin" of that earthquake in Japan. But this one's going to be worse here. Japan was much better prepared for it than the Pacific Northwest. In other words, it's time to get really prepared.
More About Oregon Coast hotels, lodging.....
More About Oregon Coast Restaurants, Dining.....
LATEST OREGON COAST NEWS STORIES
Bioluminescent Phytoplankton: What Makes Glowing Sand On Oregon Coast, Washin...
One of the more treasured, wondrous and surreal experiences you can have is 'glowing sand' at night. Sciences
Tornado, WWII Submarines and Motor Lodge: Oregon Coast Inns With A Past
A full dive into living Oregon coast history is a refreshing thing. Yet it's rare. Lincoln City, Newport
Wrecking the Peter Iredale: How Oregon Coast History Played Out in 1906
The wee hours of October 25 were wild and gnarly, and they were certainly chaotic if you were out to sea. Warrenton, Astoria, Washington, Seaside
Waves That Go the Wrong Direction: Weird Oregon / Washington Coast Science
The foam is heading outward, towards the sea, instead of towards land. Weather
Popular Yet Layered on Oregon Coast
Like a treasure hunt, there's more to your favorite spot than meets the eye: Warrenton, Pacific City, Depoe Bay
Officials: No Fireworks on Oregon Beaches; Washington Coast Rules, Concerns
All types are illegal on Oregon beaches, on the Washington coast there is a worry of plastic debris
Tourism In Manzanita In 1914 A Rugged But Enticing N. Oregon Coast Adventure
Manzanita and northern Tillamook County were just getting discovered and coming into their own. History
Unique But Subtle Lunar Eclipse on the 4th for Oregon, Washington Coast
It's called a penumbral lunar eclipse, meaning only the edge of the moon will get affected. Science, astronomy

Back to Oregon Coast
Contact Advertise on BeachConnection.net