A Bit of Star Trek, Half Life 2 on Oregon Coast
Published 07/20/2011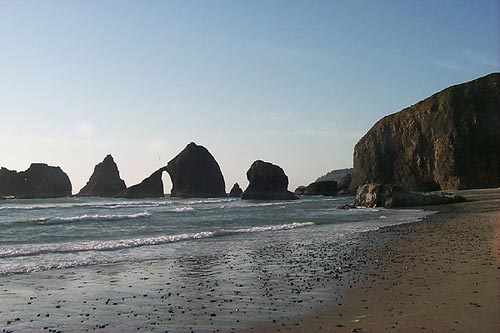 (Oregon Coast) – If you've ever wandered some of those really dramatic rocky shelf areas of the Oregon coast, or the pock-marked sandstone chunks of places around Bandon and Pacific City, it's likely you not only thought these were stunningly beautiful spots – but perhaps a little alien looking as well. Some of the most remarkable places along the coast look like landscapes from another planet at times (above: what's nicknamed "Star Trek Beach" because of the arch - although the arch is now gone).
Sometimes, they can resemble such otherworldly things in a most interesting way. Like the hidden beach at Oceanside that at times looks like a certain famous Star Trek episode, or the parts of Highway 101 near Florence that would grab the eye of a fan of the sci-fi video game "Half Life 2."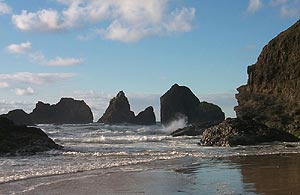 Oceanside now: the arch is gone, but the other structures remain.
Then there's also the visual nuggets that could appeal to fans of Stargate, Star Wars, the original Twilight movie and others.
That's right. There's an element to this coastline that would appeal to serious sci-fi nerds.
At Oceanside, beyond the tunnel through Maxwell Point, sits a hidden beach with loads of unique qualities. Tide pool life, an odd cave or two and plenty of agates are a lot of the big attraction here. But there are a couple rock structures that resemble some landmarks in two major original Star Trek episodes – and they have actually started to attract the odd Star Trek fan here and there because of increasing internet chatter about this. In fact, more than once it's become nicknamed "Star Trek Beach."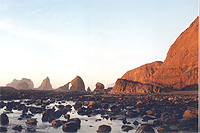 Oceanside back when the arch existed - at a low tide event
One of the big reminders of Star Trek is actually no more: there was once an arch here that looked strikingly similar to the time portal in the episode "City on the Edge of Forever" (which was penned by famed sci-fi author Harlan Ellison). In the mid-2000's, the arch fell, leaving two small sea stacks just a ways into the surf.
There is still, however, a curious rocky slab or two – including one that forms a ramp – that are slightly reminiscent of that episode where Captain Kirk fought that wheezing lizard creature known as the Gorn. The same rocky area for that episode was also used in the "Roswell" series and one of the "Bill and Ted's Excellent Adventure" movies in a hilarious Star Trek parody.
In any case, others out there seem to be calling the Oceanside spot "Star Trek Beach" – and it may catch on.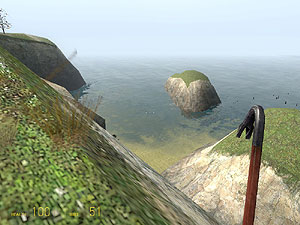 A scene from the Half Life 2 video game: Look out for ant lions.
For those addicted to the video game Half Life 2, with its sleek look and chilling post-apocalyptic view of a future where huge alien bugs have taken over the beaches, parts of Highway 101 between Florence and Yachats will remind you of Highway 17. You may even be tempted to scream "Combine at the lighthouse!" when you come across the Heceta Head Lighthouse.
There's a section in the video game where you go wandering along a coast road under a blue sky and slightly misty conditions, sometimes driving next to cliffs with sheer drops, up bluffs with winding roads and past large basalt structures – all of which can look like that section of Oregon coast.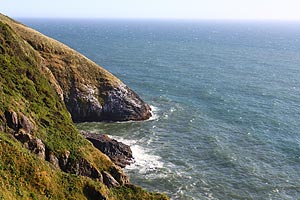 Near Florence: cliffs here can resemble the video game - but no ant lions here.
The look of the video game's graphics has that same feel as this part of the coast, and some of the landmarks will definitely delight hardcore fans of this video game.
If you're a fan of the Stargate franchise or even Star Wars, are you looking for outdoor moments that resemble the original Stargate movie's planet of Abydos? Or even Luke Skywalker's home world? The Oregon Dunes Recreation Area just south of Florence or the dunes next to Cape Lookout and Sand Lake provide a metric ton of otherworldly moments that can have similar vibes. All that's missing are a couple extra moons in the sky, but if you're lucky enough you may get to spot a striking moonrise above a dune during the daylight, like this one at the dune behind Cape Kiwanda in Pacific City (at bottom).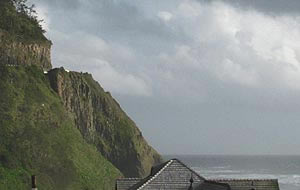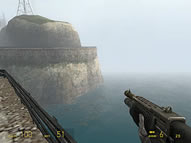 At left: near Yachats in real life. At right: Half Life video game scene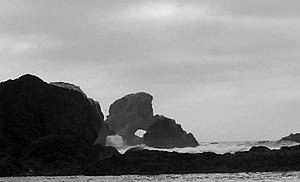 "Goonies Rock" at Ecola Creek State Park
Just south of Yachats and within town, there's a whole starship full of esoteric, alien-looking landscapes. Those basalt rock structures meander and twist in strange shapes, and at times it makes you think of various Star Trek or Stargate episodes – like the one where Spock fought off primitive Sasquatch-like tribes from that Galileo craft.
And for serious movie nerds who like to visit spots where actual films were made, Ecola State Park in Cannon Beach was the site for scenes in Twilight, the famed "Goonies" flick and more.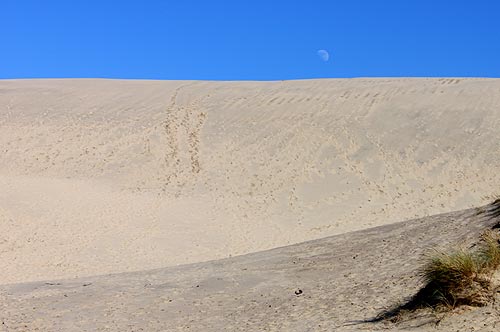 Moonrise over the dune at Cape Kiwanda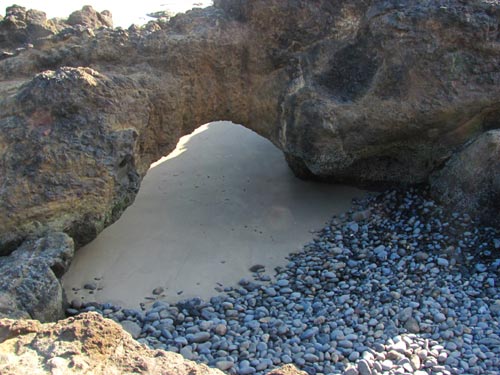 Alien-like lanscapes near Yachats
More About Oregon Coast hotels, lodging.....
More About Oregon Coast Restaurants, Dining.....
| | | |
| --- | --- | --- |
| | | |
Back to Oregon Coast
Contact Advertise on BeachConnection.net