Oregon Coast's Weird Singing Sands: Cannon Beach, South Coast and Elsewhere | Video
Updated Periodically
By Oregon Coast Beach Connection staff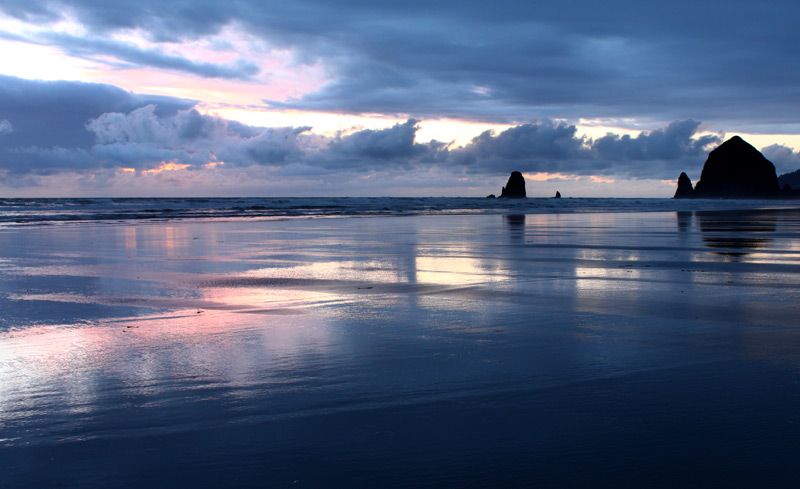 (Cannon Beach, Oregon) – The weird, wacky phenomenon of "singing sands" is a very rare find indeed around the world, but especially along the Oregon coast. It's a once-in-a-lifetime find, if you catch the real thing. Catching the "real thing" is the catch, however. There are other noises the sands here can make – almost as rare at times.
It's been heard on the south coast at the Oregon National Dunes Recreation Area. Yet, in Cannon Beach, there are numerous references to it in a variety of ways. But is it squeaking? Singing? And does it happen in this town more than others?
At the Dunes Rec area between Florence and Coos Bay, it's purportedly been heard there in the past. And it's definitely the real thing, and not just the "squeaking" sands. The publication that was the precursor to Oregon Coast Beach Connection interviewed park rangers there in the '90s, and they said it was quite rare. At that time, many park rangers that had worked there for 20 years had not heard it. Some definitely had, however.
Shortly after that interview, Oregon Coast Alterna-Guide interviewed an Australian geologist who specialized in the phenomena, and had just been to Florence giving a lecture on the subject. He had some documentation of it on the south coast.
Singing sands is actually somewhat common in a small handful of places, such as the Gobi Desert and some parts of Australia. Marco Polo encountered it in China. Sometimes, it sounds like distant voices singing. Others, it's a bit like a violin or an odd, elongated squeaking noise. All this only happens under certain conditions, when two different kinds of sands grind together under the right degree of humidity.
There have also been other forms of it around the world, such as the "roaring sands," which isn't necessarily louder, but has that quality to the timbre.
According to some legends – and it's not backed up well - apparently it can happen around the extreme southern end of Cannon Beach. Some have mentioned Arcadia Beach or Arch Cape, even farther south.
Oregon Coast Beach Connection editor Andre' Hagestedt remembers hearing it in Waldport as a child in the '70s, however.
"It sounded like a choir a little bit," Hagestedt said. "This is a very dune-covered area, and I remember stepping on a dry dune, and this caused a small sort of avalanche, with the sand tumbling down from the top, it showied a darker layer underneath. It suddenly was making this faint singing noise. It was actually kind of alien."
There are some historical references to the unusual aural display in Cannon Beach found in various documents and exhibits at the Cannon Beach History Center and Museum. One Facebook post from the center quoted a tourism description from the early part of the century mentioning "seven miles of singing sands." There also seems to have been a Singing Sands Inn at one point in the town's early history, and a handful of individually-owned rentals in the area currently use that name as well.
While the references to singing sands seem to point southward, the actual singing sands phenomenon usually happens only in fluffy dunes areas, which are found at the very northern end of town by Chapman Point, and not much southward. So, it's more likely that historical documents aren't referencing the real singing sands, but "squeaking sands," which has been documented in the video below. However, changes in landscape and great pollution may have occurred over the last 100 years that could've changed the what kind of noise this area makes.
The good news is that there is a less rare phenomenon called "squeaking sands," where a squeaking noise happens under your feet when walking on the sands in just the right conditions. Even better: it's certainly not limited to Cannon Beach. You can hear this anywhere along the Oregon coast.
You have to hit the beaches a lot during the year to hear it just once, however. It could be that this squeaking sound is more common to Cannon Beach sands than other areas, and it's also possible these conditions could cause the "singing" noise when the sand blows it around just the right way.
In any case, it's a fun aspect to look for while visiting the area.
There are other odd sand conditions and sounds to look for elsewhere along the Oregon coast.
Damp but not totally drenched days may be your best bet, at least by Oregon Coast Beach Connection's experience with the squeaking noise. Staff have experienced it in places like Lincoln City and Manzanita as well.
Periodically, Lincoln City exhibits a noise similar to singing sands – though it could also be nicknamed "stinging sands." Here, there's a darker, wetter layer of sand that lays flat, while another, drier layer is sent zooming along the strand at high speeds by fairly blustery winds. These can actually sting your exposed ankles and legs a bit and get in your eyes. It can be quite aggravating.
However, it creates a surreal sense of motion on the sands, and sometimes it produces a faint rustling noise caused by millions of grains of sand battering each other and the wetter layer beneath.
This is not limited to Lincoln City, but the layout of sand there is a little bit more conducive to that than many other spots.
The vast, loose dune on top of Pacific City's Cape Kiwanda can create some wild, whistling noises when the wind gets going. It may be more the wire fences along the edges that are causing that when they are hit by wind – it's difficult to tell. That whistle can be a bit of a howl at times, however. It's a fascinating sound. Oregon Coast Hotels for this - Where to eat - Maps - Virtual Tours
Hear the singing sands in another part of the world:

Below: Lincoln City during such a sand event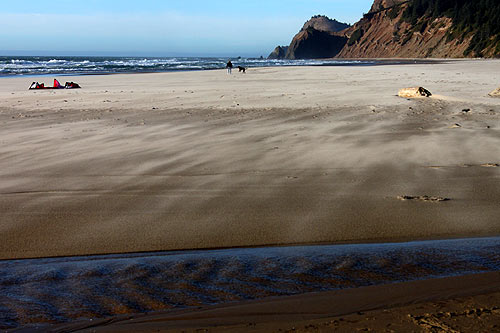 Below: Oregon National Dunes Recreation Area, courtesy Florence Visitors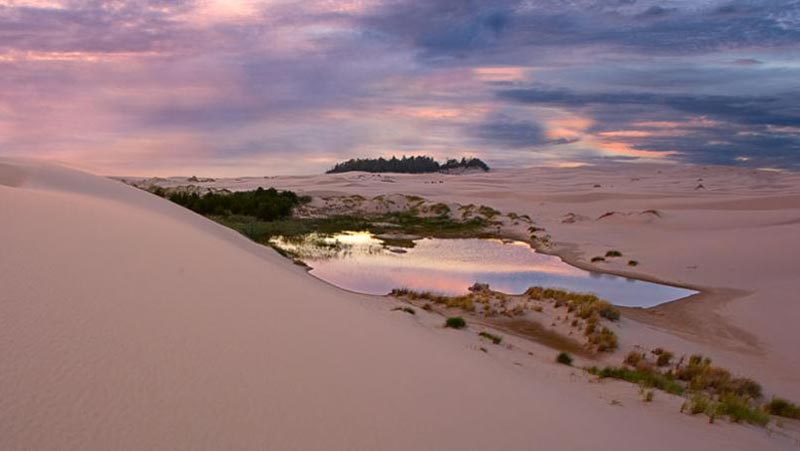 Oregon Coast Hotels for this - Where to eat - Maps - Virtual Tours
More About Oregon Coast hotels, lodging.....
More About Oregon Coast Restaurants, Dining.....
LATEST Related Oregon Coast Articles
Back to Oregon Coast
Contact Advertise on BeachConnection.net
All Content, unless otherwise attributed, copyright BeachConnection.net Unauthorized use or publication is not permitted