The Gooey and Scary Sides of Oregon Coast Science
Published March 2009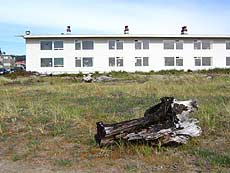 The beach in front of the Tides by the Sea as it is today: lots of it didn't exist before the late eighties.
(Oregon Coast) - Beyond the pretty sights and sites of the Oregon coastline, its lovely, calming ocean vibes and the memory-making moments that are created by a vacation here, there's a layer of weird stuff. It's one of those oddball secrets that sits below the surface of the usual tourism activities – quite literally below the surface. But if it's something you're aware of, it gives you whole new vistas to gawk at and enjoy while on these beaches.
In the worlds of weather, the ocean environment, the fauna and even the strange tales told by the rocks themselves in the geologic sciences, there's more drama here than just the wave action.
New Chunks of Land in Seaside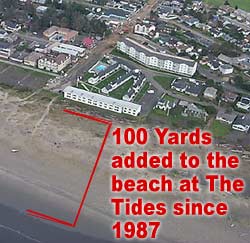 The southern cove area of Seaside, with all its surfing glory and splashy waves, was not always what you see these days. There was until 20 years ago a lot less of it.
"A huge landslide in 1987 added about 100 yards to the southern end of Seaside, where the cove is now," said Tom Horning, a coastal geology expert living in Seaside.
Horning explains that Tillamook Head sometimes drops tons and tons of rocky material into the sea, which periodically changes the landscape. Back then, boulders and rocks from this particular landslide slowly filled in the cove area, extending one part out hundreds of feet. A new spit was formed by the rocks for a time, which locals used with glee to catch loads of fish. Fairly quickly, that space between the spit and the land filled in, creating an enormous dead tide pool for a few months. Eventually, sand and rocks filled all that in, as well as down the beach. The entire southern end of Seaside's beaches became wider after that.
Horning points to the building at the cove that is the beachfront section of The Tides by the Sea hotel. "Back when they first built this, the sea practically came right up to the building," Horning said. "They had boulders and rip rap there to keep it away. After 1987, 100 yards of beach was created in front of that area."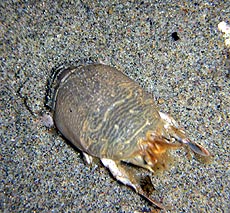 Mole crab (photo Seaside Aquarium)
Freaky Mole Crabs
They show up in summer, usually late in the season, and do some kind of creepy things to the waves.
They are called mole crabs, but they don't pinch or bite. In fact, they have small feather-like appendages which they wave through the water to collect plankton. Instead of pinchers they have paddle-like legs which help them burrow quickly into the sand. Mole crabs swim and dig into the sand backwards - that way only their eyes are sticking out of the sand. You'll see the waves appear to "bubble" as their vast numbers in the sands are tossed around by the tide and they struggle to burrow themselves into one spot.
You'll notice these bug-like creatures washing over your feet in the late summer. You can feel the sensation of dozens of little something-or-rather's zip across your feet.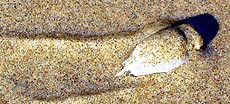 Photo by Boothe
They dig themselves into the sand using a tail, which they utilize with a swirling motion, allowing them to change direction with whatever the tide is doing or wherever it's taking them.
Instead of pinchers, mole crabs have adapted claws to help them dig in the sand. They also come with two sets of antennae: breathing tubes and feeding antennae.
They normally live on sandy beaches in the surf zone, usually buried in the sand with the breathing antennae sticking out. You'll find them in the geographic range of Alaska to Chile, but only occasionally found north of Oregon. Northern populations are from larvae that ride the current up the coast.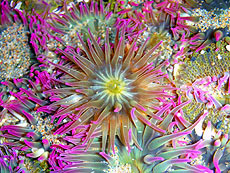 Colorful creatures can be especially vibrant in tide pools in Oregon (photo Tiffany Boothe, Seaside Aquarium)
Colorful Creatures from Inner or Outer Space?
"When you go out to a tide pool, are you seeing all there is," asked Seaside Aquarium's Tiffany Boothe. "Do you know what it is you're looking at? Can you determine whether or not what you're looking is an animal or a plant?"
Boothe said there is quite a bit people are probably overlooking on their often cursory glances or looks into the little colonies of life left by low tides. One of these is the wild and wonderfully colorful sea slugs – or nudibranchs (pronounced with a "k" sound at the end, not a ch sound). They come in such diverse shapes, patterns and colors it is impossible to see all the configurations.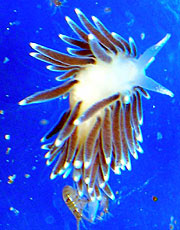 Flabellina triophi is one of the wild creatures you may find in a coastal tide pool (photo Boothe)
Some 3,000 different species inhabit the world's oceans and tide pools, ranging in length from 1/8 inch to 12 inches. They look like creatures from space, or the product of that esoteric mixture of art and computer algorythms called the Mandelbrot set (where computers take a fractal exercise and generate elaborate, colorful designs that are infinitely intricate).
"Nudibranchs are marine snails, relatives of limpets and abalone," Boothe said. "Through evolution they have lost their shell. In fact, the name nudibranch means 'naked gills,' referring to the fact that their gills are on the outside of the body. While most lack shells some species have a reduced or internal shell."
Boothe said they come in all shapes, sizes, and colors. Some nudibranchs are able to blend in with their environment by means of cryptic coloration, while others brightly advertise their presence to everyone.
200 different species call the Pacific Northwest home, making quite the color splash in those tide pools you're peeking into on the Oregon coast. Click here for a complete list of places to find tide pools on the Oregon coast.

Spooky Geology in the Rocks of Cape Meares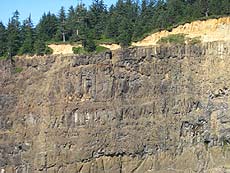 Layers of lava flows are visible in the massive cliffs of Cape Meares, just north of Oceanside and west of Tillamook
Gazing at the massive cliff walls and their ragged features from the various viewpoints along Cape Meares is, understandably, one of the big pastimes at this amazing spot on the north Oregon coast. But if you know how to read it, a wild saga emerges. They are, in many ways, a slice of the Earth's crust in this area, cut down the middle so we can – quite literally – see the layers.
Horning is a renowned geologist on the subject of anything coastal, with Seaside's Gateway To Discovery. He's spent considerable time staring at the myriad of layers embedded in the rocks here, frozen in time from the Miocene period. He says these layers represent eons of massive lava flows that have piled on each other over millions of years, coming here from hundreds of miles away.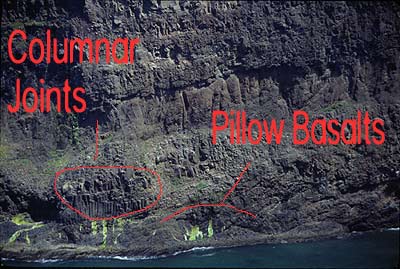 Cape Meares is like a cutaway of the Earth, with layers of lava flows visible in the rocks, covered by sandstone that was once an ocean bed
He says it all begins with a fiery situation over 15 million years ago, when a giant hole in the Earth's crust spewed so much lava it scarred and seared its way across what was then Idaho and Eastern Oregon, until it reached the sea (which was several miles inland, perhaps as much as 75 miles east).
This is the same hole that now fuels the action at Yellowstone National Park. Continental drift pushed that weakness in the crust eastward over time, and it now lies there.
Essentially, these massive flows came again and again, separated by hundreds, thousands maybe even millions of years. No one is really certain how long between each eruption. The lava flows literally filled up the space in a prehistoric valley, locking its shape in time with the sturdy basalt rock that happens after lava cools. Eventually, that valley eroded away, leaving only the rock.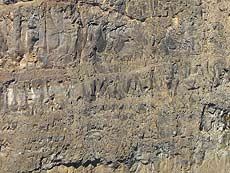 If you look closely at the cliffs, you can see the layers piled up on top of each other. Some layers appear as pillow basalt, which is formed when the lava hits water and cools very fast, forming bubble-like structures that aren't as jagged as the regular layers.
When the others layers simply cooled in the air, it sometimes created strange shapes, which can also be seen at the bottom of the cliffs: little bundles of what look like columns dotting throughout one layer. This is when the lava cooled from the inside upward, and the cooled sections of lava separated into these upward-pointing shafts.
"At the bottom, you will see cross-bedded gravels and pillow layers," Horning said. "Near the top, you will see lavas with nearly vertical cooling joints in the flows. They can interfinger or interlayer, depending on water levels. Sometimes, lavas can squeeze in between deeper layers to cool as sills, with vertical joint systems that look much like columnar jointing of lava flows."
Horning said everything is at a bit of an angle because the whole complex has been tipped to the west by about 15 degrees, so its eastern part has been lifted high into the sky.
More About Oregon Coast hotels, lodging.....
More About Oregon Coast Restaurants, Dining.....
LATEST OREGON COAST NEWS STORIES
90 Years of Oregon Coast's Sea Lion Caves Celebrated at Florence's History Mu...
Party in Florence on Aug. 26. Florence events
When That Spectacular Glow Hits the Oregon Coast: Surprise Colors Between Yac...
The colors that would erupt around here were mind-bending
What's New, Cool, What's In at Outdoor Markets on Oregon's North Coast Food T...
In-season at Astoria, Seaside, Cannon Beach, Manzanita, Tillamook, Neskowin
Pirates of Pacific Festival Invades Brookings on S. Oregon Coast Aug 12 - 14,...
You'll be screaming 'Arrr, avast ye maties' with unrestrained glee. Brookings events
Poaching Offenses Get Oregon Coast Dory Boat Stiff Penalties, Suspensions
The law takes poaching in Oregon seriously, even when it comes to fishing
Intricate, Intense Stretch of Oregon Coast With Odd Hollywood Connections
A multivaried experience between Yachats and Florence with ties to Norman Bates. History, travel tips
Charleston's Seafood, Beer, Wine Fest Makes Big Comeback to S. Oregon Coast
August 12 - 14 sees the return of the festival of crab, music and kiddie fun. South coast events
Unusual Mole Crab Incident Reminder Oregon Coast is Full of the Unexpected
The aquarium had bumped into something new they'd never seen

Back to Oregon Coast
Contact Advertise on BeachConnection.net