Video: Manic Tour Guide Messes with North Oregon Coast
Published 06/23/2010
By Manic Tour Guide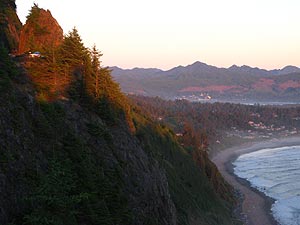 (Manzanita, Oregon) – As the official Manic Tour Guide of Oregon Coast Beach Connection, it's my job to run around the coast, cause a little bit of havoc and then put it on film (or maybe fake it, if necessary).
Each jaunt is something different – usually because they happen at distinctly different, distant points in time from each other. Duh. But the common threads are imparting knowledge about the coast and having some unusual fun with it.
This particular trip happened in the middle of summer 2009, during one of many horrendous heat waves. I left Portland in 100-something degree heat, and hit the coast to find it perhaps only 20 degrees cooler. 80 degrees, after all, is rather insane for the coast.
The first stop was just south of Cannon Beach, where I made the rather unseemly discovery of an old chair that was dumped onto a hidden viewpoint. I'd like smack that white trash cracker on the back of the head, Benny Hill-style.
A trip onto Cannon Beach's sands revealed many a cute canine running amok. This town has a not-so-well-known credo that it's perhaps the most dog friendly town on the coast. They may have a point.
Down past Oswald West State Park and its jammed parking lots, Manzanita was bubbling over with patrons at its Farmer's Market. It's here where I screw with the screwheads at Nehalem Bay Winery and ask them about the percentage of zombie patronage they have.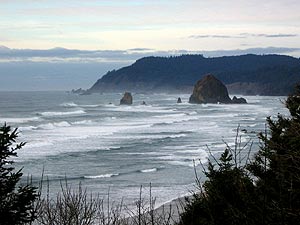 Cannon Beach
It's extremely cool once you get to the beach, by the way. Thank goodness, because it's important for my continued membership in the human race that I keep covered up.
But once you rise up to the Neahkahnie overlooks just above Manzanita, the temperature shoots way up. The heat wave in Portland is some sort of monster with talons reaching just shy of the beaches, apparently.
That night meant staggering around the bars of Manzanita – which is essentially only the San Dune Pub.
The next day the weather gets fuzzy and even cooler. I spot elk cavorting near Cannon Beach, and then some guy doing this weird random dance in the street. Hilarious.
All I want is to have lunch outside at Fultano's in Cannon Beach, but that infernal coastal drizzle kicks in and rains on my culinary parade. I slug it out and eat there anyway. I probably look like a wet dog afterwards, but with my hipster hair the average person wouldn't know the difference.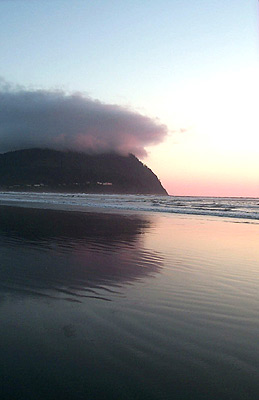 Seaside
Eventually, after hours of screwing around one beach or another, I meander into Seaside to have dessert at Zinger's Ice Cream. This place is bad – and by that I mean BAD ASS. It's kind of an obsession. There's a rumor I've got a restraining order there, too.
This delicacy goes especially well with whatever liquor I suck down at the local bars, including The Bar That Time Forgot (you gotta see the video) and the semi-cool bar that has a jukebox where I can actually play real music, like The Blue Nile or Manic Street Preachers (the latter is what helped inspired my name).
More strangeness ensues, I'm sure, but I don't remember after so many drinks. I do know the next day was filled was wacky weather patterns as the coast heated up again a bit and this monstrous cloud mass was held at bay, just offshore, by some invisible force.
That's what's fun about the Oregon coast: if you know what to look for, there's always something freaky and mind-bending lurking in front of you.
See you on the beach, kids.
More About Oregon Coast lodging.....
| | | |
| --- | --- | --- |
| | | |
LATEST OREGON COAST NEWS STORIES
Back to Oregon Coast
Contact Advertise on BeachConnection.net